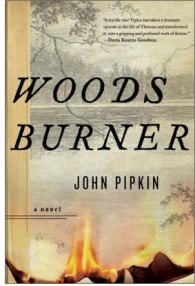 978-0385528658 – Hardcover – Nan A. Talese – $24.95
I first heard about this novel on NPR and was immediately attracted to the notion of a novel that was generated by this single almost unknown incident, when Henry David Thoreau accidentally set fire to the Concord woods in 1844.  I'd learned of this first from poet friend Jonathan Williams many years ago, but it never really hit me how paradoxical this event was.  John Pipkin has woven a truly original story out of the history surrounding this one event.
He starts with the historical Thoreau, imagining him not as the genius of outdoor philosophy he has become, but as a bumbling, confused and somewhat thoughtless individual who does yet fully know who he is or even why he is.  Pipkin adds other characters to the story, all of them confused and searching for something that perhaps only the accidental conflagration set off by Thoreau and his young friend can bring them.  There is Eliot Calvert, aspiring romantic playwright and accidental bookseller searching for meaning in a mundane life, the irresistibly named Norwegian orphan immigrant Oddmund Hus (whose past also involves an explosive accident) who is silently in love with the wife of the farmer he works for, and Caleb Dowdy, the strange, confused Episcopal minister who seeks salvation through self abasement.  And of course, Thoreau as Pipkin paints him, a young largely unfulfilled son of a pencil manufacturer, way over his head in the woods, searching for meaning in nature bit in no way ready for his destiny.
All will meet, all will be transfixed, transformed, formed, in the conflagration at the heart of this story.  I talked to first-time novelist John Pipkin early one morning in September about this truly excellent book.  In this interview he talks about what lead him to this story, and how he came to imagine it, as well as his research, the characters and of course, Thoreau himself.  Pipkin is a terrific writer, and just as good at talking about his work.  I am looking forward to reading more of his work, and recommend this novel to almost any reader – it is that good.