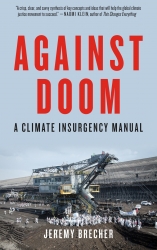 Against Doom: A Climate Insurgency Manual – Jeremy Brecher – PM Press – Paperback – 978-1-62963-385-5 – $12.95 – 128 pages – April 2017 – ebook versions available at lower prices.
For years leading up to the 2016 election, when Americans alarmingly voted (somehow) for a president who maintains the bizarre fiction that climate change is a hoax invented by the Chinese, we have been heavily propagandized and brainwashed by inaccurate and misleading information about climate science supplied by corporate financed sources. Only half of us believe that climate change is caused by human activities, something that scientists overwhelmingly recognize is true, based on actual data.
Still, millions of our fellow citizens do understand the danger to human life and our natural environment by human caused climate change. So many of us are searching for ways to make a real impact on the future through concrete actions. The scale and scope of what we face, and the impediments we face daily to rational thought and action are daunting and sometimes overwhelming.
We need tools – both to understand what is happening in our world, and to help us act positively to make change and to oppose those who seek to diminish and undermine our efforts.
Jeremy Brecher is a long time organizer and thinker about social change. He has been involved in environmental issues for almost thirty years. He puts much of what he has learned into Against Doom, this short but powerful book that I can recommend to any and all of us who want to join the global movement for change. What he calls "climate insurgency" is a strategy for using people power to realize our common interest in protecting the climate. It uses mass, global, nonviolent action to challenge the legitimacy of public and corporate officials who are perpetrating climate destruction. This may be our best hope for saving the planet and human civilization, while at the same time helping change that civilization for the better.
Against Doom: A Climate Insurgency Manual provides guidance in how we can put this strategy into action and succeed. It's an essential read now. Listen to my optimistic conversation with Jeremy and go buy this book!
Jeremy Brecher is the author of more than a dozen books on labor and social movements, including Save the Humans? Common Preservation in Action and the now-classic labor history Strike!, recently published in a revised fortieth anniversary edition by PM Press. He has been writing about climate protection since 1988, most recently in his book Climate Insurgency: A Strategy for Survival (2015). Jeremy is a cofounder of the Labor Network for Sustainability and lives in rural northwest Connecticut. Jeremy was arrested in the early White House sit-ins against the Keystone XL pipeline.
There are many organizations and websites working on climate change insurgency efforts. Visit Jeremy's own site for a good introduction or go here for a list of reputable climate change nonprofit organizations you can work with.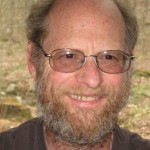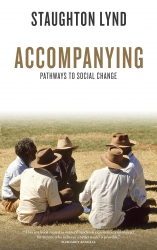 978-1-60486-666-7 – PM Press – Paperback – $14.95 (ebook versions available at lower prices)
For me and for many others who came of age politically in the mid-to-late sixties, Staughton Lynd was an early and important figure.  He had been a Quaker and war resister, Civil Rights Movement participant, was cogent and critical about social structures and an early leader in the anti-Vietnam War movement.  He taught at Yale, but left academia, earned a law degree, and with his similarly activist partner and wife Alice Lynd, moved to Youngstown, Ohio and became active in the effort to save the steel mills there.  While that effort did not succeed, the Lynds have remained in Ohio for over 30 years working at a grass roots level in the labor movement, as well as with imates of Ohio prisons and with others across the country.
Accompanying is a short book, but extremely focused and coherent.  Lynd contrasts the hierarchical "organizing" efforts of the sixties civil rights and antiwar movements with the concept of "accompaniment" first articulated by Archbishop Oscar Romero of El Salvador, wherein organizers listen to their colleagues rather than instructing them.  Lynd then applies this distinction between organizing and accompaniment to the social movements in which he has been a participant for the past fifty years, which include the labor movement, civil rights, antiwar organizing, prisoner insurgencies, and the Occupy movement of the past few years. Alice Lynd, who has been his partner in all these efforts, adds her experience as a draft counselor during the Vietnam War era and now as an advocate for prisoners in maximum-security facilities.
The Lynds together bring an incredible range of experience, dedication and commitment to the human spirit and to the kind of social change that so many have wished for and demanded for so long.  I was struck by how their description of accompaniment resonates so well with the principles of cooperation and listening espoused by so many who have grown up in the Internet era.  It's crucial to connect these ideas to political and economic analysis and to questioning the organizing principles of our society.  Anyone interested in social change in the modern world should read this book and attend to its simple and powerful precepts.  Here's a great piece by Lynd speaking at the IWW Centenary in 2005, a website with more information about his work, and the publisher page for Lynd and his books (recommend buying directly from the publisher, PM Press, to support its work).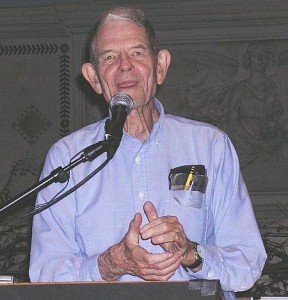 I am honored to have been able to have this conversation with this ever intelligent, dedicated, and coherent activist and writer.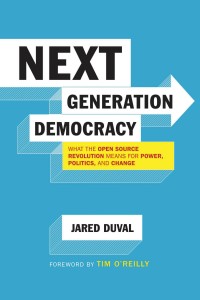 978-1608190669 – Bloomsbury – paperback – $15.00
Next Generation Democracy is an important book by a really smart and compelling young activist and writer, Jared Duval.  I like what Bill McKibben says about the book and by extension the author: "God knows previous generations have left those that are coming of age a world of trouble. Happily, they're figuring out a world of ways to set them right. Jared Duval's book offers a behind-the-scenes tour of the next wave of activism, organizing, inspiration, and change. It will give you cause to hope–and cause to go to work."
But even more than a behind-the-scenes look at how activists are working and thinking together in new ways, Duval gives us a strong sense of hope for making change in the future.  I think it's true enough that the past few generations have not succeeded in broadening democracy and making progressive change throughout the world, especially in environmental, social justice and peace, as broad stroke categories of change that is needed most.  But it's heartening to know that the younger generation includes individuals like Duval who are finding new ways to make change, resist the impulse to blame and create divisions, and who see the tools of change around them everywhere, and simply make use of them so easily and comfortably.
Jared sees open source software as the exact model needed for a reinvention of democracy.  Our government can be as open and transparent as the development of Linux, a story he tells here almost as a parable for political thinkers and activists.  In Next Generation Democracy, Jared covers key recent events, such as Hurricane Katrina, during which de-centralized leadership emerged to supersede traditional models.  He documents the success stories of these new leaders, both inside the government and out, who are finding effective, directly democratic ways to address the critical public challenges of our time. As he tells the stories of participatory organizations such as the brilliant SeeClickFix (originated in New Haven, Connecticut and now spreading to other communities) and America Speaks (which shows us how to meaningful re-engage citizens in the processes of government) Duval describes a new approach to solving complex problems that draws on the contributions of a wide array of activated citizens everywhere.
I do wish this book had come out earlier in the year, actually in time for election season, as I am certain that the thinking here could benefit anyone involved in the political process.  But in the end, what really matters is that people read Next Generation Democracy, become inspired in some way, small or large, to get involved, work with their fellow citizens, make change, small or large, and address the future in a positive way.  Reading this book and then listening to Jared Duval talk about his ideas and experiences certainly inspired me, and I am happy to recommend him and his book to anyone listening to this talk.
Jared Duval is a busy guy.  He is a fellow at the well respected Demos policy organization and earlier served as the National Director of the Sierra Student Coalition (SSC), the national student chapter of the Sierra Club and the largest student environmental organization in America. During this time he helped build the Energy Action Coalition and the Campus Climate Challenge campaign, serving as the effort's co-chair for two years.
978-1-60486-045-0 – paperback – Flashpoint Press/PM Press – $18.00
Derrick Jensen is one of the most intelligent nonfiction writers around.  His intellectual ability, brilliant writing and passionate voice for nature, for the powerless (not just people, but our fellow plant and animal species), and for the wounded, have made him a hero for many who oppose the structures of modern society.  I was not familiar with his fiction before reading Lives Less Valuable.  It's very difficult to write fiction with a political message, but Jensen succeeds here.  Even though the reader knows there is a political subtext, the story and the characters work well, they're both believable and instructive.
The story centers on Malia, an environmental activist in a modern city where people are dying from a toxic river.  The corporation that is at the root of the problem does everything possible to maximize its profits and does not care about the environmental cost borne by the poor people of the city.  She is drawn into a complex web of events that forces her to make choices about her beliefs and what she must do to make meaningful change, and when she does, the effects of her choices resonate through the lives of many others.  And they do make a difference.
Talking to Derrick Jensen was a great experience for me.  He has so much to say about human beings, our relationship to nature, and the meaning of political action, not to mention writing and story telling.  In this interview he talked about many subjects, including the nature of activism, the difference between writing fiction and nonfiction, and the details of the writing of this book.  He's as eloquent and brilliant a speaker as he is a writer.  Derrick Jensen truly is one of our great public intellectuals.  Please note that this interview is longer than usual at 32 minutes, but should reward the listener with a worthwhile experience.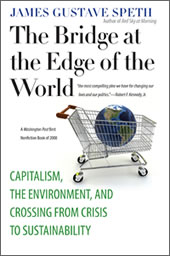 978-0300151152 – paperback – Yale University Press – $18.00
While I was reading The Bridge at the Edge of the World, I often would exclaim out loud as so many of the ideas the author talks about are ones I believe in and feel are important to the dialog about the future of our planet.  This is an important book that should be widely read, discussed and used as the basis of action – and soon!
Co-founder of the NRDC, former Yale University dean, and former White House advisor James Gustave Speth has been a leader in the environmental movement for more than 30 years.
Now, faced with overwhelming evidence of galloping degradation of the planet, Speth has concluded that the environmental project—his project—has failed. No matter how hard environmentalists work, the current of destruction against which they are swimming is simply too swift. In order to preserve a livable planet for future generations, Speth argues in The Bridge at the Edge of the World that the current itself must be altered. And the current is that untouchable edifice, American-style consumer capitalism.
I found this book to be powerful and compelling and wanted to talk to "Gus" Speth about the implications of his thinking.  How should we go forward when we know that the way we live today is putting us on a collision course with the natural world?  How do we build new ways of living that are sustainable?  And how are we going to do this in the face of so many entrenched interests that will oppose the essential changes we feel are necessary for human survival and for the preservation natural systems in a viable planet earth?
While this interview is perhaps all too brief, Speth talks in depth about some of his ideas and answers my questions with his typical incisiveness and intelligence.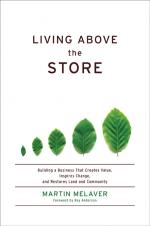 9781603580854 – Hardcover
Chelsea Green Press – $27.95
This is one of the most important and challenging books I have read in a long time.  In this book Martin Melaver tells stories about his life, his business, his family, and his community, as a  framework for understanding how business can (and must) change, in order to become truly sustainable, to become additive rather than extractive, and to rethink the way business is done.  As the publisher says: "Living Above the Store is for readers who care about issues of community and sustainability as well as for those who want to learn more about how a socially responsible business can first redefine, and then find, success."  In this interview, Martin and I talk in depth about the key ideas in the book, and talk in detail about some of the practical issues the book raises for so many who want to make a difference.  Martin demonstrates his clarity of thought and deep commitment to truly making change in business and community.  Highly recommended!
Martin Melaver has been CEO of Melaver, Inc., since 1992. Never content with the well-trod path, he has a PhD in literature from Harvard University and an MBA from Northwestern University's Kellogg School of Management. He is actively involved with numerous community organizations in and around Savannah, Georgia. Melaver splits his time between Savannah and Tel Aviv, Israel. …