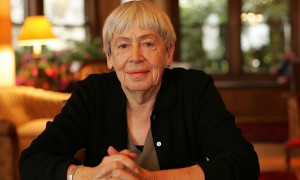 Ursula Le Guin has had a long and wonderful career as a writer. Her extraordinary work has influenced many other writers, particularly in science fiction, for which she is probably best known, but Ursula has also written extensively about the art and craft of writing, as well as children's books, and books for young adults. She is also a poet of some note, with four poetry collections published. Altogether she has had published almost fifty books and more than a hundred short stories.
Ursula was born and raised in Berkeley, California, where her parents were the anthropologist Alfred Kroeber and the writer Theodora Kroeber, author of the very famous book, Ishi. She went to Radcliffe College and did graduate work at Columbia University. Ursula married Charles A. Le Guin, a historian, in 1953; they have lived in Portland, Oregon since 1958.
Le Guin's best known fantasy works, the six Books of Earthsea, have sold millions of copies in America and England. Her first major work of science fiction was The Left Hand of Darkness, whose radical investigation of gender roles and literary complexity have made the book a classic and a must read work of literature. Among her books for children, the Catwings series has become extremely popular. She also published a translation of Lao Tzu's Tao Te Ching, after forty years of working on it and practicing Taoist principles in her life.
Three of Le Guin's books have been finalists for the American Book Award and the Pulitzer Prize, and among her honors are a National Book Award, five Hugo Awards, five Nebula Awards, SFWA's Grand Master, the PEN/Malamud Award, and in 2014 she was awarded the National Book Foundation Medal for Distinguished Contribution to American Letters.
While Le Guin is no longer writing fiction, she continues to write poetry, as she has done virtually her entire life. With the appearance of this new collection of poems from 2010-2014, Late in the Day, published by the excellent PM Press, I had the opportunity to speak with her about her writing and her recent writing. In these poems she explores a variety of poetic forms, all of which she easily masters. The poems are most often about relationships, connecting to the natural world, to myth, story, and of course, other humans, always with a careful eye and a deft understanding of the complexity of all things.
And the Afterword on poetic form and free verse is itself a small masterpiece of explication and joy. Ursula Le Guin is truly one of the great writers of our time. It is my great honor to have had the chance to speak with her here for Writerscast. If you are not aware of Ms. Le Guin's work as a poet, this new collection of sharp and compassionate compressed expression is definitely worth your time to read. We talked about many subjects, including writing, her career, Oregon, the recent occupation at Malheur, a place with which she is very familiar, and of course the poems in this book, one of which she was kind enough to read aloud for us.
There is an excellent interview transcription with Ursula by Choire Sicha in Interview Magazine; the author's own website is a rich source of material by and about her great body of work.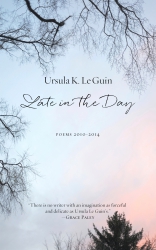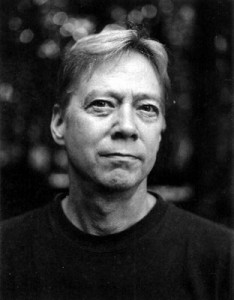 Publishing Talks began as a series of conversations with book industry professionals and others involved in media and technology about the future of publishing, books, and culture.  As we continue to experience disruption and change in all media businesses, I've been talking with some of the people involved in our industry about how they believe publishing might evolve as our culture is affected by technology and the ebb and flow of civilization and  economics.
I've now expanded the series to include conversations that go beyond the future of publishing.  I've talked with editors and publishers who have been innovators and leaders in independent publishing in the past and into the present, and will continue to explore the ebb and flow of writing, books, and publishing in all sorts of forms and formats, as change continues to be the one constant we can count on.
It's my hope that these conversations can help us understand the outlines of what is happening in publishing and writing, and how we might ourselves interact with and influence the future of publishing as it unfolds.  This new interview reflects my interest in the history of independent literary publishing, an area in which I have been active for a long time. And this particular conversation reflects some longstanding personal relationships as well.
Jargon Society, founded in 1951 by poet, essayist and photographer Jonathan Williams (1929-2008), was operated for many years by Jonathan alone, then with friends and associates, and later with his life partner, the poet Thomas Meyer. The long list of Jargon publications reflects the aesthetics, thinking, whimsy and artistic vision of Jonathan Williams, for whom the press was, along with his own writing and deep friendships, his life's work. Jonathan's commitment was singularly to find and present the unusual, mostly brilliant, sometimes quirky work of writers, artists and photographers those he believed in and found exalting, transformative, and sometimes just plain strange.
Over the course of a half century, beginning when he was a student at Black Mountain College in North Carolina studying with Charles Olson and other mid-century writers, artists and thinkers, Jargon published an incredible range of highly individualized creators, some now famous and fully accepted into the American canon. The list of books and broadsides and other works published by Jargon numbers 115 pieces, and wonderfully reflects the enthusiasms of Jonathan's life. Included are early works by Black Mountain identified writers like Charles Olson, Robert Duncan, Robert Creeley and Joel Oppenheimer,  then unknown but now well known writers like Denise Levertov, Kenneth Patchen, Michael McClure, Guy Davenport, Gilbert Sorrentino, Louis Zukofsky, Buckminister Fuller and Larry Eigner, and outliers like Douglas Woolf, Peyton Houston, Alfred Starr Hamilton and Bill Anthony. Still others must be accounted to Jonathan's indefatigable championing of the then virtually unknown writers whom he felt must be shared, including Lorine Niedecker and Mina Loy.
The photography books on the list represent JW's brilliant visual sensibilities, and include work by Doris Ulmann, Lyle Bonge, Ralph Eugene Meatyard, John Menapace and Elizabeth Matheson, among others, altogether a meaningful aesthetic contribution to photographic publishing. And so do the books on outsider art (which Jonathan was following long before the popular culture caught on).
In all cases, at all times, Jargon books were reflective of Jonathan Williams' extreme commitment to making beautiful books whose look and feel would always do justice to the writing, photography and art within.
Williams and Meyer, along with a diverse cast of supporters throughout the world, devoted an immense amount of time and energy raising money for the varied endeavors of the Jargon Society. Fundraising was, it seemed, almost as much work for the press' principals as creating great books. Asking people with money to support the kind of literature and art they might not themselves find compelling is not an easy thing to do. Making pleas for money year after year can be exhausting and it is rare today to find an arts organization whose founder maintains the role of chief fundraiser throughout its history.
Jonathan Williams and Tom Meyer have been hugely influential to my own work as a writer, editor, and publisher. For me they each exemplify the committed life of the artist.  Over the years I published two books of Jonathan's poems and will soon publish his third and final collection of essays. Over the years I often visited Jonathan and Tom in Highlands, North Carolina, and learned a tremendous amount from both of them, as well as developing deep and long lasting friendships with both. And for a number of years, Inland Book Company, the company I co-founded, was the primary distributor for Jargon, a great and sometimes sobering experience for all of us whose responsibility was to sell these quirky and decidedly noncommercial creations.
Jonathan Williams was always a prolific letter writer; correspondence with the ever witty Williams was a deep and abiding pleasure.
Jargon is an exemplar of what a modern literary press can be: individualistic in the extreme, with a compelling vision of the breadth of art and and our experience of its varied forms, expanding the horizons of all who have the opportunity to be touched by the works and their beautiful singularities.
Recently, in order to continue the legacy of the Jargon Society, Tom has gifted the press and its books to the Black Mountain College Museum and Art Center, where its work can continue in a new context.
I wish I had been working on this interview series long enough ago to have talked to Jonathan Williams with the recorder running. But it was my great pleasure to talk to Tom Meyer about Jargon Society, and of course Jonathan himself, with whom he partnered and worked for forty years. This is a one hour conversation packed with information, evoking the history of one of the great literary accomplishments of the twentieth century.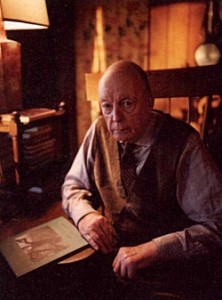 A Jargon Society bibliography checklist was published by the extraordinary and wonderful Jacket online magazine.
Appreciation of Jonathan and Jargon by Ron Silliman; an interview with Jonathan by Leverett T. Smith here; feature on JW in Jacket 38.
(Photos of Tom Meyer and Jonathan Williams by Reuben Cox)