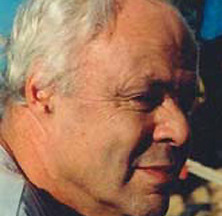 Publishing Talks began as a series of conversations with book industry professionals and others involved in media and technology about the future of publishing, books, and culture. As we continue to experience disruption and change in all media businesses, I've been talking with some of the people involved in our industry about how they believe publishing might evolve as our culture is affected by technology and the ebb and flow of civilization and economics.
I've now expanded the series to include conversations that go beyond the future of publishing. I've talked with editors and publishers who have been innovators and leaders in independent publishing in the past and into the present, and will continue to explore the ebb and flow of writing, books, and publishing in all sorts of forms and formats, as change continues to be the one constant we can count on.
It's my hope that these conversations can help us understand the outlines of what is happening in publishing and writing, and how we might ourselves interact with and influence the future of publishing as it unfolds. This new interview reflects my interest in the history of independent literary publishing, an area in which I have been active for a long time. And this particular conversation reflects some longstanding personal relationships as well.
Richard Marek's career in publishing began as an acquiring editor at Macmillan; he went on to World Publishing in 1967, and became Editor-in-Chief at The Dial Press in 1972. He acquired the manuscript of a first novel called The Scarlatti Inheritance by the then unknown author named Robert Ludlum, worked on it with him for over two years, and of course it later became a national bestseller. Marek edited Ludlum's next eight books, including The Bourne Inheritance. He acquired and edited books by more than 100 writers, including James Baldwin, Mira Rothenberg, John Yount and David Morrell. In 1978, he was given his own imprint ("Richard Marek Publishers") at G.P. Putnam's, and moved it to St. Martin's Press ("St. Martin's/Marek") where, among many other books, he acquired Thomas Harris' The Silence of the Lambs and Robert Greysmith's Zodiac. In 1989, Marek became President and Publisher of E.P. Dutton, where he edited a number of bestselling books.
After Dutton became a subsidiary of Viking/Penguin, Marek moved to Crown as Editor-at-Large and thereafter became an independent editor, evaluating manuscripts, editing and ghostwriting, which he calls "a glorious and rewarding career."
In the past 10 years, he has edited some 120 books, working for publishers, agents, and unrepresented writers. And he has also become an in-demand ghostwriter. He reports that he enjoys writing mornings and editing during afternoons.
Richard is now the ghostwriter of fourteen books, fiction and nonfiction, among them Trisha Meili's I Am the Central Park Jogger (a national bestseller), James Patterson's Hide and Seek (a national bestseller), Brian Weiss' Same Soul, Many Bodies, Ilanna Rubenfeld's The Listening Hand, David Grand's Emotional Healing at Warp Speed, and David Hackworth's Steel My Soldiers' Hearts.
And I am happy to say that I have had the opportunity to publish a lovely novel authored by Richard and his wife, the writer Dalma Heyn. It's a love story for grown ups called A Godsend.
Dick is an active member of the Independent Editors Group – more about him and that organization here.
For this Publishing Talks series, I thought it would be fun and valuable to talk to Dick about the past, present and future of publishing from his unique perspective. His long and successful experience in commercial and literary publishing as editor, publisher, and now writer, provides him with an amazing depth of knowledge and an unending well of anecdotes and stoies. What he has to say during our conversation in his home will not disappoint. He is a great conversationalist with important things to say about book publishing.