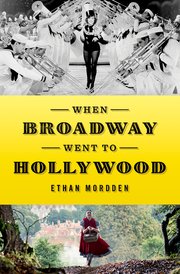 When Broadway Went to Hollywood – Ethan Mordden – Oxford University Press – Hardcover – 9780199395408 – 272 pages – $29.95 (ebook versions available at lower prices)
Ethan Mordden is probably our leading commentator and historian of Broadway musical theater, as well as their somewhat more fraught Hollywood musical cousins. This is a really fun and enlightening book for anyone who is interested in the history of this unique modern American art form. Even if you don't love musicals, the history of musical theater and its relationship to the movie business is integral to an understanding of twentieth century mass entertainment and popular culture.
The success of the now iconic musical movie, The Jazz Singer, which was among the first films to integrate synchronized music into a storyline in the late 1920s, spurred many of the best songwriters of the "Great White Way" to go west in search of riches. The list included George and Ira Gershwin, Cole Porter, Richard Rodgers, and Lorenz Hart, among many others, who like many New York based playwrights, were enticed by the huge amounts of money paid by Hollywood producers for established east coast talent.
But when Broadway writers and songwriters ran into the very different business and production methods of the movie business, it did not always work out for the best. Movie producers did not want to follow the same structure and outlook of the theatrical forms, and had to aim their products to a very different kind of audience than attended musical theatre in New York City, which Mordden very brilliantly identifies as segmented by the geography and cultural divides of twentieth century America.
There are so many interesting themes to this book. Mordden discusses the various struggles that Broadway songsters had with the Hollywood system, traces the history of the musical in theater and film, and critiques the best and worst productions of both coasts. Reading this book, we get to think about some really interesting questions – did Hollywood create opportunities for storytelling with music, or is film simply antithetical to the musical form? Are movie musicals and theatrical productions really compatible at all?
Mordden has great stories to tell about so many of the people involved in both theater and film, has probably seen more movies than anyone you will ever meet, and knows enough about music to really talk about it technically in a way the average reader will understand. He makes sense of a lot of complicated history and along the way, we get to learn some behind the scenes stories about the great musicals most readers of this book love to watch, and some of the truly terrible musical films that Hollywood has managed to create over the years.
Ethan Mordden started out in theater, as both composer and lyricist; he wrote musicals, but he is best known as a prose writer. Mordden's fiction output includes several gay themed novels in his "Buddies" cycle, as well as some excellent historical fiction, including The Jewcatcher, and most recently One Day in France. He is also a prolific writer of non-fiction, including six volumes detailing the history of the Broadway musical from the 1920s through the 1970s, guides to orchestral music and operatic recordings, and a cultural history of the American 1920s entitled That Jazz! He has also published Demented, an examination of the phenomenon of the operatic diva, and a coffee-table book on the works of Rodgers and Hammerstein. His Love Song: The Lives of Kurt Weill and Lotte Lenya is a dual biography chronicling the romance and professional collaboration of these two icons, and in 2013 he published Anything Goes: A History of American Musical Theatre. He has also written a number of books on film.
Having grown up in a family that lived some of the history in this book, talking to Ethan about the meeting of Broadway and Hollywood through musicals was tremendous fun for me. He is witty, charming and always entertaining. I think you will really enjoy listening to this conversation.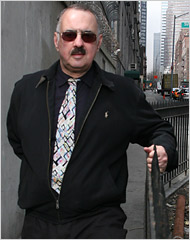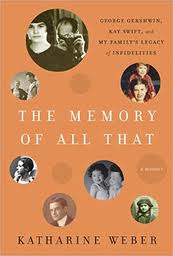 978-0307395887 – Crown – Hardcover – $24.00 – ebook editions also available
Katharine Weber is best known as a novelist – I interviewed her last year about her wonderful novel True Confections and she has written many more fine books.  The Memory of All That, subtitled "George Gershwin, Kay Swift and My Family's Legacy of Infidelities is both a memoir of her own family, as well as a history of a certain slice of twentieth century America, primarily focused on her grandmother, Kay Swift, whom she loved, and her quite unusual and difficult father, Sidney Kaufman, with whom her relationship was far more complicated to say the least.
Sidney Kaufman was a larger than life character, but mainly one of his own making, someone who spent years trying to "make it" in the movies and never succeeding.  He was also a narcissist, a husband who literally neglected his wife and family, and who had numerous long lasting affairs.  One most notable was an affair that lasted for years with Beatrice Buchman, wife of the famed (blacklisted) screenwriter, Sidney Buchman (who happens to be my father's first cousin).
Sidney Kaufman also was a target of a decades long investigation by the FBI, initially because the agency confused him with another Sidney Kaufman, a longshoreman who joined the Abraham Lincoln Brigade to fight fascism in Spain.  And hilariously, Kaufman was such a fantasist, that the FBI itself could not tell the facts about his life from the fiction.  Not so hilariously was the effect of Kaufman's absences and failures to relate to his family, which deeply affected the author of this book, as she recounts in some deeply moving passages in this book.
But in many ways, the focus of this book is really on Kay Swift, known even today for her wonderful music, as well as for her lengthy romance (and musical collaboration) with renowned composer George Gershwin.  Weber tells her grandmother's fascinating life story with a great deal of love, and of course intimacy, and provides an insider's view of many details of her life and relationships with her husbands and lovers.  Swift is in many ways an iconic, 20th century American woman, who made her way among men at a time when doing so was unusual and difficult, and required considerable verve and inner direction.  And while she had many material advantages, the challenges she faced and overcame, both personally and professionally, were significant and testament to her powerful inner being.
Weber's grandfather was James Paul Warburg, and here introduces us to him and the rest of his famous banking family.  Interesting stories are here in abundance.  Grandfather Warburg advised and feuded with President Franklin D. Roosevelt, great-uncle Aby Warburg, while eccentric to say the least, was responsible for significant theories in art and myth, and the family was at times dominated by the unusual psychoanalyst Gregory Zilboorg (who slept with his patients on a regular basis, and turned George Gershwin against Kay Swift when she decided to stop allowing him to sleep with her!)
Overall, this is an engaging, beautifully written and emotionally powerful book.  Katharine Weber's family has been complicated, brilliant, interesting, and influential in many areas of American life, and of course has made her the writer she is today.  She tells the story of her family with humor, love and a keen eye for emotional detail, and gives us a portrait of herself at the same time.
In my conversation with Katharine we talked about her father, and the complexities of his life, as well as her relationship with Kay Swift and how this book came to be written.  It's a terrifically engaging story she has to tell and we had a great talk about her really great book.
Katharine Weber's website is here.  The Memory of All That got a terrific review in the NY Times:
"…Ms. Weber's account of her relationship with her manipulative fabulist of a father brings to mind classic autobiographies of unmoored childhoods, like Mary Karr's "Liars' Club" and those companion volumes from the brothers Wolff, "This Boy's Life" (Tobias) and "The Duke of Deception" (Geoffrey)…It's when Ms. Weber remembers Papa that her considerable skills as a writer are most seductively on display. And it's not just because the exasperating Kaufman is such a good subject. It's that Ms. Weber is able to arrange words musically, so that they capture the elusive, unfinished melodies that haunt our memories of childhood. As her grandmother's lover might have put it, she's got rhythm." – Ben Brantley