M.J. Rose: The Hypnotist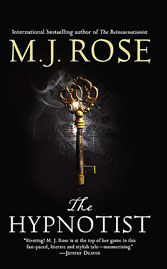 978-0778329206 – Mira Books – paperback – $14.95 (e-book and audio book editions available)
M.J. Rose is a critically acclaimed novelist – she's best known for her thrillers, of which The Hypnotist is one.  It's in a series with The Reincarnationist and The Memorist, all them with reincarnation as a central theme.  MJ's characters are compelling and well drawn, and her stories are complex and original, the books are fun to read and impossible to put down.  What more could you ask of a novel?
M.J. is also well known among writers for her activism in behalf of writers, and her brilliant understanding of marketing.  But that's a different conversation than the one we had about The Hypnotist, a book I deeply enjoyed reading, for me perfect as I got to read the book on vacation, and it is way better than most books we think of as "beach reads."  As one reviewer said: The Hypnotist has "something for everyone: murder, suspense, history, romance, the supernatural, mystery and erotica."
The detective Lucian Glass becomes deeply involved in the pursuit of anti-hero Malachai Samuels, whose Phoenix Foundation is committed to the study of reincarnation (at almost any cost).  Glass is a tortured soul whose own life connects him to the present and past day lives of other characters in this novel.  It's a complexly drawn story and one that will reward readers, even those who have no interest in the paranormal or esoteric metaphysical subjects that are do beautifully woven through the story. You will enjoy the denouement, and the story will stay with you long after you have turned the last page of the book.
Rose is a skillful writer who treats her readers to a high level of originality and surprising story making.  She is also fun and rewarding to talk to about her books, as she shows in this insightful interview.  She has a great website, a couple of blogs, and aside from having written 11 works of fiction, she has also co-authored two books about writing, and has been profiled in Time Magazine, Forbes, The New York Times, Business 2.0, Working Woman, Newsweek and New York Magazine, and has been on many television shows.  She is also the founder of the very successful book promotion business, AuthorBuzz.