James Gustav Speth: The Bridge at the Edge of the World: Capitalism, the Environment, and Crossing from Crisis to Sustainability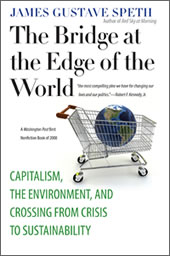 978-0300151152 – paperback – Yale University Press – $18.00
While I was reading The Bridge at the Edge of the World, I often would exclaim out loud as so many of the ideas the author talks about are ones I believe in and feel are important to the dialog about the future of our planet.  This is an important book that should be widely read, discussed and used as the basis of action – and soon!
Co-founder of the NRDC, former Yale University dean, and former White House advisor James Gustave Speth has been a leader in the environmental movement for more than 30 years.
Now, faced with overwhelming evidence of galloping degradation of the planet, Speth has concluded that the environmental project—his project—has failed. No matter how hard environmentalists work, the current of destruction against which they are swimming is simply too swift. In order to preserve a livable planet for future generations, Speth argues in The Bridge at the Edge of the World that the current itself must be altered. And the current is that untouchable edifice, American-style consumer capitalism.
I found this book to be powerful and compelling and wanted to talk to "Gus" Speth about the implications of his thinking.  How should we go forward when we know that the way we live today is putting us on a collision course with the natural world?  How do we build new ways of living that are sustainable?  And how are we going to do this in the face of so many entrenched interests that will oppose the essential changes we feel are necessary for human survival and for the preservation natural systems in a viable planet earth?
While this interview is perhaps all too brief, Speth talks in depth about some of his ideas and answers my questions with his typical incisiveness and intelligence.