Galen Rowell and Peter Beren: California the Beautiful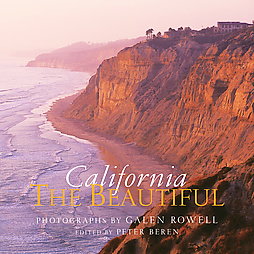 978-1599620749 – Hardcover – Welcome Books – $19.95
Galen Rowell was an incredible photographer, documenting and interpreting nature all over the world.  He was an accomplished mountain climber, so he was able to reach places that most other photographers could never go.  He died tragically and far too early in an airplane crash in 2002.  I've been familiar with his work through many books, calendars and exhibitions, but really did not know a great deal about him.  Peter Beren, who I have known through the book business, has authored and edited numerous books, including The Writer's Companion, Vintage San Francisco, and Hidden Napa Valley. He was the publisher of Sierra Club Books and founding publisher of VIA Books, and now lives and works independently in San Francisco.
California the Beautiful is both a photography book and a literary meditation on California as a place of transcendent beauty.  The geography of California has engendered some of the great nature writing of our time, and much of that work is featured here.  Peter talked at length about the genesis of this project, his work with Galen Rowell, the way Rowell worked and Peter also read some of the wonderful selections of writings that are included in this book.
California the Beautiful is both a portrait of the state's diverse natural beauty and, through the incredible voices of its writers, a testament to the ever-renewing spirit that it has come to embody. Aldous Huxley, British author turned Hollywood resident, described the California dream as "this great crystal of light, whose base is as large as Europe and whose height for all practical purposes, is infinite."
Among the other authors offering praise are Maya Angelou, Mary Austin, Ray Bradbury, Joan Didion, Gretel Ehrlich, Lawrence Ferlinghetti, M.F.K Fisher, Robertson Jeffers, Jack Kerouac, Clarence King, Jack London, Henry Miller, John Muir, William Saroyan, April Smith, John Steinbeck, Robert Louis Stevenson, Mark Twain, Nathanael West, and Walt Whitman.
This is a beautiful book that inspires an almost altered state in the reader, as the saturated colors move from eye to brain.  But the photos and the writing made me want to get in my car and drive straight west to see some of the places there that absolutely must be experience first hand by every American.
An excerpt of California the Beautiful is available at www.chptr1.com.