Ellen Cassedy: We Are Here: Memories of the Lithuanian Holocaust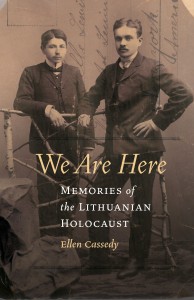 978-0803230125 – University of Nebraska Press – Paperback – $19.95 (ebook versions available at variable lower prices)
Finding this book was a happy accident for me.  Much of my own family is from Lithuania and I have long been interested in the history and culture of the Jewish community prior to World War II.  I've read a number of books by Jews who survived the Holocaust in Lithuania – terrible stories of suffering and loss.  But Ellen Cassedy's story resonated even more deeply for me.  She went to Lithuania to study Yiddish as part of her quest to connect to her Jewish roots on her mother's side and to explore the country and culture of her family's birth.
She also needed to learn some of the secrets of her Holocaust survivor Uncle's past, and as she explored and connected to Jews and gentiles alike, her experiences in modern Lithuania changed her perspective and understanding of the complex connections between people, their history, and their present.   Much of what she believed was true about Lithuania as well as her family's experience in the terrible war years was upended by what she learned and the people she met and interacted with there.
Cassedy's story should be meaningful not just for Jews seeking to understand their European roots.  Through her eyes, we learn a lot about her hard work in trying to master the complexity of the beautiful and difficult Yiddish language.  She spends time with old people, young people, survivors, witnesses, goes through old Lithuanian and Russian archives, interviews city and country folk, including an old man who wants to "speak to a Jew" before he dies and learns a great deal about the issues that confront a country that was taken over by both Nazi and Soviet dictatorships.  In the end, her journey transforms her, and in this memoir she allows us to travel with her through a difficult and rewarding emotional and physical landscape.  I truly enjoyed this book and talking to Ellen about it was a pleasure.  And I learned some new Yiddish words and expressions too!
Her own website is well worth a visit – nice video of Lithuania and more about her other work.