Andi Silverman: Mama Knows Breast: A Beginner's Guide to Breastfeeding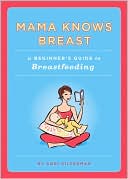 978-1594741654 – paperback – Quirk Books – $14.95
Andi Silverman, author of Mama Knows Breast, interviewed by Writerscast host David Wilk
As a middle aged man, I am clearly not the audience for this book, but when I saw a copy of the book and read the first few chapters I knew right away this would be an author I wanted to interview.  Mama Knows Breast is a great title for a book (as well as for the author's very well put together and consistently informative website). And her publisher, Quirk Books, has put together a beautifully produced paperback with very cool and comforting illustrations.
As the author, Andi Silverman tells me in our interview, she wanted to write the book she needed when she was looking around at books about breastfeeding – something not medical, or like a textbook, but a book for moms by a mom, with humor, a caring approach, and above all, not judgmental regardless of the decisions each mom makes about breastfeeding.
And of course, as she rightly points out, breastfeeding is not just a subject for women.  Having been father to two breastfed children, I can attest this is true.  Breastfeeding is not a choice that every woman or family can make of course.  But breast milk is healthy and natural, and better for the baby and child than any formula.  My interview with Andi Silverman reflects her spirit and approach as an author – she is full of good advice gently given, and is someone almost any woman would want to consult for advice.