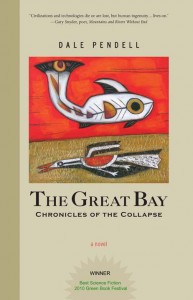 978-1556438950 – North Atlantic Books – Hardcover – $21.95
This is an amazing novel.  Consider it a work of "ecological science fiction" as some have called it.  I found it captivating, terrifying, incredibly emotive and reading it becomes almost a spiritual exercise.  Pendell posits a worldwide collapse of population from a biological war gone amok.  More than 95% of humanity disappears, almost overnight.  He actually does not spend much time on this part of the story, horrific as it is, because that catastrophe is really just the lead in for the much bigger story of what happens next.
Aside from the critical principle of understanding, that modern human society will simply collapse, that going back to prior technologies becomes impossible because people no longer have the knowledge or skills, to live the way our ancestors did, and critically, cannot relearn them overnight in the face of societal collapse, the central tenet of this novel is that climate change will have been unleashed by what modern society *has already done* to the natural world.  The computer models of planetary climate change are simply not able to fully contain and predict the massiveness of what is about to happen to the planet and the natural world that inhabits it.
The novel is essentially a brilliant imagining of what might or could be the future of the planet over the next hundreds, thousands of years, based on the supposition that humans have already begun this process of change.  It's a rich set of interlocking stories, mostly focused on the area that is known today as California, a bio-geographic landscape that author Pendell knows well, and imagines changing in profound and sometimes painful ways for the reader of his story.
This is a very unusual novel – really the main character is the planet and there are no traditional heroic human characters at its center.  While we might search for and find labels for it ("dystopian" or "utopian," "science fiction" or even "parable"), I'd rather think of it as a kind of vision-telling, a myth in the making, that seeks to change the way we think about ourselves.  Indeed, there is a great deal of suffering and difficulty in the book, and at the same time, a powerful sense of continuity, what truly sustains.   As the great poet Gary Snyder (who is a fictionalized character in the book, as it happens), says about the novel: "Civilizations and technologies die or are lost, but human ingenuity–families, tribes, and villages, the musicians, shamans, philosophers, and people of power–live on."  I'd add that not only does human ingenuity live on, so does Gaia, our planet home, adjusting and re-adjusting its inner and outer being, regardless of which or how many humans may be hanging on for dear life.
In my conversation with Dale, we talked about his background as a writer, poet, biologist, and how this brilliant vision of a book came into being.  It's an interview and a book I'd recommend to all my friends and colleagues – it's impossible to read and not do alot of thinking about the future, as well as what we need to do about it – right now.

In this series of interviews, called Publishing Talks, I have been talking to book industry professionals about the future of publishing, books, and culture.  This is a period of disruption and change for all media businesses.
How will publishing evolve as our culture is affected by technology, climate change, population density, and the ebb and flow of civilization and its economics? Publishing Talks interviews help us understand the outlines of what is happening, and how we might ourselves interact with and influence the future of publishing as it unfolds.
These interviews give people in the book business a chance to talk openly about ideas and concerns that are often only talked about "around the water cooler," at industry conventions and events, and in emails between friends.
I believe these interviews give people inside and outside the book industry a chance to hear first hand some of the most interesting and challenging thoughts, ideas and concepts being discussed within the industry.
Margo Baldwin is the co-founder of Chelsea Green Press, an outstanding and fiercely independent publisher now based in White River Junction, Vermont.  We've known each other a long time, and over the years, we've had opportunities to talk about publishing and politics on many different levels, so this interview is really a continuation of that ongoing conversation about books and ideas, and the role independent publishing can play in making real social change.  Chelsea Green's work extends far beyond the books it publishes, to blogs, websites, video, political movements, and community involvement.  The company's 2003 mission statement is a powerful – and sobering – expression of what a socially engaged publisher might be in the 21st century.
"Indeed, one begins to wonder what "living" really means or will come to mean in the opening decade of the twenty-first century. Can anything be deemed sustainable when life itself–in all its myriad forms–is threatened at so many levels?  Is it enough to focus on the how-to of 'green living' in the face of such overwhelming force, the 'shock and awe' of forest and ecosystem destruction, the rampant plundering of the world's oceans, the terror of GMO-contaminated-food, and the unintended consequences of biotechnology? We wish to move the company forward boldly and with a new sense of urgency. While continuing our commitment to remain at the forefront of information about green building, organic growing, and renewable energy – the practical aspects of sustainability – we will also publish for a new politics of sustainability, for the cultural resistance that living demands of us now."
In our Publishing Talks conversation, Margo talks about the history of Chelsea Green, where it is today, and where her vision of publishing will lead the company in the future as it tries to carry out its bold and important mission.  The recently announced partnership between Chelsea Green and Vermont's Northshire Books is a great example of the creative thinking that Margo and her company are practicing.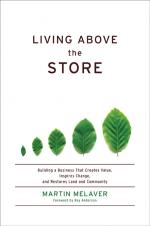 9781603580854 – Hardcover
Chelsea Green Press – $27.95
This is one of the most important and challenging books I have read in a long time.  In this book Martin Melaver tells stories about his life, his business, his family, and his community, as a  framework for understanding how business can (and must) change, in order to become truly sustainable, to become additive rather than extractive, and to rethink the way business is done.  As the publisher says: "Living Above the Store is for readers who care about issues of community and sustainability as well as for those who want to learn more about how a socially responsible business can first redefine, and then find, success."  In this interview, Martin and I talk in depth about the key ideas in the book, and talk in detail about some of the practical issues the book raises for so many who want to make a difference.  Martin demonstrates his clarity of thought and deep commitment to truly making change in business and community.  Highly recommended!
Martin Melaver has been CEO of Melaver, Inc., since 1992. Never content with the well-trod path, he has a PhD in literature from Harvard University and an MBA from Northwestern University's Kellogg School of Management. He is actively involved with numerous community organizations in and around Savannah, Georgia. Melaver splits his time between Savannah and Tel Aviv, Israel. …