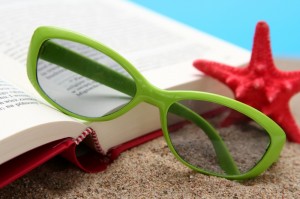 I have been posting two podcasts a week for the better part of the last year, which has been great fun.  But with the summer in full swing, weather wonderful and plenty of work in the hopper, it looks like I may be posting slightly less frequently for the next couple of months.  I'm not reading fewer books, but scheduling interviews seems to be more difficult in the summer too.  And publishers and technologists take vacations!   I do have some really good interviews coming along soon: Anna Lappe, Nick Mamatas, Dean Bakopoulos among other writers, and Kate Wilson of the great new kids publisher Nosy Crow for Publishing Talks.  And there will be more.
I've also started a new website I hope you will visit – it's called New Book Media (newbookmedia.com) featuring a long list of digital book events around the world, and a steady stream of news and information about the wildly expanding world of digital publishing.  Livewriters.com now has more than 2500 book and author related videos, and is still the only website focused exclusively on video about books, along with an entertaining and original literary blog called LiveWires.
If you've read a great book lately I want to know about it.  Direct message your recommendations to @writerscast.