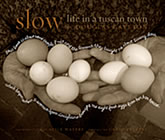 978-1-59962-072-5 – Hardcover – Welcome Books – $50.00
If you love beautiful books, Slow: Life in a Tuscan Town by Douglas Gayeton will be irresistible.  Gayeton is a film maker who ended up living in a small town in Tuscany that his wife (at that time) was from.  When she left him, he stayed.  He learned to speak Italian, and fell in love with the people, the place, and the pace of a community that was completely foreign to him and his American way of being.  As he told me in this interview, as a film maker, he is used to telling stories.  When he began to take photographs, thousands of them, the only way he could make sense of them was to create a narrative from them.
Which he did, by writing notes on the actual photographs, and also by layering multiple shots of the same scene over time.  The effect of the images and words here is mesmerizing.  And of course the representation of these people, their way of living, and the places they inhabit embody the stories Gayeton tells here.
This is both a personal narrative and one that – as great art must do – transcends and transforms the specific experiences portrayed.  Gayeton takes us on his journey to help us understand ourselves through an experience of others, just as he did.  I view these photographs and read the writing on them (notes, anecdotes, recipes, and many facts about Tuscany and Tuscan life), and find myself transported – beyond the "real" places he pictures to an almost spiritual state of being that is based in the imagination and soul of place.  "Slow" living is something all of us who are seeking meaning need to experience, Slow: Life in a Tuscan Town is a doorway that will help us enter that experience.  Welcome Books deserves a lot of credit for making this spectacular book.
DOUGLAS GAYETON is a filmmaker, photographer, and writer. His images are held in a number of influential museum and private collections around the world, and have been featured in numerous print and online media, such as Time Magazine. Since the early 90s he has created award-winning work at the boundaries of traditional and converging media for AOL, MSN, MTV, Yahoo, Fox, Vivendi, Sony, Viacom, Sega, Intel, National Geographic, PBS, Warner Bros., Columbia, and Virgin Records. Recent projects include LOST IN ITALY, a 26 episode interstitial TV series Gayeton created, directed, and shot for Fine Living, and A SECOND LIFE ODYSSEY for HBO, the first documentary shot inside a virtual world.
Doug Gayeton is also a terrific interviewee, who tells his story particularly well.