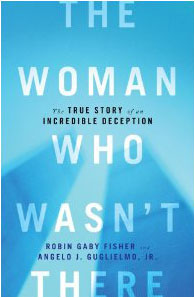 978-1451652086 – Touchstone – Hardcover – $26 (ebook edition available at lower prices)
You really need to know the subtitle of this book to get the full impact – The Woman Who Wasn't There: The True Story of an Incredible Deception. It is an incredible story, about a woman who became one of the leaders of the 9/11 survivors movement, who then turned out to be a complete fraud.  How she managed to convince so many people of a story that was so much a part of our public experience (and so much a part of the terrible private experiences of other survivors and family members) is what makes this book compelling.
Journalist Robin Gaby Fisher wrote this book with Angelo J. Guglielmo, Jr., a documentary film-maker who was very close to the main character of the book and who was part of the story itself.
Tania Head told a dramatic and heart stopping story of survival from an upper floor of the World Trade Center, and quickly rose to a position as leader at an early stage in the development of the World Trade Center Survivors' Network.  She became a prominent public figure helping to establish the group, gave a public face to the survivors' group, and was deeply emotionally involved in the lives of hundreds of people.  Until her story unraveled and the truth became known.
It is a tricky thing for a writer to maintain the reader's interest when the end of her story is already known – Fisher handles this problem successfully by painting an engrossing and detailed picture of Tania Head and all the people around her, and by keeping us waiting for the important details of how her story actually came apart.  And while it is impossible for anyone to truly know and understand Tania, who will not speak publicly about anything at all, Fisher paints a deft portrait of a complex psychological being, who joins a long list of famous public frauds who have taken on personae that did not factually belong to them but whose beings were poured into their fantasies in service of deeply felt emotional needs.
It's also hard not to wonder about the human need for heroes and leaders, which these sorts of confidence men and women prey on.  This could happen to any of us, and perhaps especially when we are ourselves emotionally vulnerable and desperate for someone to show us the better side of the human spirit.  In many ways, this story illuminates more about the nature of human suffering and stress than it could ever help us to understand the perpetrator of the fraud itself.  It's a very rewarding book to read and my discussion with Robin Gaby Fisher about the book will illuminate some of the important issues raised in her book.
Robin Gaby Fisher is a two-time finalist for the Pulitzer Prize in Feature Writing and a member of a Pulitzer Prize-winning team at the Newark Star-Ledger. She teaches Journalism at Rutgers University in Newark, New Jersey.