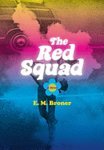 978-0307-37791-3 – Hardcover – Pantheon – $24.00 (also available as an e-book; a paperback edition will be out in July 2010 – 978-0307-45584-0 – $15.00)
This is a sometimes hilarious, always engaging, warm and sexy novel about a group of midwestern academics from the sixties, told from the vantage point of Anka Pappas, who, forty years after this fraught period in her life, finds out the entire group was under surveillance by the federal, state and local governments.  The story weaves together past and present, as Anka reconnects with her friends and associates – much drama, emotion, and memory unfolds, demonstrating that the past is not at all a dead or forgotten issue.  It's a complicated story that Ms. Broner tells quite skillfully, keeping alot of balls in the air (it does help to have a cast of characters in the front of the book to which the reader can refer, as there is alot of perspective changing going on, sometimes at very high speed).
Broner knows that the political engagement of the sixties and early seventies can not be seen as an isolated period.  It is deeply connected to our present.  And through this book, she shows us that the issues that engaged the young activists of that earlier period are still with us today.  The power relationships in our society ultimately have not been changed; there is much work to be done, and much more engaged life to be lived.
There's no preaching here, this is a book written by a smart, accomplished writer, who knows how to make a story work, and who clearly had a great time writing this book.  Talking to Esther Broner about the book was alot of fun for me.  In this interview, she talks about this book and how it relates to her own life.  We talk about politics, the nature of fiction and nonfiction, memoir and story, reality and imagination, appearance and reality, and of course the connection between the activism of the 1960's and how it relates to us today.
This is an enjoyable, funny book that carries a powerful political and emotional punch, written by a skilled and experienced author whose work deserves a wide audience.