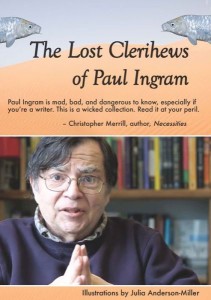 The Lost Clerihews of Paul Ingram – 978-1-888160-77-2 – paperback original  – Ice Cube Press – $19.95 (no ebook edition!)
The clerihew is a somewhat obscure form of poetry invented by the English writer Edmund Clerihew Bentley as an alternative to the limerick. It has a particular focus, which is to skewer or make fun of a famous person, is only four lines long, with irregular line length and meter. Rhymes follow the AABB structure with as much humorous contrivance as possible to do what needs to be done to accomplish the goal of the poem – fun at the expense of a well known individual.
I first was introduced to this form by my old friend and mentor, Jonathan Williams, whose quirky and creative sense of humor was perfectly fit for this fun form. He wrote a wonderful book called the Fifty Two Clerihews of Clara Hughes, which is well worth seeking out (produced in a limited edition and long out of print, but should be available in a few libraries, and I found a audio version of it online.)
Brits invented the form and seem to like it a lot. Auden wrote clerihews and so did Bentley's friend G.K. Chesterton. One of Bentley's earliest clerihews is still one of his best:
Sir Christopher Wren
Said, "I am going to dine with some men.
If anyone calls
Say I am designing St. Paul's.
And now we have another great collection of clerihews, written by the hilarious and well read Iowa City based bookseller, Paul Ingram. Paul has been a friend of mine (and of hundreds of writers) for a long time. He's known far and wide as one of the great booksellers and talkers about books and visitors to Iowa City seek him out at the wonderful Prairie Lights Bookstore* to talk to him about books.
As he tells us in the introduction to his book, Paul has been writing clerihews for more than twenty years, mostly as the spirit struck, often on tiny pieces of paper that seemed to disappear. Thus the "lost" in the title of the book. We can only be grateful that this packrat managed to keep and find most of the poems he wrote so that we can enjoy them here. As Roz Chast says "after you read it, you will need to put aside whatever important work you are doing and write several of your own." Clerihews are like candy.
Almost all of Paul's clerihews are fun, hilarious, some are political, and some are much more weighty than the form suggests, like this one:
General Custer
Lost all of his luster,
And most of his pride
On his final ride
It is difficult to resist consuming this book like candy.  I enjoyed having the chance to hear Paul about his own writing, poetry and book selling. You will too. This is a fun book with alot to say. Like the author himself.
Paul's book has wonderful illustrations by the Chicago artist Julia Anderson-Miller. Publisher website here.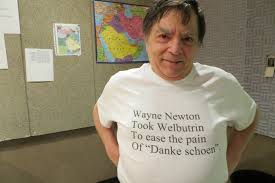 *I interviewed Jan Weissmiller, proprietor of Prairie Lights, for Writerscast a few years ago,
In this series of interviews, called Publishing Talks, I have been talking to book industry professionals about the future of publishing, books, and culture.  This is a period of disruption and change for all media businesses.
How will publishing evolve as our culture is affected by technology, climate change, population density, and the ebb and flow of civilization and its economics? Publishing Talks interviews help us understand the outlines of what is happening, and how we might ourselves interact with and influence the future of publishing as it unfolds.
These interviews give people in the book business a chance to talk openly about ideas and concerns that are often only talked about "around the water cooler," at industry conventions and events, and in emails between friends.
I believe these interviews give people inside and outside the book industry a chance to hear first hand some of the most interesting and challenging thoughts, ideas and concepts being discussed within the industry.
Jan Weissmiller recently achieved her fifteen minutes of fame when President Barack Obama visited her store – and the picture of her selling him a book went viral very quickly.  But Prairie Lights Bookstore has more going for it than simply being the backdrop for the first  citizen's book buying habit writ large.  It's been a fixture in the strongly literary community of Iowa City since Jim Harris started the store there in the late '70s.
As times have changed, so has the store, and today Prairie Lights has an active web presence in addition to its longstanding role as "the" local bookstore in one of the great small towns of middle America.  I've been to the store many times over the years, and deeply admire the vision and care demonstrated first by Jim and Jan, when she was the first employee of the store, and now by Jan and her current wonderful staff of book devotees.  Many towns no longer have the opportunity to experience the depth of knowledge that a great bookstore can provide.  What Jan and Prairie Lights show us about bookselling is important – people use technology to make life easier, but people need other people to make life meaningful.
In case you missed it, here is the link to the NY Times story about Prairie Lights. And here's the now famous photo.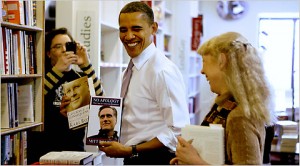 Jan Weissmiller was the first employee of Prairie Lights, beginning in 1979, and is now its co-owner.