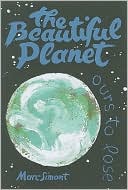 978-1935212-09-6 – Easton Studio Press – Paperback – $15.00
The Beautiful Planet: Ours To Lose is an impassioned anti-war cartoon book by one of America's foremost illustrators. Marc Simont's drawings, taken from five decades of editorial cartooning, capture the essence of a brooding Nixon, a smiling Reagan, a bland Bush One, and a dumbfounded Bush Two as they prosecute their wars. Simont's fierce portrayals of the Military-Industrial Complex are intimately linked to his passionate indignity on behalf of all civilians, soldiers, and prisoners who have suffered.
Continually struck by the majesty of the planet as it floats in space like a jewel, Simont asks, will it survive?

 Born in Paris in 1915 to Catalonian parents (his father was himself a world renowned illustrator), Marc Simont spent his childhood in France, Spain and finally the United States, where he settled in 1934. After serving time in the U.S. Army during World War II, Simont went on to illustrate over a hundred books working with a wide range of authors, including Margaret Wise Brown, Red Smith, and James Thurber.  Simont received the Caldecott Medal in 1957 for his illustrations to A Tree is Nice by Janice May Udry and a Caldecott Honor in 1950 for The Happy Day by Ruth Krauss.

 He is the author/illustrator of seven books, most recently The Stray Dog (2001), which won yet another Caldecott Honor, was chosen by The New York Times as one of the ten best illustrated books of the year, became an ALA Notable Children's Book and received the Boston Globe-Horn Book Honor Book Award.
Internationally acclaimed for its grace, humor and beauty, Marc Simont's art is in collections as far afield as the Kijo Picture Book Museum in Japan.  He was chosen as the 1997 Illustrator of the Year in his native Catalonia and received the Hunter College James Aronson Award for Social Justice Journalism in 2008.
Interviewing Marc about this terrific book was a special occasion for me.  I love the illustrations he has done for so many exceptional children's books, many of which I know well, having read them to my own children.   I was lucky to have the opportunity to work with him in producing The Beautiful Planet, which collects the pithy, humane and piercing political cartoons he has been making and publishing in The Lakeville Journal since the 1940's.  In this conversation, we talked about his early life, coming to America, his early work as an illustrator, his many well known collaborators, and of course his political cartoons that are collected here in this, his newest book.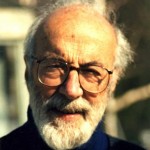 Marc's approach is never to attack, but always to expose fallibility.  He is a wonderful man whose work is marked by a love for humanity and an appreciation for actual human beings; he is a true humanist and a brilliant artist.