PennSound is an incredible project established by Al Filreis and Charles Bernstein with tremendous support from the University of Pennsylvania, collecting poetry in audio form from an incredible array of sources.  There really isn't anything like it anywhere.  There are historical recordings, so many of which are fantastic and powerful, that it is almost impossible to know where to start.  All the poets whose work matters to me are here.  And there are many voices from the recent past and the present as well.  You can spend hours on this site and of course you will never be able to experience the full range of what they have, there is just too much.  And there is new work added or highlighted every day!  Amazing.  For anyone interested in the sound of writing, this is a site you must visit.
Al Filreis and Charles Bernstein at PennSound (photo by Mark Stehle)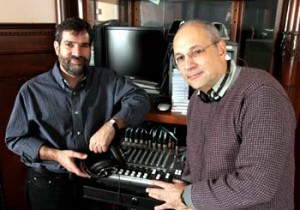 PennSound Daily is written by Michael S. Hennessey.
Want to read more?
Control the number of PennSound Daily entries you're viewing with the drop-down box at the top of the page, or
visit the PennSound Daily archive.
You can subscribe to
PennSound Daily with your favorite RSS feed reader. Or, use this link
to add PennSound Daily to your Google Reader or iGoogle homepage.