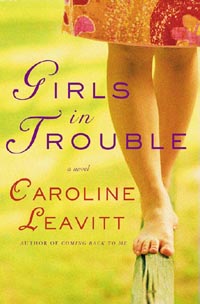 978-0312339739 – paperback – St. Martin's Griffin – $14.95
Sometimes you get lucky.  There are books you find by accident, maybe you choose them just to browse, not meaning to become engaged, they're discoveries, books you would not "normally" have picked up to read, they surprise you, you're hooked, and then you can't stop reading.  For me, reading Caroline Leavitt's Girls in Trouble was just that sort of a book.  In this case I read it because she wrote me an email and asked if she could send me a copy of the book, which was easy enough for me to agree to.  When it came, I picked it up, the story line described on the cover has some personal resonance, so I took a chance and started reading.  And then found I could not put it down.  Reading Girls in Trouble was a constant surprise and revelation.  It took me places I did not expect to go, it gave me characters I wanted to know and know better, and I believed in their experiences.  And it's a big plus that Caroline can really write.
I don't want to give any of the story away, but suffice to say, what happens to the people in this book is not what you expect, and reading it will help you understand something important about families, relationships, and parenting.  Not the easy, feel-good poster stuff from the movies either.  I recommend this book to almost any kind of reader, male or female, old or young, literature readers and even those who just like to be entertained.  It's that good.
Given how much I liked this book, interviewing Caroline Leavitt was quite a pleasure.  She has a lot to say about writing, and the way she interacts and lives with her characters, and how this and her other books came into being.  Girls in Trouble is a rich vein to mine for an interview too, as it works on so many different levels and across so many lives and years, and of course because it is centered around an open adoption gone terribly wrong, it generates a certain amount of controversy and that gives the author another great subject to talk about.  I am very much looking forward to reading her next novel, Pictures of You (which we also talked about in this interview).