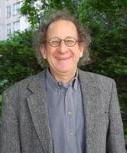 In this series of interviews, called Publishing Talks, I have been talking to book industry professionals and other smart people about the future of publishing, books, and culture.  This is a period of disruption and change for all media businesses.  We must wonder now, how will publishing evolve as our culture is affected by technology, climate change, population density, and the ebb and flow of civilization and  economics?
I hope these Publishing Talks conversations can help us understand the outlines of what is happening in the publishing industry, and how we might ourselves interact with and influence the future of publishing as it unfolds.
These interviews give people in and around the book business a chance to talk openly about ideas and concerns that are often only talked about "around the water cooler," at industry conventions and events, and in emails between friends and they give people inside and outside the book industry a chance to hear first hand some of the most interesting and challenging thoughts, ideas and concepts being discussed by people in the book business.
Mike Shatzkin, is the founder and operator of a well known book industry consulting business called The Idea Logical Company.  He's also a blogger extraordinaire who writes incisively about issues in the book industry at The Shatzkin Files and who is never afraid to make public predictions about the future of books and the book business he knows so well, having essentially grown up in the business from an early age.  He is an organizer of conferences, and a frequent speaker at publishing industry gatherings large and small.
The description of Idea Logical on its website sums up Mike's role pretty succinctly: "The Idea Logical Company consults to book publishers and their trading partners about the changes engendered by digital transformation to every component of the value chain."  Mike has spent thirty years addressing all sorts of issues and problems for publishing and retailing clients of all sizes.  In recent years, his work has focused on the changes created for the publishing industry by a variety of new and emerging digital technologies.  He was an early advocate of digital publishing, and also established the concept of "verticality" or subject specific publishing as a way to organize publishing around digital technologies.
Beyond his interest and expertise in publishing, Mike is also a writer and an active entrepreneur.  In this interview, we did not discuss any of his baseball related writing, editing, publishing and website development – if we had, it's likely we would have used up all our time talking about our mutually shared passion, a subject in which Mike has also had an entire career simultaneously with his consulting work and constant thinking and analysis about books, publishers, readers and the business that serves them.
In my opinion, Mike talks just as clearly and intelligently, if not more so, than he writes, which given his writing talents, is saying alot.  We certainly had a lot of fun in this conversation, which I think will be useful and interesting to anyone interested in the future of books and reading.  As Mike says in his latest blog post: "Sometimes, and it would seem quite often these days, the future comes faster than you expected it."