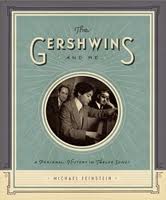 978-1451645309 – Simon & Schuster – Hardcover –  $45 (ebook editions available at lower prices)
Michael Feinstein is doubtless the most active supporter and proponent of the Great American Songbook we have.  Aside from his own inspiring performances, he is an incredible impresario of the music he loves and that he loves to share.  His "Michael Feinstein's American Songbook" show is on PBS (and past seasons are available on DVD).  He performs more than 200 times a year, and records regularly.
Michael has been nominated for five Grammys, most recently in 2009 for The Sinatra Project and his TV special, Michael Feinstein – The Sinatra Legacy, is currently airing on PBS.
He is also the founder of the Feinstein Initiative, that preserves and promotes the Great American Songbook, and serves as Artistic Director of the Palladium Center for the Performing Arts, a $170 million, three-theatre venue in Carmel, Indiana, which opened in January 2011. The theater is home to an annual international Great American Arts festival, diverse live programming and a museum for his rare memorabilia and manuscripts. Starting in 2010, he became the director of the Jazz and Popular Song Series at New York's Jazz at Lincoln Center. In 2013, he will replace the late Marvin Hamlisch as the lead conductor of the Pasadena Pops.
His many other credits include scoring the original music for the film Get Bruce and performing on the hits television series "Better With You," "Caroline in the City," "Melrose Place," "Coach," "Cybill" and "7th Heaven."
Feinstein was born in Columbus, Ohio, where he started playing piano by ear as a 5-year-old. After graduating from high school, he worked in local piano bars for two years, and then moved to Los Angeles when he was 20. The widow of legendary concert pianist-actor Oscar Levant introduced him to Ira Gershwin in July 1977. Feinstein became Gershwin's assistant for six years, deeply influencing his life and setting him on the path that has become his life as a singer, songwriter and promoter of music.
In The Gershwins and Me, Feinstein tells a personal story in which each of the twelve chapters highlights one of the Gershwin classic songs, using them to tell the story of the Gershwin brothers and their family, illuminating their music and incredible creativity, and telling memorable personal stories throughout. In this unusual narrative, Feinstein tells a moving chronicle of his own life with the Gershwins and his vision of how their music inculcates so much of modern American life.  It's a wonderful, personal and special book that I very much enjoyed discussing with author Michael Feinstein, whose amazing website demonstrates the incredible breadth of his work in music.