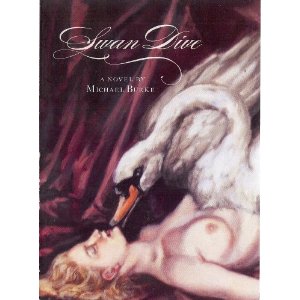 978-1929355501 – Pleasure Boat Studio/Caravel Books – paperback – $15.00 (also available as an e-book at $9.99)
This is Michael Burke's first novel, and it's a good one.  He is probably much better known as a sculptor and graphic artist; he is clearly an accomplished writer as well, and as with his art, there is a great deal of thought behind the manifestation he has chosen for this story.  Michael Burke is also the son of renowned philosopher and poet Kenneth Burke, which may help explain some of his accomplishments.
While I was preparing to interview Michael about his very well written and entertaining novel, I read a fascinating profile of him and his work as an artist in the Harvard Alumni Magazine, an article that in itself is well worth reading.
This is an intellectual novel, but it is never heavy handed.  The dialogue is smooth, funny, and vibrant.  The story pays homage to Leda and the Swan but that motif never gets in the way of the story, and it's not even necessary to know any Greek mythology to enjoy the book, which unfolds naturally.  Of course we know there is a denouement coming, it's a murder mystery after all, but there is plenty of complexity to keep us interested and engaged.
Swan Dive's main character, Johnny "Blue" Heron, is a modernized Dash Hammett sort of hero, smart, mouthy and alot more in need of help than he realizes.  The book has many interesting and engaging characters, an unpredictable narrative, some sex, and an overall verve and political awareness that makes clear the author is socially engaged and has something important to say about the world we live in.  You can read this book purely for fun, or as a neo-noir genre revival novel, but there's alot more going on here for anyone who wants to delve into its many layers.
Swan Dive is a book I will recommend to mystery lovers who want a book with depth, a fast paced narrative and interesting characters.  In my discussion with author Michael Burke, we had a lively discussion about this book and how he came to write it, his background as an artist, and where he is headed as a writer (there's another Blue Heron novel in the works).  I'm definitely looking forward to reading more of his writing.