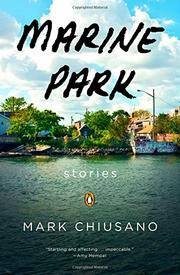 Marine Park: Stories – 978-0143124603 – paperback original – Penguin Books – $15.00 – ebook versions available at lower prices
Mark Chiusano grew up in Marine Park, perhaps the most isolated and least well known neighborhood of the now hip New York borough of Brooklyn. He spent some of his summers playing baseball in Switzerland.
He went to Harvard University, where he was the recipient of a Hoopes Prize for outstanding undergraduate fiction. Mark is still young – mid-twenties – but has been a prolific writer of short stories since college, some of which have appeared in literary magazines, including Guernica, Narrative, Harvard Review, and online at Tin House and The Paris Review Daily.
This first book is a collection of stories called Marine Park, after his boyhood neighborhood. It's a diverse collection, but linked by tone, perspective, and some recurring characters. Stories revolve around kids growing up in the tight-knit neighborhood, portraits of its denizens, adventures and misadventures. Eight of the stories, perhaps the core of the book, revolve around the brothers Jamison and Lorris, as they grow up from late childhood into adults in the almost present. 
Overall, these are really well written stories, any one of which can stand alone, but collected, create a cohesive outlook and impact on the reader. There's a palpable love and joy that shines through the narratives without ever falling prey to sentimentalism.
This is clearly a first book, with some stories seeming to experiment with different manners and tropes, as the author is feeling his way toward his authentic voice. But Chiusano is such a fine stylist, we tend to forgive any missteps or methodological repetitions. He is an original voice in many ways and we can expect more great writing from him as his work continues to grow.
Chiusano is now an editor at Vintage Books and is working on his next book.I'm guessing that his work, where he must spend time reading and editing other writers' work will help make him even better than he already is. I'm looking forward to reading more from this fine new writer. I think you will find our conversation both interesting and revealing of how a wonderfully creative writer thinks about the work.
This interview was recorded at John Marshall Media, New York City in summer 2014.
Author website –  where you can find a great quote about the book: "Here's the spirit of dear Sherwood Anderson in Mark Chiusano's Marine Park."—Ron Carlson