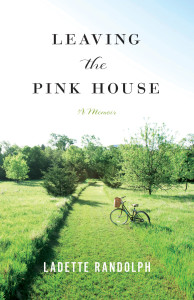 Leaving the Pink House: A Memoir – 978-1609382742 – University of Iowa Press – paperback – $18.00 (ebook editions available).
Ladette Randolph is both an editor and a writer; she is currently the editor of the fine literary magazine Ploughshares, whose founder, DeWitt Henry, I interviewed about that magazine's history, and she's written a total of four books and edited three more. She was previously an acquiring editor at University of Nebraska Press and earlier, the managing editor of Prairie Schooner. She has received four Nebraska Book Awards, a Rona Jaffe grant, a Pushcart Prize, a Virginia Faulkner award, and has been reprinted in Best New American Voices.
Ladette grew up and lived much of her life in Nebraska. In this really well written and beautifully composed memoir, Leaving the Pink House, she tells the story of her life through the houses she has lived in. At first, the book appears to be a relatively straightforward memoir of buying a dilapidated farmhouse to fulfill a dream of country living (the day after September 11, 2001), and the complication of leaving the pink house she and her husband had already turned into the house of their dreams.
But Randolph is writing to understand herself and where she comes from. Leaving one beloved house for another that is full of potential (for good and bad) spurs her into exploring her past life through the houses in which she lived. And she essentially tells herself – and her readers – where she came from, and how she became the person who is able to love and inhabit her own being in the present by exploring her life through the houses in which she lived from her early youth onward.
Randolph grew up in small towns in Nebraska; her father took his family with him as he worked to become an evangelical minister. Randolph tells us what it was like for her to experience the world through the lens of fundamentalism as she grew up and then into her early adult years. She experiences a series of awakenings, tragedies and struggles, all told without over dramatization and alternating with the mundane and always challenging work of remodeling the old house in the country and preparing to move from the pink house.
It's an engaging and perceptive form of storytelling and much like a remodeling job itself, we learn with her as she goes through the work of tearing down and rebuilding the structure of her life.  I greatly enjoyed reading this book, vicariously experiencing her challenges and accomplishments, and learning about her life experiences. Then having the opportunity to talk with Ladette about it only amplified my interest in her writing.  Her active and informative website is here (and worth a visit).