In this series of interviews, called Publishing Talks, I have been talking to book industry professionals about the future of publishing, books, and culture.  This is a period of disruption and change for all media businesses.
How will publishing evolve as our culture is affected by technology, climate change, population density, and the ebb and flow of civilization and its economics? Publishing Talks interviews help us understand the outlines of what is happening, and how we might ourselves interact with and influence the future of publishing as it unfolds.
These interviews give people in the book business a chance to talk openly about ideas and concerns that are often only talked about "around the water cooler," at industry conventions and events, and in emails between friends.
I believe these interviews give people inside and outside the book industry a chance to hear first hand some of the most interesting and challenging thoughts, ideas and concepts being discussed within the industry.
Jan Weissmiller recently achieved her fifteen minutes of fame when President Barack Obama visited her store – and the picture of her selling him a book went viral very quickly.  But Prairie Lights Bookstore has more going for it than simply being the backdrop for the first  citizen's book buying habit writ large.  It's been a fixture in the strongly literary community of Iowa City since Jim Harris started the store there in the late '70s.
As times have changed, so has the store, and today Prairie Lights has an active web presence in addition to its longstanding role as "the" local bookstore in one of the great small towns of middle America.  I've been to the store many times over the years, and deeply admire the vision and care demonstrated first by Jim and Jan, when she was the first employee of the store, and now by Jan and her current wonderful staff of book devotees.  Many towns no longer have the opportunity to experience the depth of knowledge that a great bookstore can provide.  What Jan and Prairie Lights show us about bookselling is important – people use technology to make life easier, but people need other people to make life meaningful.
In case you missed it, here is the link to the NY Times story about Prairie Lights. And here's the now famous photo.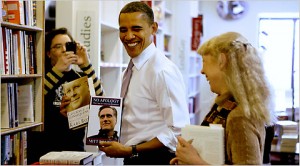 Jan Weissmiller was the first employee of Prairie Lights, beginning in 1979, and is now its co-owner.