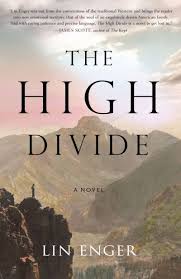 The High Divide: A Novel – 978-1616203757 – Algonquin Books – Hardcover – $24.95 – ebook versions available at lower prices. Paperback edition due to be published in 2015.
This is a wonderful novel, set in a period and place I have long been drawn to, the northern plains of the late 19th century. In The High Divide, Enger tells the story of a family – father, mother and two young sons – who are living a typical hard life in Minnesota. One day Ulysses Pope, the father walks out and when he fails to return, his family must try to cope, and of course, try to understand why he left and where he has gone. Driven by a desperate need to know more, the two sons set out to find him, leaving their mother, Gretta, at home to worry about her family, and then herself to set out on her own journey, now to search for her missing family.
Their searches lead them to the rough frontier country of Montana, that still reverberates with the terrible era of conquest of American Indians and destruction of the buffalo, massive changes in land and culture. Gretta must grapple with the possibility of losing her husband to another woman, and the boys must decide where their loyalties lie, and what they must do to save their family. Ultimately, the father's secret must be uncovered, his story told, and the family come to terms with their history, in order to be able to go on. In my discussion with Lin, we covered alot of interesting territory. I very much enjoyed our conversation and the opportunity to talk to him about this excellent book and his thinking about writing.
The High Divide is a confidently told and powerful story, set in a period when modern terms of psychological awareness and emotional understanding did not exist. All the characters are ultimately trying to come to terms with the damage done by war and violence. Enger is fully in command of his story and characters, and pulls the reader through to a well earned climax. I really enjoyed this book, and am happy to have discovered a writer whose work I will now be following with interest.
Lin Enger
I grew up in Minnesota, have spent most of my life in the state, and now live in Moorhead, where I teach English at Minnesota State University. Over the years I have received several awards for my fiction: a James Michener Fellowship, a Minnesota State Arts Board Fellowship, a Jerome travel grant, and a Lake Region Arts Fellowship. I have an MFA from the Iowa Writers' Workshop, where I was a Teaching-Writing Fellow. My first novel, Undiscovered Country, was published by Little, Brown and Company in 2008. My short stories have appeared in Glimmer Train, Ascent, Great River Review, American Fiction, and other journals. During the 1990s my brother, the novelist Leif Enger, and I had a great time collaborating (as L. L. Enger) on a series of mystery novels for Pocket Books.
"The High Divide is a deeply moving, gripping novel about one man's quest for redemption and his family's determination to learn the truth. Written with lean, crisp prose, Enger seamlessly blends historical events with the personal, and deftly pulls the reader into America's Great Plains during the 19th Century. The narrators' voices are captivating, and I was spellbound by the author's ability to express the human condition and especially the complicated bonds between fathers and sons. Layered with meaning, this remarkable novel deserves to be read more than once. The High Divide proves Enger's chops as a masterful storyteller." —Ann Weisgarber, author of The Promise
"The High Divide, a novel about a family in peril, is haunting and tense but leavened by considerable warmth and humanity. Lin Enger writes with durable grace about a man's quest for redemption and the human capacity for forgiveness."
—Benjamin Percy, author of Red Moon
"Lin Enger sets out from the conventions of the traditional Western and brings the reader into new emotional territory, that of the soul of an exquisitely drawn, American family. Told with caring patience and precise language, The High Divide is a novel to get lost in."
—James Scott, author of The Kept