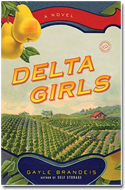 978-0345492623 – Ballantine – Paperback – $15.00 (also available as an e-book at $9.99)
I think I have been lucky lately – I keep finding new novelists I have never heard of before, whose work turns out to be really good.  Literary discovery is very exciting.  Gayle Brandeis is one of those novelists whose work is completely new to me.  Delta Girls is her third novel for adults, and she has one other for young adults.  Her social awareness as a writer has been recognized for a previous novel (that I now want to read) called The Book of Dead Birds – it won Barbara Kingsolver's Bellwether Prize for Fiction in Support of a Literature of Social Change, which I consider high praise indeed.  One of Gayle's great accomplishments in Delta Girls is to include a strong undercurrent of social awareness in a way that enhances the story and does not in any way intrude on one's enjoyment of the novel and its characters.
Delta Girls is a terrific novel (great cover too, and yes, I do think the overall book package does contribute to the experience for the reader).  Its construct is unusual – each chapter is the alternating story of two characters whose relationship is not divulged until nearly the end of the book.  First is Izzy, who with her nine year old daughter Quinn, is constantly on the move as an itinerant fruit picker in California.  As the story opens, they arrive at a pear orchard in the Sacramento River Delta.  As with all her stops, Izzy has no intention of staying very long. But the orchard, its locale, and the family that owns it has a strong attraction for both Izzy and Quinn, and they both allow themselves to become involved and attached to the orchard and its people.   We know that Izzy has a secret in her past, and that she has worked hard to stay away from the public eye, but events occur that put her in the middle of developments in the Delta and she will have to risk everything to save the ones she loves.
In the alternating narrative of the book, we meet Karen, a rising young star in figure skating with a pushy mother and a powerful and attractive new skating partner.  Nathan is sexy, dangerous, and deeply attractive to Karen.  As she reaches her 18th birthday, events come to a head in an unexpected and very public way.
Each main character is faced with a sudden thrust into the spotlight, and of course their narratives become more connected — but you will need to read the book to find out the surprising way their lives will intersect.
This is a very satisfying novel to read, with great characters, and of course the pear orchard and the Delta of the Sacramento River is a terrific backdrop for the book.  The author's deep love for her characters as well as her understanding of the power of place, and its influence on people's lives show constantly throughout the novel.
Gayle is a thoughtful and accomplished writer whose work I am really pleased to have discovered.  It is writing I want to explore more deeply.  Talking to her about this book was a pleasure I am happy to share here.  You can visit Gayle's website here to learn more about her work.