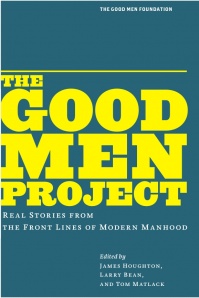 978-0615316741 – Paperback – The Good Men Foundation – $14.99
A bit more than year ago, longtime friends and former venture capitalist partners Tom Matlack and James Houghton began talking about exploring the meaning of manhood by getting men to share their stories. Today, the Good Men Project is a nonprofit foundation that benefits at-risk boys through the sales of its recently released book and a companion documentary, both titled "The Good Men Project: Real Stories from the Front Lines of Modern Manhood." The book is a collection of 31 essays by men from all over the country, gay and straight, revealing experiences that are often harrowing but ultimately redemptive.  There's also a DVD of the film available.
Not long ago, I read a story about this book and the fact that the editors could not find a publisher ("no one wants to read about men").  Being entrepreneurs and successful business people, of course they went ahead and published the book themselves – and did a very nice job of it too.  The book is divided into sections – Fathers, Sons, Husbands, Workers – pretty much all the categories that men will identify themselves at one time or another.  The stories are powerful, emotional without being cloying or sentimental, transformative, in some cases, plain and simply the telling of personal truths that benefit others.
This is a new generation of men talking about their lives, and while some things are different for men certainly than they were in the era when talking about one's emotional life was unimaginable and unaccepted, it's still not easy for men to talk meaningfully about the real things that motivate them, or worry them, or even scare them deeply.  The book certainly resonated with me, as I am sure it will for many men.
The Good Men Project is not, however, about therapy and simply talking to each other.  There's a real agenda here, to make a difference, to make change, to do good (The Good Men Foundation is a registered New York State 501(c)(3) charitable corporation dedicated to helping organizations that provide educational, social, financial or legal support to men and boys at risk. All proceeds from the sales of The Good Men Project: Real Stories from the Front Lines of Modern Manhood book and documentary film DVD will be distributed to the Foundation and will be used exclusively for the charitable mission of the Foundation).
The book features a wide range of writers, some professionals, many not.  The writing is very good throughout.  My interview with Tom Matlack covered alot of territory, including the story behind the whole project, and about this book, the other men who are involved with it, and how the Good Men Project works.  This is a valuable effort that I hope will be broadly successful.