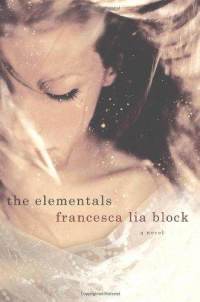 978-1250005496 – St. Martin's Press – Hardcover – $24.99 (ebook versions available at $11.99)
Francesca Lia Block has been one of my favorite writers for many years.  I first discovered her through an early novel called Girl Goddess #9, and her outstanding series of novels under The Weetzie Bat rubric.  She's best known and identified as an author of YA or Young Adult books for girls and young women, but I've always thought that was a reductionist labeling that, as with other excellent writers, unfairly tends to limit her readership.  Francesca is certainly not limited in her imaginative powers and writing ability, and her work can and should be read by adults who appreciate great storytelling and imaginative, edgy fiction.  And if you love Los Angeles, as I do, there is no one better at capturing its modern day heart and soul.
The Elementals is a haunting and powerful novel about a young girl, Ariel Silverman, who is obsessed by the murder of her best friend, Jeni.  She goes to Berkeley for college, the same place where Jeni was killed the summer before.  While Ariel tries to live the life of a college freshman, she cannot set aside the mystery behind Jeni's death, and spends much of her time trying to understand what really happened to her friend.  She comes into contact with a number of strange and interesting characters.  And meanwhile, her mother is wrestling with breast cancer, and Ariel feels like she no longer can rely on her for support.  And maybe needs to find her own path anyway.
The book is both myth and mystery, rich in realistic detail and simultaneously an almost fairy tale like storytelling.  This is one of my favorite novels of the year.
Francesca grew up and still lives in Los Angeles.  She has written novels, short stories, screenplays, and teaches writing.  She recently edited an anthology of her students' fiction called Love Magick, which I am pleased to have published.  Visit Francesca's website for more about her many books.
In our lively and interesting conversation about The Elementals, we were very careful not to give away any of the critical story line of the novel that would spoil it for readers.  Enjoy….