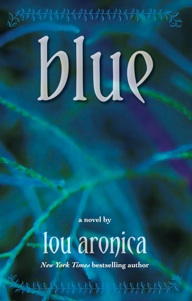 978-1936558001  – paperback – The Fiction Studio –  $16.95 (e-book versions available $7.99)
Lou Aronica's Blue is an unusual novel, combining elements of science fiction, fantasy, romance and serious fiction, to create a moving story that focuses on the relationship between a daughter and her father in a terrifically moving and affecting way.  Lou is an experienced and skillful writer who deftly manages to tell a story that is full of sadness and emotion and manages to avoid the deeply sentimental that might otherwise overtake the reader.  Which is not to say it is not a story that will affect the reader – and some may find it difficult going, to say the least.
Reviewers and interviewers must always be careful in describing any novel's storyline, to avoid ruining the book for prospective readers.  For those who don't want to know too much, let's just say that Blue takes on family relationships in the face of grave illness in a beautifully imagined way.  There is plenty of sadness in this novel, but Aronica succeeds in the true storyteller's art, the transformation within a story to something greater than the experience itself.
The book is set in a contemporary suburban Connecticut much like the one the author actually lives in, so the characters and settings are all familiar and well told.  At the heart of the story is the relationship between Chris Astor and his fourteen-year-old daughter, Becky, and her mother, from whom Chris is now divorced.   Facing the greatest challenge of their lives, they must all learn to trust each other, and ultimately to believe in imagination and its transformational power, in order to come to terms with what is happening to them.
Blue is a remarkable and uplifting novel.  I think Lou Aronica has succeeded in his goal for this book (from his website): "I wanted to write a novel that conveyed my feelings about the incomparable value of imagination and hope. Blue puts its characters through the wringer, but it is at its heart an extremely optimistic novel."
Full disclosure: I am happy to say that Lou is someone whose friendship I value.  I do want to say, also, that even if I just like a book and don't love it, I'm unlikely to want to write about it and certainly won't want to talk about it with the author.  I feel my responsibility as an interviewer requires that I really get into a book in order to be able to ask meaningful questions about it and talk about it intelligently.  I don't love every book I read, but I truly do deeply enjoy and admire every book I write about here and talk about with their authors.  For me, there is no question that Blue is a terrific book and my conversation with Lou reflects that assessment.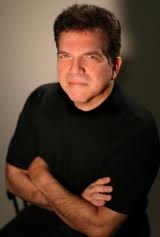 This is a book I am happy to recommend to readers, and I think it will be especially moving to anyone who is the parent of children of any age.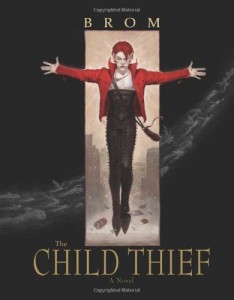 978-0061671340 – paperback – Harper Voyager – $19.99 (ebook editions available at $9.99)
The Child Thief by well known illustrator and writer Brom is an absolutely stunning book.   It is the Peter Pan story retold in a brilliantly imagined fashion that is completely captivating.  So, yes, I did love reading this book.  It is immersive, scary, and dark, but it is also wildly creative, and mashes up some of our most powerful mythological story lines to create its own narrative drive and a world inside, aside, and connected to our own that is fantastic (literally) and wonderfully psychological, and even political.
I really do not want to tell too much about the world that Brom has created, its characters or the story line as it is so much fun to discover it on one's own.  The genesis for the story was Brom's discovery of a line in James Barrie's original Peter Pan he found frightening but crucial, where Barrie mentions that Peter Pan would "thin out" the Lost Boys when the island population got too big.  This single statement sheds a very dark light on the entire construct of the mythology of Neverland.  And as he says about the character of Peter Pan himself, who kidnaps children and kills pirates (among others) – he is not really such a nice character as we imagine him now: "And more chilling is Peter's ability to do all these things—the kidnapping, the murder—all without a trace of conscience: "I forget them after I kill them," he (Peter) replied carelessly."
In The Child Thief, Peter is indeed a boy who will never grow up, but his existence is oh so much more complicated than the movie and stage versions we know.  Peter travels to modern day New York City to find new members for his tribe, who fight real battles in a Neverland that is now a part of Avalon and includes a great deal of real danger – even just to get there requires a frightening and challenging journey (a true rite of passage for the lost adolescents Peter has convinced to join him).
Brom's Avalon is going through a very difficult time and there are many painful moments in this book.  Death and suffering are everywhere here – this is not a book for the faint of heart or those looking for escapist fiction.  By conjoining the world of Avalon to our own, and especially to the painful and bloody history of the conquering of the North American continent by European soldiers and settlers, the author has brought us face to face with the darkest elements of the modern industrial society to which we have evolved.  Even at the end he avoids the easy and satisfying resolution of his story that many readers may be seeking.  It's not entirely a dark ending, but neither is it thoroughly uplifting.  Personally, I loved the ambiguity throughout the book.
Brom is indeed a terrific artist – there is a section of his beautiful, evocative and sometimes chilling illustrations of all the characters in the middle of the book that is truly compelling.  You can see more of his work at his website.
It was a pleasure to have a chance to speak with Brom about his work and specifically about this book.  It's so richly imagined and has so many layers, it's easy to talk about.  Brom is a wonderful story teller with a great deal to say.  This is a compelling book for anyone who loves to get lost in a fully imagined alternate universe – and this one happens to be very familiar and therefore powerful, as it shatters all of our expectations so beautifully.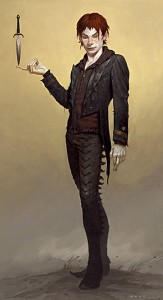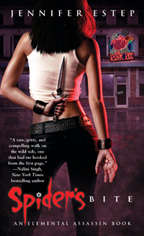 978-1439147979 – Mass Market Paperback – Pocket Books – $7.99
Jennifer Estep has written three books before this one, in an edgy paranormal romance series she called Bigtime.  Spider's Bite kicks off a new series, this one she calls urban fantasy, and I think the description is apt.  It's gritty, violent, tough, but full of love and a kind of self-defined punk-inspired love that has a depth and strength that is really admirable.
I know the book business likes to categorize books, sometimes quite narrowly, and there are good reasons for that.  So this book falls into a category that Publishers Weekly calls "urban fantasy."   While I am not quite sure I know what that means, this novel is certainly a full on fantasy novel set in a city, so I guess that label fits in a literal way.  But all labels and categories aside, author Estep has fashioned a terrific set of characters, in particular our hero, Gin.  The first line of the book makes clear what we readers are getting into: "My name is Gin, and I kill people."  And she does, she is an assassin after all.
I was very impressed with Estep's writing and she has fashioned a terrific story line.  Some of the characters run to type, but they fit the story so well, we don't mind.  The author has set her imagination loose on the southeastern city in which the story takes place, maybe in our future, or maybe in an alternate universe, it's wild and never dull.  I'm looking forward to reading the sequels too.
Jennifer and I had a fun interview talking about this book, how she started as a writer and where her ideas come from.  She's a dedicated reader turned writer, and her love for books, ideas and writing shines through her work and her words.
See an excerpt from the book at chptr1.com.  Visit Jennifer's well put together site to learn more about her and her books.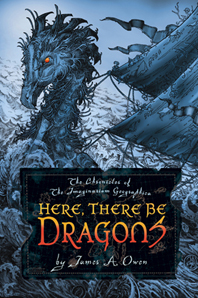 978-1416912279 – Hardcover – Simon & Schuster – $17.95 (a paperback edition is also available – but the price difference is small enough for me to recommend you buy the hardcover)
James A. Owen is a wonderful writer.  It's interesting to me how many really excellent writers there are who are categorized as "young adult" writers because the books they write are about things like dragons, or boys who are heroes or even young wizards in an imaginary school in an imaginary part of England.  In my opinion anyway, Here, There be Dragons is a book for readers of all ages or any age.  It's well written, has characters with depth, beautifully done line drawings by the author, and a fast moving, engaging story line that includes heroes who are connected to our literary history in some very interesting ways.  What more can one ask for in a novel?
"What is it?" John asked.
The little man blinked and arched an eyebrow.
"It is the world, my boy," he said. "All the world, in ink and blood, vellum and parchment, leather and hide. It is the world, and it is yours to save or lose."
An unusual murder brings together three strangers, John, Jack, and Charles, on a rainy night in London during the first World War. An eccentric little man called Bert tells them that they are now the caretakers of the Imaginarium Geographica — an atlas of all the lands that have ever existed in myth and legend, fable and fairy tale. These lands, Bert claims, can be traveled to in his ship the Indigo Dragon, one of only seven vessels that is able to cross the Frontier between worlds into the Archipelago of Dreams.
Pursued by strange and terrifying creatures, the companions flee London aboard the Dragonship. Traveling to the very realm of the imagination itself, they must learn to overcome their fears and trust in one another if they are to defeat the dark forces that threaten the destiny of two worlds. And in the process, they will share a great adventure filled with clues that lead readers to the surprise revelation of the legendary storytellers these men will one day become.
It's a pretty good bet that if you like this book, you will be pleased to know you can continue to read.  This is the first volume in the Chronicles of Imaginarium Geographica series, which has now reached a total of four books, with more to come.  It's probably true that this book and its series will appeal most to a certain type of reader, one who has read and enjoyed adventure stories, particularly those well written classics of the past (again, I don't think it's about the age of the reader but rather one's interests).  Unlikely heroes, normal people faced with challenges to which they rise, mythological characters brought to life, and above all, dragons, definitely motivate some of us more than others.  I guess I am one of those.
I had the pleasure of meeting James A. Owen at Comicon in San Diego.  I was impressed to see a writer so willing to engage with his readers – Comicon can be exhausting for exhibitors and for creators even more so.  In this interview, he displays his engaging personality, and talks with me about the origin of his work as a novelist, his work in comics, contacts with film makers (the film adaptation is in development and appears scheduled as a 2011 release), and his attempt to revive the classic magazine, Argosy.  Owen started as a comic book writer and illustrator, and even was a publisher of comics, and then moved into writing novels almost accidentally.  This is a lucky turn of events for readers of fiction.  You can learn much more about James A. Owen and his work at this website and he also has a beautiful blog based site, the Wonder Cabinet, that is well worth regular visits.  I'm hopeful that over time, Owen's work will reach the wider audience it deserves.
Note to listeners: this interview is slightly longer than most at 27 minutes, but should provide sufficient interest to reward your investment of time.

978-1593155377 – Hardcover
Vanguard Press  $25.95
David Morrell is one of the better action thriller novelists writing today.  Not only does he write well, but his novels always have terrific characters, explore complex emotional relationships, and are driven by great story telling.  When I picked up The Shimmer, I already had a number of other books on my plate and no real intention of reading it right away.  But after the first few pages I could not put it down.  This wonderful novel combines elements of the thriller novel with science fiction and fantasy, historical fiction, modern psychological horror stories.  My interview with the interesting and voluble David Morrell gives readers a chance to get to know quite a bit about this novel, his 28th, and much more about his background as a writer, a teacher and storyteller.  The Shimmer takes place in a town in Texas modeled closely on the real-life town of Marfa and includes a great deal of real history woven into a gripping modern tale.  This book is a great example of Morrell's work, and this interview was a lot of fun for me to do. — David Wilk

978-1416975199 – Hardcover
Aladdin (Simon & Schuster) $16.99
P.W. Catanese is the author of a number of books for children and young adults who lives in Connecticut.  In this podcast, Writerscast host David Wilk interviews Catanese, who talks in detail about his life as a writer, his earlier series of fairy tale retellings for younger readers, and his latest novel, the excellent Happenstance Found, which is the first in a new series he has created called The Books of Umber.  The novel opens with Happenstance, a strange boy of undetermined age, waking up in a cave with no memories of who he is or anything about the fantastic world in which he lives. He soon encounters Lord Umber, an adventurer who seems familiar with our world as well as his own, and his two companions — a brute cursed to be forever truthful and a one-handed artist and archer… As the group attempts to learn about his origins, they're forced to confront a supernatural assassin and secrets from Umber's own mysterious past.  The world Catanese creates in this novel is highly compelling; his new series should appeal both to adults who love a good fantasy and to the younger readers to whom it is aimed.