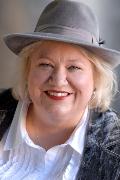 978-0312-60360-1 – Hardcover – Minotaur – $24.99 (also available as an e-book at $11.99)
Writerscast is proud to present the second in our series of authors reading from their work called AuthorsVoices.   I hope you will agree that hearing these works read aloud, especially by the original authors, will add greatly to the experience of the writing and the authors' distinct sense of their own words. With writers touring for books less frequently now, these podcasts should provide readers with an opportunity to hear some of our best contemporary authors reading  from, and sometimes performing their own works.
Kelli Stanley's City of Dragons is a great noir mystery novel with a great woman detective main character.  The novel is set in Stanley's meticulously recreated 1940's era San Francisco that she plainly deeply loves.  I read this book a few months ago, thought it was terrific, and interviewed Kelli (here).  For AuthorsVoices Kelli provides an introduction to the book and does a terrific reading of Chapter 1 of her novel in full.  Note to listeners: language in this piece does include some words not allowed on broadcast radio or television.