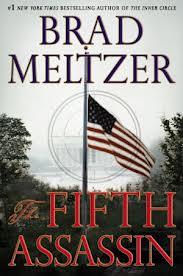 978-0446553971 – Grand Central Publishing – Hardcover – $27.99 (ebook versions available at lower prices, paperback edition due out in August 2013).
Brad Meltzer is an incredibly active writer, author of myriad best sellers in both fiction and nonfiction, creator of television shows, host of History Channel's excellent show Decoded – which is fun, compelling and full of amazing historical detail.  He's also a comics fan and author of many critically-acclaimed comic books, including a nice run of Green Arrow stories, Identity Crisis and Justice League of America, for which he won the important Eisner Award.  Sometimes one wonders if he ever sleeps.
Brad quite evidently has a voracious appetite for history, and especially for the kind of stories in history that fascinate so many of us.  And as an unstoppable researcher, he gets into places that most of us simply never have the time or the chutzpah to find.  What makes his fiction so compelling is that Meltzer is able to combine his passion for history with great storytelling and a clean, brisk writing style that propels his stories forward.  And he does write characters we can relate to and enjoy as well, so there's another reason to find and read his books.
The Fifth Assassin is a sequel to the earlier, and very successful The Inner Circle,a book I am sorry to say I have not read.  That book introduced the Culper Ring, an informal organization founded by George Washington to defend the presidency of the United States.  Each of these two books (and the next book, which will complete the trilogy these books have begun) can be read on its own.  Being new to the story did not pose any problems for me in reading and enjoying The Fifth Assassin, though I am  sure I would have enjoyed it more if I had read the first book first.  Many of the characters in the new book were introduced in the first – and of course some of them are killed off in the second book, as there are other secret organizations out there, dedicated to much darker aims the Culper Ring must fight.
It does help that I am familiar with and enjoy the Decoded series (disclosure – I work with History Channel on book projects, one of which is a book based on Decoded that will be published by Workman in Fall 2013).  The Fifth Assassin is linked to a number of historical mysteries covered in the Decoded's two seasons on History.  This novel has a pretty complicated plot, the details of which I will leave for readers to discover for themselves.  There have been four presidential assassinations before now – Abraham Lincoln, James A. Garfield, William McKinley, and John F. Kennedy.  What if there was a secret organization whose members were responsible for all of these murders?  And what if there was a present day plot to add another president to the list of the dead?  And what if the plot is being acted out by mysterious players whose aims are difficult to fathom and therefore difficult to stop?
Beecher White is Meltzer's hero, and an unlikely one at that.  I think he enjoyed creating a sympathetic hero who does not have any special powers other than his knowledge of history and ability to think – and act when needed, which of course any hero must do.
This is a wonderfully fun book which I enjoyed a great deal.  Meltzer is incredibly skilled at plot creation and keeping his story moving organically, so we don't feel manipulated or ever question the motivations or actions of his characters, i.e., we do not feel the hand of the plot maker at work, which is a terrific skill I greatly appreciate in a time when so many storytellers struggle to give their stories the kind of credibility and natural narrative movement that Meltzer seems to find so effortless to accomplish.
I'd recommend reading The Fifth Assassin, and then listening to this discussion about the book.  I think it will add to the experience for readers.  Brad Meltzer's website is here and it's worth a visit.  If you get a chance to hear him read from or talk about his work in person, it's worth the effort to see him.  And Decoded, the television show, is in reruns on History's H2 – if you have not seen them, take a look, there are some fun, thoughtful and compelling episodes.  Brad Meltzer is a terrific writer, and great fun to to speak with, it's a pleasure to have had the opportunity to talk to him about this book.