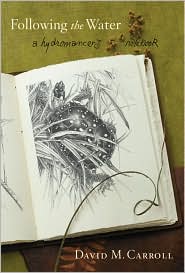 978-0547069647 – Hardcover – Harcourt Houghton Mifflin – $24.00
David M. Carroll has been "following the water" for almost his entire life.  He grew up in Connecticut, then lived in Massachusetts, and moved to New Hampshire to find places less disturbed by humans, where he could study turtles and their woodland, waterine habitats.  Which he has done now for many years.  Following the Water is subtitled "A Hydromancer's Notebook; a hydromancer would be one who divines by the motions or appearance of water, which is certainly descriptive of what David Carroll does in his life and in this book, a poetic journal of a year of divining the natural world by close observation of it.
Most of us spend far too little time in nature, and many of those who do "use" the natural world for entertainment or work in a way that would be difficult to distinguish from how they treat the non-natural world.  What is so beautiful about Carroll's work and his writing about it, is the depth of his observation, and his literal being in place.  Reading his elegiac descriptions of the watery environments of New England transported me to an almost metaphysical trance-like state of mind where I could imagine myself inhabiting the outside space in which he spends so much of his time.
Of course there is a terrible sadness in this book, as Carroll experiences the changes in the places he has known so well and so long, always brought on by the effects of constantly encroaching human development.  He knows the turtles and their environments will soon be threatened and knows there is almost nothing that can be done to protect them.  This is a feeling that many who work in and strive to protect our remaining wild places share, an ever present sense of desperation, as we near the tipping point of urban and suburbanization.
Carroll writes beautifully, and his drawings are exquisite.  Reading this book made me wonder how I had managed to miss reading his earlier books, and has spurred me to go out and get them all.  Here's a perfect example of the quiet power of his prose:
"As daylight diminishes, the peep-frog chorus intensifies in the backwaters of a fen a quarter mile away. With raucous clamor and a rushing wind of wings beats a flurry of grackles lifts off from the topmost canopy of the red maple swamp. In the quieting that follows, I hear again the drift of evensong from their red-winged cousins on the far side of the wetland mosaic. The season, like the water glimmering all around, extends before me."
David Carroll is as enjoyable to hear talking as his writing is to read.  Interviewing him was a pleasure, tinged with a shared sense of dismay about what has happened to our shared New England natural environment.  Both this book and this talk are among my favorites, and I hope listeners will agree.