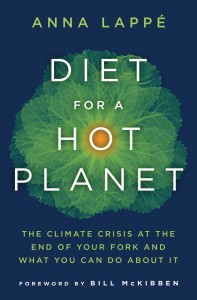 978-1-60819-465-0 – Bloomsbury – Paperback – $15.00 (ebook editions available)
Anna Lappe´ is the daughter of the well-known activist and writer Frances Moore Lappe´, author of the classic Diet for a Small Planet, a book that introduced Americans to the idea of thinking about food and its role in ecology and the world economy, and how food is so deeply intertwined with economics and politics.  Anna has therefore been involved in food issues since she was a child.  She and her mother collaborated on another interesting and challenging book, Hope's Edge in 2002. So it's not a surprise that she is so thoroughly cogent and coherent writing and talking about food issues in the context of climate change.
As Anna says on one of her many website, takeabite.cc, "the food system is responsible for as much as one-third of all greenhouse gas emissions. These emissions are particularly alarming because the food sector is the biggest driver behind methane and nitrous oxide emissions, which have global warming effects many times more powerful than carbon dioxide."  In Diet for a Hot Planet, Lappe´ goes straight to the heart of the issue: if we are going to think about the global climate crisis, we have to think about our food system, and if we are going to make change to mitigate the effects of climate change, we must make changes (now) in the global industrialized food system that dominates most of the world today.
This book was extensively and deeply researched; Lappe´ talked to many scientists, went to UN, governmental, corporate, and grassroots agriculture conferences, worked her way through many lengthy and dense reports and studies, and also visited organic farms around the world.
In this book she has put together an impressive array of facts proving that global industrial agriculture—specifically the use of hazardous chemicals, concentrated animal feeding operations, biotech crops, and processed foods—is impoverishing the land, destroying rain forests, polluting waterways, and emitting nearly a third of the greenhouse gases that are heating the planet.
By contrast, intelligently designed and operated organic-farming methods reduce carbon emissions and toxic waste while at the same time nurture soil and biodiversity.  Lappe´is convinced (and will likely convince you) that eating according to ecologically appropriate principles can not only influence the marketplace and help combat world hunger and climate change, but will make us healthier and safer as well.  Lappé also decodes food labeling, exposes Big Ag's "greenwashing" tactics, and offers "seven principles of a climate-friendly diet."
With a terrific foreword by the brilliant Bill McKibben, Diet for a Hot Planet should be essential reading for anyone who is trying to grapple with making real change in the way we live on this fragile planet.  Anna is a terrific public speaker and our talk for WritersCast is lively, full of information, and optimistic and positive as Anna herself.
Anna Lappe´related organizations and websites should be on your bookmark list:
Take a Bite Out of Climate Change
Small Planet Fund