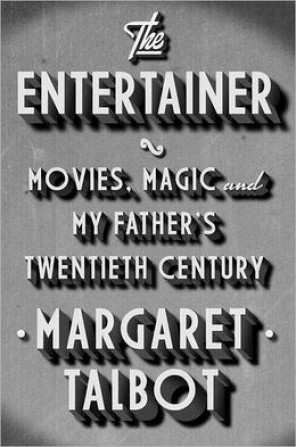 The Entertainer: Movies, Magic and My Father's Twentieth Century – 978-1594631887 – Riverhead Books – Paperback – $18.00 (ebook versions available at lower prices) – published November 5, 2013
Margaret Talbot was the youngest child in the last marriage of actor Lyle Talbot, so when she was growing up in 1950s and 1960s Los Angeles, her father, as a much older man, was a direct link to a much earlier period of American show business.  Lyle was born in Nebraska in 1902, and left his small home town as soon as he could – in 1916 he joined a traveling carnival.  From there he went on to an almost emblematic life, acting in traveling theater groups and  getting to Hollywood just in time for the talkies.  Handsome and debonair, he was a solid actor in some major Warner Brothers pictures with stars like Humphrey Bogart and Carole Lombard.  Later he appeared steadily in B-pictures and has some renown for being the lead in the now famous (but infinitely terrible) Ed Wood made Plan 9 from Outer Space, and as many other former film actors did, he ultimately became a fixture on television, including the recurring role of Joe Randolph on the long-running Adventures of Ozzie and Harriet.
A respected writer for the New Yorker, Margaret Talbot does much more than just telling the story of her father's life.  The Entertainer is a loving biography of Lyle, but it is also a cultural history of modern American show business told from the inside.  And because Talbot is a sharp observer and an experienced journalist – as well as a loving daughter –  she is able to see both her father and the world he lived in and through with both clarity and appreciation.  And she is a really good writer too.
Some relatively few individuals have had the great good fortune to find their way into this part of the culture; whatever their roles, actors, stagehands, directors, camera operators, it was and still is a business, a lifestyle, and a world that was both magical and mundane, real and made up.  For all who were and have been in the film and television industry in whatever roles, the magic is real, and many of them, if not all, could be imagined as the "lucky ones" who get to be a part of the cultural zeitgeist that so many aspire to but never directly experience.  While Lyle Talbot never achieved stardom, he was a deservedly working actor in Hollywood for almost sixty years. Now his daughter has placed him at the center of a story both brilliantly and beautifully told, allowing us to understand the era in which he lived and worked.
I enjoyed this book as a work of cultural history well told, and it was also special for me because my own grandfather, like Lyle Talbot in love with theater and the movies, worked for Warner Brothers from the late 1920s into the early 1950s, and then my father worked in television and film for almost sixty years, so Margaret's experiences as a child of show business were especially resonant for me, and having the opportunity to speak with her was great fun.
The Entertainer amplifies the story of 20th century Hollywood for any of us who still believe in its magic.  Visit the author's website where there is more about the book and her work.