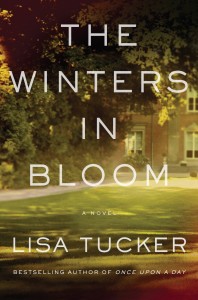 978-1416575405 – Atria – Hardcover – $24.00 (ebook editions available)
From the author's website describing The Winters in Bloom:
Together for over a decade, Kyra and David Winter are happier than they ever thought they could be.  They have a comfortable home, stable careers, and a young son, Michael, whom they adore.  Yet because of their complicated histories, Kyra and David have always feared that this domestic bliss couldn't last – that the life they created was destined to be disrupted.  And on one perfectly ordinary summer day, it is: Michael disappears from his own backyard.  The only question is whose past has finally caught up with them. David feels sure that Michael was taken by his troubled ex-wife, while Kyra believes the kidnapper must be someone from her estranged family, someone she betrayed years ago.
As the Winters embark on a journey of time and memory to find Michael, they will be forced to admit these suspicions, revealing secrets about themselves they've always kept hidden.  But they will also have a chance to discover that it's not too late to have the family they've dreamed of; that even if the world is full of risks, as long as they have hope, the future can bloom.
The Winters in Bloom is the first book I have read by Lisa Tucker, whose books are about families and relationships.  I wasn't sure when I started it whether I was going to finish, I was worried that it was going to be formulaic and predictable, and especially at the outset of the novel, where the two parent characters are introduced, I was very nervous about where this book might go and whether I could stay with it.
It turned out that I could not put it down.  It is full of surprises, deeply felt, complicated in ways that are better left for the reader to discover for her or himself.  I ended up of course, loving the book, and looking forward to talking with Lisa about her characters and her writing.  And did I say, she is a terrific writer?
As with the title itself, which has a subtle ambiguity, this novel will offer readers depth and a kind of thoughtfulness about what a family can and should be, that runs counter to our initial expectations for it.  I really liked being surprised by this book.  Lisa also gives a great interview and I think you will enjoy hearing our conversation about her book.
I really liked this quote about the book too:
"Brilliant, tender, and  riveting. . . Reading The Winters in Bloom is like falling into some beguiling dream,  one you don't want to wake from. There is a fascinating strangeness at work here, an off-kilter logic that keeps you enrapt and breathless. This is what can happen to people like us when the past comes calling. Lisa Tucker has not  described a world; she has created one unlike any you've never seen. She has breathed life into her characters, and they will breathe life into you."
— John Dufresne, author of Requiem, Mass
Lisa Tucker's website is worth a visit also.