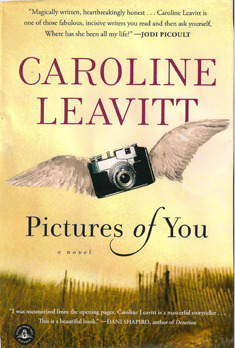 978-1565126312 – Algonquin Books – $13.95 – paperback original (ebook versions also available)
I've become a big fan of Caroline Leavitt's work – I read Girls in Trouble last year and interviewed this very entertaining and engaging author about that book for WritersCast in 2010 (listen to that interview here).
Pictures of You starts with a car crash, and some of the unanswered questions about how and why it happened, inexorably and permanently linking the lives of two families.  These complicated relationships are at the core of the novel.  There are many threads to unravel in this story, and it was for me a completely compelling book to read.  The two women involved in the crash, Isabelle and April, were both fleeing their lives at the time; the crash stops time for both of them, one literally, the other figuratively and psychologically.
Isabelle is the woman who survives the crash; her connection to the other woman, April, who does not, and April's family (who lived only six blocks away from her when the crash occured), is what drives the novel forward.  There's a great deal of pain and suffering in this novel, but it is never overwhelming, we are drawn to these characters and recognize the choices they make, and sympathize with their difficulties throughout, the imperfections of human beings we fully recognize in our own lives.
This is a complex story about the nature of family, how we depend on others and how they let us down in small and large ways, and how people are able to recreate their lives, sometimes painfully, when those lives have been broken.  Carolyn See wrote a wonderful review of the novel for the Washington Post that ends with this wonderful description: "This is a novel that invites us to look at our own imperfections, not the dramatic crimes, but the niggling little sins of omission that so often render our lives tragically undernourished and small."
If you have not discovered the work of Caroline Leavitt (she's a busy writer, the author of ten novels, writes criticism for the Boston Globe and People, teaches novel writing for UCLA online, and judges fiction awards too), Pictures of You would be a great book to start with.  It's complex and rewarding, and deeply humane.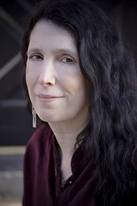 Caroline blogs at CarolineLeavittville.com and has a fun website as well (Welcome to Leavitt Town…)