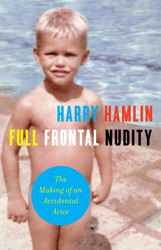 978-1439169995 –  Hardcover – Scribner – $24.00 (e-book edition available)
Harry Hamlin's autobiographical memoir is not what you might expect if you are looking for a traditional "famous actor" tells-all but really tells-very-little story.  Full Frontal Nudity is a completely honest, sometimes hilarious, sometimes sad, sometimes mind-boggling story about Hamlin's growing up in suburban California and coming of age through two different college experiences and the beginning of his life as a professional actor.
This book is a thorough pleasure to read; Harry is a fine writer, and has a remarkable sense of the accidents and sometimes mysteries that go into making us who we are.   And it's also true throughout, whether intentional or not, by telling his own story, he becomes part of the larger social fabric of the 50's, 60's and early 70's, and thus helps us understand what it was like to be alive during that now famous era of history.  And for those many of us who were also there then, his story will remind us of some of the beauty and dangers we lived through.
The subtitle of this engaging memoir is important too: "The Making of an Accidental Actor." Hamlin is clear that who he is today and how he got there represent the sum of a long series of accidents and choices with unintended consequences.  As the book opens, we discover that Harry has an arrest record from 40 years ago that has suddenly prevented him from traveling to Canada, where he actually now lives part of each year.
How this happened is a great story, but what I liked most about it was the way that Harry told it on himself, unafraid to bare the truth about his life.  I know that really good actors must learn how to do this, but they're usually acting someone else's drama, and thus are always protected on some level.  There's no hiding here, and it's a refreshing turn.  Hamlin is an actor, and a good one
Hamlin grew up in California, in a not quite normal household, and after high school headed for Berkeley at what some would say was just the right time – 1969.  On the way to college, he managed an accidental detour that got him, shall we say, distracted.  Intending to sign up for an architecture major, he found that there were no courses available, and the only ones available were drama, thus he embarked on what would eventually become his career.  His time at Berkeley was suitably exotic, and included the drug possession arrest that later caused him so much trouble with the Canadian immigration folks.  His time at Berkeley came to an untimely and early end because of a fire at the fraternity whose president he had become, and almost by magic, and again accidentally, he headed for Yale, where he flourished.  Then another more or less accidental turn – he gives up a safe job as a PBS production assistant and takes an offer from the American Conservatory Theater, where a role in the play Equus ultimately led him to an outstanding film and TV career (notably LA Law, many others).
Overall Full Frontal Nudity is a terrific and wonderfully enjoyable book, and unsurprisingly, we had a thoroughly interesting and revealing conversation about the book and many of the stories he wrote about.