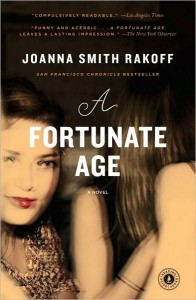 978-1416590804 – Paperback – Scribner – $15.00
Joanna Smith Rakoff is a wonderful writer – she's a poet and an essayist, and her skill as a writer shines throughout her novel A Fortunate Age.  This was not a book I expected to enjoy as much as I did; Rakoff won me over with the details of her sprawling story, and her characters, whom I similarly did not expect to like so much.  The book is modeled directly on Mary McCarthy's now classic, The Group, whose characters were Vassar women, in a story set in the 1930s and 1940s, whereas Rakoff's characters are all friends from Oberlin, living in New York City in the late 1990s and the early years of the new century.
Like the novel Rakoff used for inspiration, this is a complicated story with a number of characters told over a number of years.  This novel is set mostly in New York City with flashbacks to her characters' earlier lives, especially their time in college in Oberlin, and some side stories as well.  Essentially, it's a coming of age story, and based on the supposition, I think, that for so many of us, the decade crossing from our twenties to our early thirties truly marks the painful bridge from still youthful adulthood to "real" life.  It's not an easy transition, and for many has the sense of hyper-focused reality that makes it all the more powerful for those experiencing it.
In talking with Joanna, I wanted to explore her interest in Mary McCarthy and her novel that A Fortunate Age is based on (and The Group is also a book I recommend to modern readers, it is a book that is probably more neglected than it should be).  Joanna talks about the striking similarities she felt between the lives of her own age group and that of McCarthy's and how that led her to write her own book.  We also talked about the way her book is imagined and how through fiction she worked to represent a particular time and place, a milieu that she evokes through this story, the breadth of her characters and their individual linked stories.  As she points out, this novel is, for her almost Victorian in the way its characters function against and within an overall cultural structure toward understanding their social being.   There is alot going on in her book, which Rakoff manages quite masterfully, and her ability to handle complexity of story and persona shines in this interview as well.  I'm certainly looking forward to reading her next book and to talking to her again.