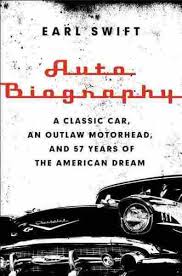 Auto Biography: A Classic Car, an Outlaw Motorhead, and 57 Years of the American Dream – 978-0062282668 – It Books (HarperCollins) – Hardcover – $26.99 – ebook versions available at lower price, paperback to be published March 17, 2015.
What a wonderful read this book is! The first thing you need to know is that I love old cars. I love stories about the people who love them, and rebuild them. But I also know that most old car stories are of limited interest to most people who don't love old cars. Still – and yet –  Auto Biography is much more than an old car story. Earl Swift is a terrific writer – trained as a journalist, which shows in his writing. He is clear and to the point. He never buries the lede. He gets close to the characters he writes about and portrays them brilliantly. And it's impossible to put this book down once you get into the story, which just keeps going and going to a startling and rewarding end.
So yes, the book is about a car – a 1957 Chevrolet (one of the most iconic cars of our time) that Swift was able to trace from its first owner to its last. But it's really about all the people who ever owned the car, and most crucially, it's about Tommy Arney, the owner of the car when Swift begins his story. And Arney is a dream character for any writer, larger than life, complex and compelling. He is impossible to resist and Swift goes all the way in bringing us up close and personal with this incredible all-American character.
It was an incredible joy to read this book. As it happened, I was simultaneously reading a history of the automobile industry and for me, this book was by far the better book. It tells the story of what cars mean to our lives, how the cars we drive can capture our hearts and become our souls. I really enjoyed talking to Earl about this book and the story of how he came to write it is well worth listening to.
If you are interested in the way Americans live today, this book is one you must read. And if you just like a good story and you liked the way Hunter S. Thompson told them, this book ought to be perfect for you. Author website here, worth a visit.
"The story he tells of the car's owners and, in particular, anti-hero protagonist Tommy Arney, is so detailed and informed by such thorough reportage I had to use Google to make sure Swift wasn't embellishing — and I mean that as a compliment . . . . It's the best contemporary book I've read about automobiles since A.J. Baime's Go Like Hell, and I enjoyed the hell out of that."
Matt Hardigree, Jalopnik.com
Longtime journalist Earl Swift wrote for newspapers in St. Louis, Anchorage, and for 22 years in Norfolk, where his long-form stories for The Virginian-Pilot were nominated five times for a Pulitzer Prize. Since 2012, he's been a fellow of the Virginia Foundation for the Humanities at the University of Virginia.
He's also the author of four other books of narrative nonfiction–THE BIG ROADS, a lively 2011 history of the interstate highway system and its effects on the nation it binds; WHERE THEY LAY: Searching for America's Lost Soldiers, for which he accompanied an army archaeological team into the jungles of Laos in search of a helicopter crew shot down thirty years before (2003); JOURNEY ON THE JAMES, the story of a great American river and the largely untold history that has unfolded around it (2001); and a 2007 collection of his stories, THE TANGIERMAN'S LAMENT.