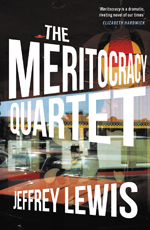 978-1-908323-45-3 – trade paperback – Haus Publishing – March 2015 – 742 pages –  $19.99 (ebook versions available at lower prices)
Jeffrey Lewis has had a really interesting life and career path. He went to Yale, where he was the Class Poet, graduating in the mid-sixties, and went to law school at Harvard. His first career was in law enforcement – he was an Assistant District Attorney in Manhattan. Then he left New York to work on the now famed television show, Hill Street Blues, embarking on what became a terrifically successful career in television and film writing. And then he more or less left television to write serious literary fiction.
In the past few years, Lewis has published a total of six novels. The four that make up the "Meritocracy Quartet" were originally published between 2004 and 2008 – Meritocracy: A Love Story in 2004, The Conference of the Birds in 2005, Theme Song for an Old Show in 2007 and Adam the King in 2008.
Before writing fiction, Lewis won a number of awards including two Emmys, the Writers Guild Award, the Humanitas Prize, the People's Choice Award, and the Image Award of the NAACP, as a writer and producer of Hill Street Blues. His work for television and film includes projects for HBO, Showtime, the BBC, TNT, and many of the major film studios. His last screenplay, before turning full-time to writing fiction, was Paint, set in the New York art world, and is the last unfinished project of the great director Robert Altman.
He lives in Los Angeles, California and Castine, Maine.
The four books in the "Meritocracy Quartet" take place in successive decades and are meant to document and explore what these periods meant to the post war baby boomers. Each novel in the series stands alone, but together, they are a powerful and really striking portrait of the inner and outer lives of the cultural elite of this generation.
Lewis is a wonderful writer. His work is clear, never over wrought and expressive of the emotional lives of his characters. The books all take place in environments Lewis lived in, periods he lived through. It would be all too easy to try to read these novels as romans a clef, but I think they are much more than that. As a true novelist, transforming the lived experience to find its meanings, both for himself and for his readers, Lewis becomes an alchemist of the soul, his words then, taking us to places far beyond. These books are really an impressive accomplishment, and well worth the effort to read all four together, at once, for a deeply rewarding experience.
"Lives are not seamlessly sewn together, but rather forged by coincidence, necessity, and expectation, a fact that Lewis brilliantly conveys. . . . Lewis' memories portray a modern, American life." (San Francisco Book Review)
I really enjoyed talking to Jeff about these books and his work as a writer.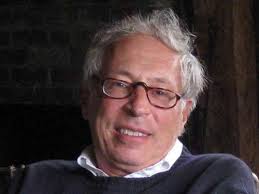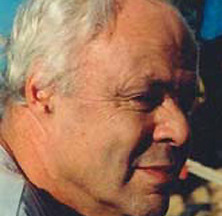 Publishing Talks began as a series of conversations with book industry professionals and others involved in media and technology about the future of publishing, books, and culture. As we continue to experience disruption and change in all media businesses, I've been talking with some of the people involved in our industry about how they believe publishing might evolve as our culture is affected by technology and the ebb and flow of civilization and economics.
I've now expanded the series to include conversations that go beyond the future of publishing. I've talked with editors and publishers who have been innovators and leaders in independent publishing in the past and into the present, and will continue to explore the ebb and flow of writing, books, and publishing in all sorts of forms and formats, as change continues to be the one constant we can count on.
It's my hope that these conversations can help us understand the outlines of what is happening in publishing and writing, and how we might ourselves interact with and influence the future of publishing as it unfolds. This new interview reflects my interest in the history of independent literary publishing, an area in which I have been active for a long time. And this particular conversation reflects some longstanding personal relationships as well.
Richard Marek's career in publishing began as an acquiring editor at Macmillan; he went on to World Publishing in 1967, and became Editor-in-Chief at The Dial Press in 1972. He acquired the manuscript of a first novel called The Scarlatti Inheritance by the then unknown author named Robert Ludlum, worked on it with him for over two years, and of course it later became a national bestseller. Marek edited Ludlum's next eight books, including The Bourne Inheritance. He acquired and edited books by more than 100 writers, including James Baldwin, Mira Rothenberg, John Yount and David Morrell. In 1978, he was given his own imprint ("Richard Marek Publishers") at G.P. Putnam's, and moved it to St. Martin's Press ("St. Martin's/Marek") where, among many other books, he acquired Thomas Harris' The Silence of the Lambs and Robert Greysmith's Zodiac. In 1989, Marek became President and Publisher of E.P. Dutton, where he edited a number of bestselling books.
After Dutton became a subsidiary of Viking/Penguin, Marek moved to Crown as Editor-at-Large and thereafter became an independent editor, evaluating manuscripts, editing and ghostwriting, which he calls "a glorious and rewarding career."
In the past 10 years, he has edited some 120 books, working for publishers, agents, and unrepresented writers. And he has also become an in-demand ghostwriter. He reports that he enjoys writing mornings and editing during afternoons.
Richard is now the ghostwriter of fourteen books, fiction and nonfiction, among them Trisha Meili's I Am the Central Park Jogger (a national bestseller), James Patterson's Hide and Seek (a national bestseller), Brian Weiss' Same Soul, Many Bodies, Ilanna Rubenfeld's The Listening Hand, David Grand's Emotional Healing at Warp Speed, and David Hackworth's Steel My Soldiers' Hearts.
And I am happy to say that I have had the opportunity to publish a lovely novel authored by Richard and his wife, the writer Dalma Heyn. It's a love story for grown ups called A Godsend.
Dick is an active member of the Independent Editors Group – more about him and that organization here.
For this Publishing Talks series, I thought it would be fun and valuable to talk to Dick about the past, present and future of publishing from his unique perspective. His long and successful experience in commercial and literary publishing as editor, publisher, and now writer, provides him with an amazing depth of knowledge and an unending well of anecdotes and stoies. What he has to say during our conversation in his home will not disappoint. He is a great conversationalist with important things to say about book publishing.