9781616956721 – Soho Press – 368 page – Hardcover – $27.00 – ebook versions available at lower prices
Mary Volmer's novel, Reliance, Illinois is a beautifully written historical novel that takes place in midwestern America in 1874.
The story revolves around thirteen-year-old Madelyn Branch. She comes to the town of Reliance with her mother, Rebecca, who is being married through an in the Matrimonial Times, but there was no mention of a daughter to the suitor involved. So Madelyn's entire life in Reliance is based on the fiction that she is Rebecca's sister.
Madelyn is thoroughly unhappy in her new home, and is emotionally wounded by her mother's deception, so she soon leaves her mother and her new family to work for Miss Rose Werner, the daughter of the town's founder, a strong and independent figure who stands out in this small conservative town.
Miss Rose is not only an early suffragette, she is also the supplier of black market birth control devices to women in the town. Miss Rose sees Madelyn as someone she can help mold into her vision of a modern woman. But for the most part, Madelyn, whose face is strongly birth marked, simply wants to feel beautiful and loved. She pines for William Stark, a young photographer and haunted Civil War veteran.
As the story unfolds, and events in this small town become increasingly fraught, Madelyn learns secrets she could never have previously imagined, and becomes a woman who is ultimately in charge of her own destiny.
There's a tremendous amount of historical research underpinning this wonderful story, great characters, and quite a bit that will resonate for modern readers (yes, there is an election in the town, which I found interesting to read about in our current election season).
I was very taken by this book, and am looking forward to reading more by this excellent writer. I hope my conversation with Mary Volmer will help listeners discover a new voice in American fiction.
I agree with this reviewer's sentiments:
"Mary Volmer's Reliance, Illinois grabbed me from the first page. Staggeringly beautiful prose, a poignant story, the whip smart heroine Maddy who I rooted for all the way. Volmer brings a universal theme of the reliance—all of us who search for it—to be found in ourselves. Do yourself a favor, clear your schedule and drink in Volmer's radiant Reliance, Illinois."
—Cara Black, New York Times bestselling author of Murder on the Quai
Mary Volmer's first novel is Crown of Dust, which takes place during the Gold Rush in California. Her  website is here.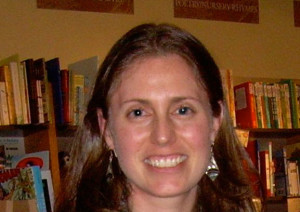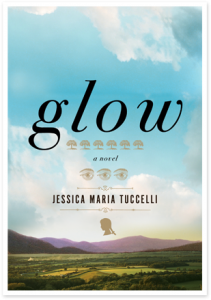 978-0670023318 – Viking – Hardcover – $25.95 (ebook versions available)
Jessica Maria Tuccelli's outstanding first novel, Glow, opens in the fall of 1941, in Washington, D.C., and traverses back and forth through time and place to Hopewell County, Georgia in 1836, and then across the century following.  We start with Amelia J. McGee, a young woman of Cherokee and Scotch-Irish descent, an outspoken pamphleteer for the NAACP, whose husband has been hauled off to jail as a draft protester, sending her daughter Ella, alone with her only her dog as company, on a bus home to Georgia.  This desperate act, meant to protect her daughter, turns out to be disastrous, as the girl, almost at her destination, is snatched by two drifters and then left for dead.
Ella is rescued and cared for by Willie Mae Cotton, an ancient root doctor and former slave, and her partner, Mary-Mary Freeborn, who live deep in the Takatoka Forest near Ella's ancestral home. While Ella heals, in a fluid and beautifully told story, we learn the history of her people and those who are caring for her.
Tuccelli is a lovely writer, and her almost magical ability to capture the voices and stories of the diverse characters in this novel is striking.  She does not shy away from pain and suffering, but manages to find transcendance and hope for her characters against tremendous odds.  The people in this novel are powerfully real, committed to family, to the land, and to the personal histories that make them who they are.
Tuccelli is a fine writer and also a terrific writer to interview.   It's of course impressive and a natural issue to discuss, that she is not from Georgia nor does she share any personal history with the people and place she has made her own in this novel.  There are some truly compelling characters in this book that I will never forget.  I had a great time talking to her and hope you enjoy our conversation as well.   Her excellent website is well worth a visit.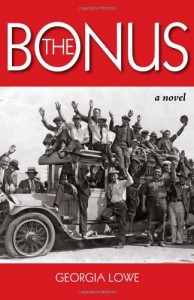 978-0615371450 – Lucky Dime Press – $18.95 – paperback (ebook editions available)
I confess to be particularly fond of Depression era novels and nonfiction.  The 1920s and 1930s were incredible periods in American history, so much like the present time it is sometimes strange and even eery.  I'm not sure how many readers coming to this novel will know its historical background.  In 1932, at the height of the Great Depression, while Hoover was still President, thousands of World War I veterans mobilized to lobby Congress to pass a bill to give them their war service bonuses immediately, to save them from utter poverty and starvation.  2o,000 of them ended up camped in and around Washington, D.C. at the end of their Bonus March.
The political elements of this story sound pretty familiar to anyone who is paying attention to modern political speech.  It's impossible to not think about the Occupy movement as you read this novel, which of course was conceived and written long before that movement's inception.
Georgia Lowe's parents were bonus marchers.  She grew up hearing their stories about the hot summer of 1932 in Washington, D.C., when General MacArthur, himself also a World War I veteran, brutally dispersed the homeless and destitute marchers, including the families of the vets.  Those stories inspired her, but she did not even begin to write fiction until she was much older.  She started the novel more than 10 years ago, using elements of her own family's stories to create the framework of her novel.
I found The Bonus to be a remarkably well written novel that flows beautifully and naturally.  I'd characterize it as a "naturalistic" novel, and it feels to me as if it could have been written in the 1930s, with a truly authentic sense of the period, the places and the people of that time.  The story focuses on Bonnie and Will, she a struggling actress and he a journalist (and veteran in denial of the pain of his wartime experience), both of them living reasonably well in Hollywood.  They each become connected to the Bonus March in different ways, and end up together in Washington, where their personal lives become entwined with the real events surrounding the marchers and their treatment in the capitol.  You're not reading a novel to learn the history, but you will learn it and I think you will feel, as I did, that history is remarkably circular.
I think history has birthed a wonderful novelist.  The Lucky Dime website tells us that Georgia is hard at work on two new novels, a prequel to The Bonus entitled An Ordinary Kid and a sequel, The Old Ladies.  These are books I will want to read.  I can't resist making a plug for another novel, one that was actually written in the 1930s by a now almost forgotten writer, Thomas Boyd, In Time of Peace, a book I think should be read together with The Bonus to create a really powerful understanding of our own period through the lens of another.
Talking with Georgia was alot of fun for me since I liked her book so much.  I hope you will enjoy it as well.  And I am not alone in liking this book alot – The Bonus won first place in the highly competitive Mainstream/Literary Fiction category of the Writer's Digest Self Published Book Awards.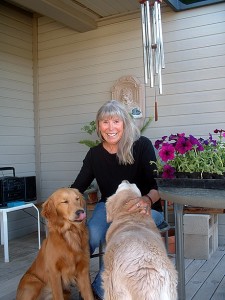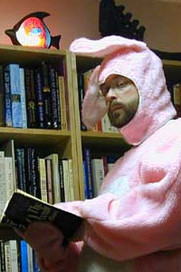 In this ongoing series of interviews, called Publishing Talks, I have been talking to book industry professionals and other smart people about the future of publishing, books, and culture.  This is a period of disruption and change for all media businesses.  We must wonder now, how will publishing evolve as our culture is affected by technology, climate change, population density, and the ebb and flow of civilization and  economics?
I believe that these Publishing Talks conversations can help us understand the outlines of what is happening in the publishing industry, and how we might ourselves interact with and influence the future of publishing as it unfolds.
These interviews give people in and around the book business a chance to talk openly and broadly about ideas and concerns that are often only talked about "around the water cooler," at industry conventions and events, and in emails between friends.  These conversations give people inside and outside the book industry a chance to hear first hand some of the most interesting and challenging thoughts, ideas and concepts being discussed by active participants in the book business.
It's likely that most listeners of this podcast series are aware of the innovative storytelling project called The Mongoliad.  This project, a "transmedia" collaboration of several science fiction and fantasy writers, along with their readers, and others, is one of the more far-reaching experiments in digitally enabled fiction.  There are many interesting practical elements to this project, including quality control, story and character continuity, and other issues of control.  And there are economic questions as well.
There are all sorts of bigger issues in play here as well, including the notion of author, ownership of ideas and control issues in a collaborative crowdsourcing environment, and the nature of writer and reader in a community setting.  Hopefully these issues will continue to be explored and discussed in many other venues.
Mark Teppo is the Chief Creative Officer for Subatai Corporation, which is the operator of The Mongoliad project.  Mark plots and fabricates alternate versions of historical eras for this project and others.   He is also the author of the urban fantasy series The Codex of Souls (Night Shade Books) and lives in Seattle.  His other projects include: Darkline: An on-going research and commentary site dealing with esoterica and the occult and Psychobabel, a pair of non-linear texts—The Potemkin Mosaic and The Psychobabel Folio—the Psychobabel project explores the landscape of dream, the labyrinth of linguistics, and the deconstruction of mythology.
Just after I interviewed Mark for Writerscast, Amazon and Subatai announced that Amazon will be publishing the books related to The Mongoliad.  I asked Mark to comment here to provide some additional context for our discussion.    Here is what he said:

Regarding the deal with Amazon's new SF/F imprint, we're thrilled that they want to bring The Mongoliad to a larger audience.  One of the
things that we've always said is that, for many of us, a book doesn't really exist until you can crack it open and bury your nose in its pages.  I grew up with books, and still have a house full of them. Rooms seem strangely naked if they don't have books in them.  Digital technology is coming to books, and e-readers are definitely going to change the market, but they don't make physical books any less a critical part of our being.  To that end, partnering with 47North (Amazon's new S/F imprint) to be able to produce The Mongoliad as a physical book is simply part of what we always wanted to accomplish.
On a more practical side, the e-reading market is still in its infancy.  Those of us who spend all day on the Internet easily forget that a significant part of the reading audience prefers physical texts.  We'd be remiss in our efforts to entertain everyone if we didn't make every effort possible to let them enjoy our stories as well. Amazon's entry into the SF/F publishing space will allow us to put the entirety of the Mongoliad on the shelves in bookstores by the end of 2012, which–in publishing terms–is almost overnight.
I think you will find this discussion about The Mongoliad well worthwhile.  It is a really interesting project being done by a very smart and accomplished group of people.  I've enjoyed reading it as the series has evolved, and recommend it to anyone interested in historical fiction and visionary writing or who might be looking for inspiration to develop other innovative models for digital storytelling.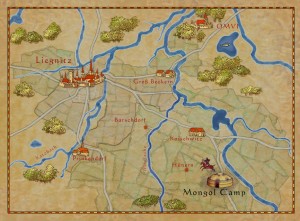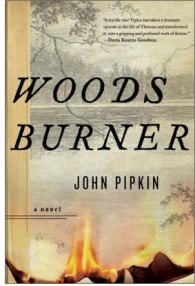 978-0385528658 – Hardcover – Nan A. Talese – $24.95
I first heard about this novel on NPR and was immediately attracted to the notion of a novel that was generated by this single almost unknown incident, when Henry David Thoreau accidentally set fire to the Concord woods in 1844.  I'd learned of this first from poet friend Jonathan Williams many years ago, but it never really hit me how paradoxical this event was.  John Pipkin has woven a truly original story out of the history surrounding this one event.
He starts with the historical Thoreau, imagining him not as the genius of outdoor philosophy he has become, but as a bumbling, confused and somewhat thoughtless individual who does yet fully know who he is or even why he is.  Pipkin adds other characters to the story, all of them confused and searching for something that perhaps only the accidental conflagration set off by Thoreau and his young friend can bring them.  There is Eliot Calvert, aspiring romantic playwright and accidental bookseller searching for meaning in a mundane life, the irresistibly named Norwegian orphan immigrant Oddmund Hus (whose past also involves an explosive accident) who is silently in love with the wife of the farmer he works for, and Caleb Dowdy, the strange, confused Episcopal minister who seeks salvation through self abasement.  And of course, Thoreau as Pipkin paints him, a young largely unfulfilled son of a pencil manufacturer, way over his head in the woods, searching for meaning in nature bit in no way ready for his destiny.
All will meet, all will be transfixed, transformed, formed, in the conflagration at the heart of this story.  I talked to first-time novelist John Pipkin early one morning in September about this truly excellent book.  In this interview he talks about what lead him to this story, and how he came to imagine it, as well as his research, the characters and of course, Thoreau himself.  Pipkin is a terrific writer, and just as good at talking about his work.  I am looking forward to reading more of his work, and recommend this novel to almost any reader – it is that good.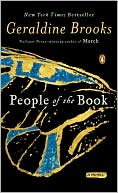 978-0143115007 (paperback)
Penguin Books, $15.00
Writerscast host David Wilk interviews Pulitzer Prize winning author Geraldine Brooks, on tour for the release of the paperback edition of her newest novel, People of the Book.  This brilliant and engaging historical novel has a story that spans centuries, using the Sarajevo Haggadah as the focus. As one reviewer has said:  "There's a romance between Brooks and the world, and her writing is as full of heart and curiosity as it is intelligence and judgement." Carrie Brown, The Boston Globe.
In a wide ranging discussion with host Wilk, Ms. Brooks talks about her work and her working methods as a historical novelist.  Wilk and Brooks talk in depth about The People of the Book.  The author also offers fascinating details about the novel she is working on now, based on the Wampanoag Indians of Martha's Vineyard, where she lives with her family.  Her own website www.geraldinebrooks.com is a rich source of information about this wonderful writer and her consistently rich and rewarding fiction.