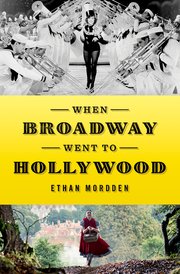 When Broadway Went to Hollywood – Ethan Mordden – Oxford University Press – Hardcover – 9780199395408 – 272 pages – $29.95 (ebook versions available at lower prices)
Ethan Mordden is probably our leading commentator and historian of Broadway musical theater, as well as their somewhat more fraught Hollywood musical cousins. This is a really fun and enlightening book for anyone who is interested in the history of this unique modern American art form. Even if you don't love musicals, the history of musical theater and its relationship to the movie business is integral to an understanding of twentieth century mass entertainment and popular culture.
The success of the now iconic musical movie, The Jazz Singer, which was among the first films to integrate synchronized music into a storyline in the late 1920s, spurred many of the best songwriters of the "Great White Way" to go west in search of riches. The list included George and Ira Gershwin, Cole Porter, Richard Rodgers, and Lorenz Hart, among many others, who like many New York based playwrights, were enticed by the huge amounts of money paid by Hollywood producers for established east coast talent.
But when Broadway writers and songwriters ran into the very different business and production methods of the movie business, it did not always work out for the best. Movie producers did not want to follow the same structure and outlook of the theatrical forms, and had to aim their products to a very different kind of audience than attended musical theatre in New York City, which Mordden very brilliantly identifies as segmented by the geography and cultural divides of twentieth century America.
There are so many interesting themes to this book. Mordden discusses the various struggles that Broadway songsters had with the Hollywood system, traces the history of the musical in theater and film, and critiques the best and worst productions of both coasts. Reading this book, we get to think about some really interesting questions – did Hollywood create opportunities for storytelling with music, or is film simply antithetical to the musical form? Are movie musicals and theatrical productions really compatible at all?
Mordden has great stories to tell about so many of the people involved in both theater and film, has probably seen more movies than anyone you will ever meet, and knows enough about music to really talk about it technically in a way the average reader will understand. He makes sense of a lot of complicated history and along the way, we get to learn some behind the scenes stories about the great musicals most readers of this book love to watch, and some of the truly terrible musical films that Hollywood has managed to create over the years.
Ethan Mordden started out in theater, as both composer and lyricist; he wrote musicals, but he is best known as a prose writer. Mordden's fiction output includes several gay themed novels in his "Buddies" cycle, as well as some excellent historical fiction, including The Jewcatcher, and most recently One Day in France. He is also a prolific writer of non-fiction, including six volumes detailing the history of the Broadway musical from the 1920s through the 1970s, guides to orchestral music and operatic recordings, and a cultural history of the American 1920s entitled That Jazz! He has also published Demented, an examination of the phenomenon of the operatic diva, and a coffee-table book on the works of Rodgers and Hammerstein. His Love Song: The Lives of Kurt Weill and Lotte Lenya is a dual biography chronicling the romance and professional collaboration of these two icons, and in 2013 he published Anything Goes: A History of American Musical Theatre. He has also written a number of books on film.
Having grown up in a family that lived some of the history in this book, talking to Ethan about the meeting of Broadway and Hollywood through musicals was tremendous fun for me. He is witty, charming and always entertaining. I think you will really enjoy listening to this conversation.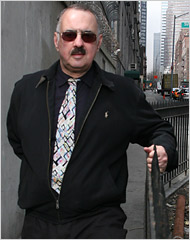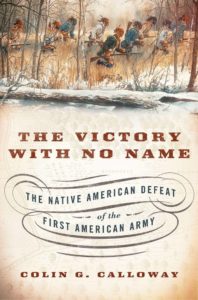 The Victory With No Name: The Native American Defeat of the First American Army – Oxford University Press – paperback – 214 pages -978-0190614454 – $16.95 (ebook versions available at lower prices)
I think it's safe to say that most Americans have not given much thought to the very early history of the United States. During the first decades after the country was formed, there was much concern about the survival of the new nation. The British were still well established in the north, the Spanish were in the south and southwest, and large numbers of Indians inhabited the vast area to the west. Pressure was being exerted on the federal government to open these western lands to settlement, putting the US on a collision course with the natives who lived there.
This area was known as the Northwest Territory – comprising what are now the states of Ohio, Indiana, Illinois, Michigan, Wisconsin and parts of Minnesota. Almost all Americans dismissed the land claims of the Native Americans. These tribes they saw simply as impediment to American growth. While some American leaders preferred to purchase the Indians' land, the need for the government to pay its debts by selling (Indian owned) land overwhelmed all other concerns, and led ultimately to a war of extermination with the tribes.
Historian Colin G. Calloway is exceptionally perceptive and knowledgeable about the early history of the United States of America. This short, well written book focuses on a single unnamed battle that took place in late 1791 in what is now Fort Wayne, Indiana. In this period, before there was a standing army, President George Washington ordered Arthur St. Clair, the governor of the Northwest Territory, to direct a military campaign aimed at defeating the tribes that had refused to accept the unfair land deals the United States had proposed to them.
Calloway shows that the Native Americans were well organized and well-led, both politically and militarily. This surprised St. Clair as much as it may surprise us today. The American Indians were led by Little Turtle of the Miamis, Blue Jacket of the Shawnees and Buckongahelas of the Delawares (Lenape). Their war party numbered more than one thousand warriors, and included a large number of Potawatomis from eastern Michigan, a broad confederacy presaging similar Indian efforts to come in later years.
As Calloway points out: "Indians fielding a multinational army, executing a carefully coordinated battle plan worked out by their chiefs, and winning a pitched battle—all things Indians were not supposed to be capable of doing—routed the largest force the United States had fielded on the frontier." It's useful to note that the American army was poorly organized, included a large number of ill-trained militia, and was also victimized by crooked suppliers, starting a longstanding American tradition of private gain by military purveyors we recognize all too well today.
Unfortunately for the Native Americans, their victory was short lived. The stunning American defeat led directly to a number of changes in the way the new government operated. The House of Representatives initiated the first investigation of the executive branch, Congress established a standing army and gave the president authority to wage war. A liquor tax was created to finance the Army (which led to the Whiskey Rebellion that ironically, President Washington used the tax-financed militia to put down). The Indian confederacy did not last, and in 1794, General "Mad Anthony" Wayne built Fort Recovery and defeated another Indian war party at the Battle of Fallen Timbers, ultimately bringing an end to Northwest Territory Indian resistance and opening the way for the first stage of westward growth of the new American nation.
There is so much interesting history that relates directly to the story told in this book. It's a compelling read for anyone interested in the early period of the American republic. My conversation with Colin Calloway reflects the stirring nature of his book, and the breadth of his knowledge. This book is an important American story, well told, and I highly recommend it.
Colin Calloway is the author of a number of excellent works, including one of my personal favorites, One Vast Winter Count: The Native American West before Lewis and Clark. He is the John Kimball, Jr. 1943 Professor of History and Professor of Native American Studies at Dartmouth, where he has taught since 1990. He received his Ph.D. from the University of Leeds in England.
Length note – this interview is slightly longer than average at about 35 minutes.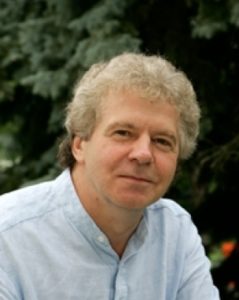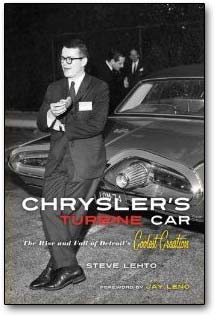 978-1569765494 – Hardcover – Chicago Review Press – $24.95 (e-book edition available)
Steve Lehto's portrait of the Chrysler Corporation's amazing effort to engineer a turbine powered automobile is a terrific book, and alot of fun to read.  You don't have to love cars to enjoy this book, though I am sure it helps.  But even if you don't care about engines, and the dedicated engineers who spent years working on the turbine car program, you will learn a great deal about the industrial, social and cultural history of post World War II America.
Like so many kids who grew up in the 50s and 60s, I was enthralled with cars of all kinds, and when the Chrysler Turbine was first unveiled in 1964, along with millions of other Americans, I was fascinated and captivated by it – not only was it a beautifully designed car, futuristic and smooth, but it featured an engine like nothing else the world had ever seen up to that time.  It was the Jet Age in automotive design, and here was a car with an airplane inspired engine in it.
The Chrysler Turbine represents an incredible commitment on the part of a major American automobile manufacturer to develop and popularize a truly radical alternative powerplant to the American driving public.
Chrysler's turbine could run on almost any fuel – diesel, peanut oil, perfume, even tequila.  Imagine what would have happened if the company had been able to devote hundreds of thousands more engineering and testing hours to the development of this engine over an additional 40 or 50 years.  It's entirely possible that we would not be worrying about hybrids, diesels and electric cars today.  Reading Chrysler's Turbine Car will give you a great understanding of the challenges any major new automotive development must face in order to become widely popular.
After a number of years of development and several generations of engine development, Chrysler hand built 50 examples of the the Turbine (that was its only name) and made them available to selected members of the general public for testing.  Drivers could keep the cars for three months and were required to keep detailed logs of their experiences.  Chrysler personnel maintained all the cars, flying all over America to repair and sometimes rescue cars that had problems, large or small.  In all, the fleet registered over a million miles of testing, and performed extraordinarily well.  Chrysler gained a huge amount of publicity and increased sales of their regular new cars, as well as learning a tremendous amount through the extensive practical use of their radically designed and built Turbine car by real drivers.
Unfortunately, for a variety of reasons, Chrysler ultimately abandoned the program completely, and destroyed most of the cars they had built.  Only a few were saved and sent to museums to be put on display – which is where most of them still are today.  Interestingly, Jay Leno was able to buy one of Chrysler's own survivors and now drives it regularly. Author Lehto was able to drive Leno's Turbine as part of his research for the book, and Leno contributed a foreword to this book.
Lehto interviewed every surviving member of the Chrysler team that built and maintained the cars during their short period of glory.  He also spoke to many of the people who were lucky enough to be participants in the public lending program; their stories help make the book a fun and enjoyable read.
In many ways it is understandable why the Turbine car program was killed by Chrysler, even after so much effort and money had been invested in it.  For a single car manufacturer to introduce a radical new powerplant completely outside the mainstream of engineering practice was ultimately economically unsustainable.  But it's impossible for us not to regret that Chrysler gave up on the multi-fuel efficient turbine in 1967, especially today, as we are facing a future when do not have a viable alternative engine to replace our dependable and thirsty reciprocating gasoline dependent engines.
This is a fun and worthwhile book to read, whether you are interested in cars, American history, culture, business or general nonfiction.  Author Lehto, an adjunct professor at University of Detroit – Mercy, has written a very readable book, full of interesting characters and great stories you don't have to be a car nut to enjoy.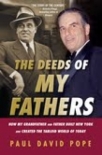 978-1442204867 – Hardcover – $24.95 – Philip Turner/Rowman & Littlefield (e-book editions available at $9.99)
Well this is truly an amazing 20th century American story, and really well told by the author, who spent many years working on this book.  There are characters here as big as those in any historical novel. The full title of the book gets to what the story is about: The Deeds of My Fathers: How My Grandfather and Father Built New York and Created the Tabloid World of Today.
Paul David Pope's grandfather, Generoso Pope Sr., came to this country alone and poor, at a very young age seeking a better life, as so many other immigrants did.  That part of the story is hardly unique.  But he was obviously a very special sort of person, and it did not take him very long, through hard work, intelligence and a certain amount of ruthlessness, to create a building trades empire in the greatest city in America, New York City.
His companies supplied the concrete that literally built the city in the boom years of New York.  But he also managed to buy and control this country's primary Italian language newspaper, Il Progresso, and his wealth, power and connections (including political kingmakers, the mob, and even FDR as well as the Pope) made him one of this country's leading and most influential Italian Americans. Because he was able to use his newspaper to influence elections, he essentially became a kingmaker in the old school of American politics, and was truly an iconic emblem of his times.
But author Pope does not shy away from telling us the ugly along with the good.  His grandfather was far too close to Mussolini in the 1930s, and was blatantly used by the Fascists to try to influence American public opinion in their favor during the lead up to World War II.  And he was far from being a good husband and father.  He always favored his youngest son, Gene (author Pope's father), and selected him to run his businesses, over his older and more experienced brothers.
Early on, Gene Americanized his name to Pope. He was pushed out of the family business after his father's death by his mother and his two older brothers.  At that point, Gene, with a loan secured from his "Uncle Frank" Costello, bought a newspaper in decline, the New York Enquirer.  With a combination of dedication and a brilliant natural understanding of what average readers would want to read, he created the pinnacle of all tabloids, the National Enquirer.  Of course, the support of his Uncle Frank did not come without strings, and Frank required that the paper stop attacking the mob in its stories, and in fact it was to publish only positive stories about projects the mob was backing, and even that the Enquirer would attack and discredit the enemies and opponents of organized crime – which it did without hesitation.
But the heart of Gene Pope's story is his single minded dedication to the newspaper he loved.  He moved the company to Florida and made it almost the only thing he cared about.  As he grew older, he was clearly eccentric in his behavior (some might say nighly neurotic and disturbed).  But throughout, Gene Pope gives readers what they want, and as the National Enquirer covers the paranormal, medical cures, celebrities, always attentive to what the average American would read, and circulation soars, peaking with the 7 million copies sold of the Enquirer's 1977 exposé on the death of Elvis Presley.
Paul David Pope gives us a fast paced, almost novelistic version of his family's history.  His story is based on hundreds of interviews, and a huge amount of research, but of course much of what happened in the earlier part of the story is reconstructed from the documentary record.  It is a gripping narrative, and a compelling story for anyone who cares about the modern history of the United States as lived by some of its more colorful and successful citizens, and the author gets across the complexity of his real life family in their non-stop rush to make their marks.
Talking to the author gave me a chance to delve into the background of the story, what motivated Paul to do all this work and stay with it for so long, and for him to talk about how his family history has affected his own life.  There's more about the book at the author's website too.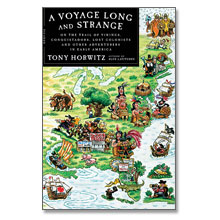 978-0312428327 – Paperback – Picador – $18.00
What a great book!  This is one of those modern nonfiction books by a really smart and talented writer that communicates a great deal of information almost effortlessly.  Tony Horwitz takes us on a wonderful journey, his own individualistic, funny, sometimes painful, and always fascinating tour of North American history. It all started with a chance visit to Plymouth Rock that made him realize how little he knew about the early colonization and settlement of North America before the Pilgrims arrival in 1620.  It wasn't long before he set out on a very long journey, as he puts it "in the footsteps of the many Europeans who preceded the Pilgrims to America."
He traces many stories and visits many places on his own epic trek — from Florida's Fountain of Youth to Plymouth's sacred Rock, from desert pueblos to subarctic sweat lodges. Tony has a healthy regard for history and an equally healthy disregard for accepting the accepted wisdom and stories about the Europeans of all kinds who managed to get to America, muck about the place, sometimes with disastrous or horrific results, and he does not forget to talk about the people who were already here when the Europeans arrived.  Overall, he is funny, tells great stories, brilliantly illuminates the people, places and myths that dot our past, and while it is trite to say, he definitely brings a long run of history vividly to life.  For those of us who do know our American history, this book is fun and rewarding, and for those who missed it, I can think of no better way to learn about this early period of North American history up close and personal than to read A Voyage Long and Strange.
I heard Tony talk about this book and read from it at the Martha's Vineyard Book Festival this summer and knew instantly that I wanted to read it myself.  He definitely has one of the most engaging approaches to history and story telling you will ever run across.  Probably reflecting his own engaging personality, as my interview with Tony will show you.  He has a great website with alot of information about this, his newest book, and his other four books at www.tonyhorwitz.com.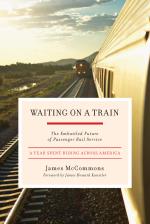 978-1603580649 – Paperback – Chelsea Green Publishing – $17.95
I learned a great deal from reading this excellent book.  Not just information about trains – there's alot here – but about the people who around the United States who are working to make train travel a viable alternative to driving, about the communities and states where rail is succeeding, about the history and scope of railroads in America and around the world, and specifically a great deal about Amtrak, its ongoing struggles, as well as the modern freight railroads that are thriving today.  Jim McCommons has alot to tell, but he never lectures us.  Because the book is built on the backbone of his year spent traveling around America by rail, and because McCommons is an experienced and talented journalist, Waiting on a Train beautifully combines travelogue, personal memoir and transportation analysis and history that gives us a great introduction to an important and large subject that might otherwise seem opaque and difficult to approach.
McCommons spent much of 2008 in trains.  He talked to travelers, workers on the railroads, policy makers, professional planners, politicians, including many of the people who have been most involved in passenger rail policy for the past 35 years.  Waiting on a Train is not a sentimentalist's approach to rail travel.  McCommons tells us plainly what the challenges are for those of us who want to see mass transit developed into a meaningful alternative to automobile and air travel.  And he does not pull punches – developing passenger railroads is not going to be easy and it will not happen quickly.  It's important to realize that only 2% of the American public has actually ever ridden a train – a stunning fact I learned from this book.  I'd recommend this book for anyone who loves trains, an easy call, but I'd also like to see people who have never even thought about riding on a train read this book so they will understand why rail must be an essential component of the American transportation system of the future.
In my interview with James McCommons, we talked in detail about what it was like for him to spend so much time in trains, writing this book, and many of the subjects he covered.  He talks about high speed rail, the differences between Europe and America, meeting railroad policy makers, and talking to regular travelers from many different backgrounds.  It's a fascinating story I hope will be widely read and discussed.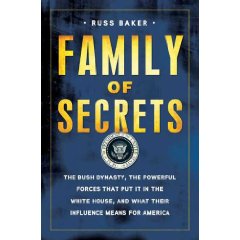 978-1596915572
Bloomsbury Press, $30.00
Hardcover
Writerscast host David Wilk interviews investigative journalist Russ Baker, author of the newly released FAMILY OF SECRETS: The Bush Dynasty, the Powerful Forces That Put It in the White House, and What Their Influence Means for America. Baker started his investigation into the Bush family during the most recent Bush administration, thinking that he would be able to understand how the "unlikely" George W actually became President of the most powerful nation on earth. This simple investigation turned into something far deeper – and ultimately Baker learned details about the Bush family going back three generations that connects them to some of the major political events of the last 75 years. In Wilk's two part interview with Baker, they discuss much of the startling and controversial content of the book. Baker talks in detail about his background as a journalist and many of the intriguing Bush family stories. Warning: some of what you learn here will be frightening!