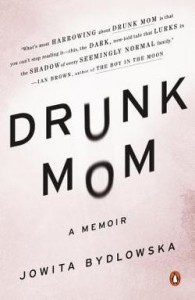 Drunk Mom – 978-0143126508 – Penguin – paperback – $16 (ebook editions available at lower prices)
What an incredible book. Tough, loving, uncompromising. So much power in this book, admittedly at times, very painful to read, and stunningly honest to the point of extremism. But Jowita is such a fine writer, it is impossible not to admire this book and despite all the terrible things she tells us about herself, that she is alive, and able to speak her truth is incredible.
You know that any book with a title like this is going to be amazing, but there is no way to get through this book without being thoroughly bowled over, and depending on one's tolerance for witnessing someone else's painful mistakes, perhaps more than in any other book you will ever read. And yes, Jowita is completely and terrifyingly honest about herself and her misadventures throughout.
It's valuable to understand that when Jowita first wrote this story, she wrote it pretending it was a novel. She had to get through that ironically deep denial as part of her ability to understand herself, one assumes. And that is part of the power of this book, that the author is able to uncover layers of denial, fear and guilt to get to a place where she can be honest with herself, and by telling that story to the world, reach a kind of absolution, a place in herself where she can be able to reconstruct herself, not forgiving, but finding the parts of her persona that are who she is not drinking. This is very powerful reading and a book I recommend no matter what you feel about yourself or others who are drinkers, addicted, lost, or found.
Short summary: Three years after she gave up drinking, Jowita Bydlowska found herself drinking again – at the party celebrating the birth of her son. Thus begins the harrowing tale of her descent, once again, into full blown alcohol and substance abuse. You have to read this one for yourself. Go buy this book, prepare yourself for a powerful experience, and read it now. Another good interview with the author on NPR here. And Jowita's website, worth a visit – "I was born in Warsaw, Poland. I moved to Canada as a teenager. I live in Toronto with my little family in a little house. I write, write, write (compulsively, happily, unhappily, obsessively)" here.
I very much enjoyed talking to Jowita, who does a great interview. This conversation runs a bit long at 36 minutes, but hopefully it's an experience well worth your time to hear.