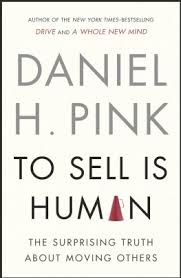 To Sell Is Human: The Surprising Truth About Moving Others – 978-1594631900 – Riverhead Books – paperback – $16 – ebook versions available at lower prices.
Daniel Pink is a terrific writer and in addition, he is extremely cogent in his thinking and presentation of ideas. The result is that his writing is very persuasive. I have long thought that selling is something that most of us do in one form or another on many occasions. Selling in that day to day sense, is about persuasion. Some of us are better at it than others, but it's part of the fabric of human relationships. So I was very excited to discover this book and having read it, am now a big fan of Daniel Pink's thinking on this subject.
Pink spent a lot of time and energy studying how the new American labor force works. In To Sell is Human he shows clearly that in today's connected world, with selling defined as *moving* or *persuading* others – customers or colleagues, those you work for and those who work for you – all of us are ultimately involved in a form of selling.
As Pink himself puts it: "Whether we're employees pitching colleagues on a new idea, entrepreneurs enticing funders to invest, or parents and teachers cajoling children to study, we spend our days trying to move others."
Pink brings this home by drawing on social science but his insights are what makes this book special. The old rules of selling don't apply anymore, and he tells us what we need to do in order to be successful in the modern world of collaboration and constant change.
Pink presents six successors to the elevator pitch, three rules for understanding others, five frames that can help us be more persuasive then ever, and more. This books is both visionary and practical, and really may change the way you think and therefore how you act in both work and personal social situations.
Dan Pink is a prolific author and motivational speaker. Dan's first book, Free Agent Nation: The Future of Working for Yourself, was a Washington Post bestseller. He also wrote The Adventures of Johnny Bunko: The Last Career Guide You'll Ever Need (the first American business book done in manga form). A Whole New Mind: Why Right-Brainers Will Rule the Future and another excellent book, Drive: The Surprising Truth About What Motivates Us. In total, this is a very impressive body of work. And as you can readily imagine, he is a great conversationalist and therefore we had a terrifically interesting conversation.  A visit to his website is highly recommended.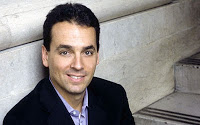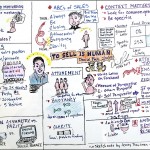 Publishing Talks began as a series of conversations with book industry professionals and other smart people about the future of publishing, books, and culture.  As we continue to experience disruption and change in all media businesses, I've been talking with some of the people involved in our industry about how they believe publishing might evolve as our culture is affected by technology, climate change, population density, and the ebb and flow of civilization and  economics.
Recently, the series has been expanding recently to include conversations about a wider range of subjects than my initial interest in the future of publishing.  I've talked with editors and publishers who have been innovators and leaders in independent publishing in the past and into the present, and will continue to explore the past, present and future of writing, books, and publishing in all sorts of forms and formats, as change continues to be the one constant we can count on.
It's my hope that these conversations can help us understand the outlines of what is happening in publishing and writing, and how we might ourselves interact with and influence the future of publishing as it unfolds.  This week's interview reflects my interest in comic art, illustrated story telling and new technology as a platform for expanding story telling in interesting and challenging ways.
Madefire is a very cool development in the evolution of technology platforms that enable digital storytelling.  Founded by Ben Wolstenholme, Eugene Walden and artist/writer Liam Sharp, Madefire has big ambitions, and has drawn significant support from investors, creators and readers.  In their own words, it's a big play: "Madefire is undertaking an epic journey – One that we believe will revolutionize how stories are told, read, and shared. One that will transform a once static medium into an interactive experience that unfolds dynamically on mobile devices, and evolves with each new episode. It's our Motion Book Tool that will make all this possible. We built it to unite the timeless beauty of sequential art with cutting-edge technology, and to give new creative freedom to the world's most visionary creators and storytellers. All in the service of advancing the art of storytelling."
At the October 2013 New York Comicon, I had a chance to get a demo of the software in action and was impressed by the Madefire approach, which provides comic artists with a whole new set of tools to enhance the visual storytelling mode in digital form.  What is most appealing is the organicism of the approach – they are not trying to overwhelm us with game based features, but enabling the creators to expand their vision and engage their readers.  It is indeed a big project and new developments continue to emerge.  They call what they are making "Motion Books" which gets across pretty clearly what they are after. Their alliance with DeviantArt is a mind opening approach to publishing and engaging with communities of readers and creators online.
For this Publishing Talks interview, I spoke with both founder and CCO Liam Sharp and editor Ben Abernathy, formerly a group editor at DC Comics. I highly recommend downloading the Madefire app and experiencing some of the work that has been made using the Madefire tools. Listeners please note, this is a relatively long interview at just over 40 minutes.