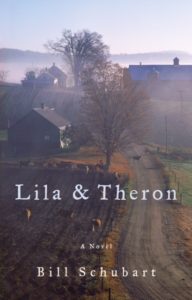 Lila and Theron (A Novel) – Bill Schubart – Charles Michael Publishing – Hardcover — 9781682613566 – 192 pages- $19.95 – ebook versions available at lower prices – June 6, 2017
This small book is short and sweet in a very good way. Through well written fiction, the book documents and celebrates an imagined place and people in time, that have only recently disappeared from the American landscape. It's difficult for most of us moderns to imagine life without all the technological conveniences we have come to take for granted today. It was not that many years ago that the isolated mountain communities of northern Vermont were still home to small farmers, whose daily lives were closer in rhythm to the nineteenth century than to even the twentieth, much less the technologically advanced twenty first century of today. Some of these hardy folk still farmed with horses into the 1960s, and many small-scale daily and truck farming operations managed by dint of endless toil, to support the families on the land they had worked for generations.
To most of us, these lives will be as foreign as science fiction. Harsh circumstances often make people harsh, but Schubart's characters find a way to access their humanity despite all the struggles of life which which they must cope. It's a joy to get to know these characters and to share the stories of their lives. Schubart, now in his seventies, bridges this time frame. He grew up in northern Vermont, and while his life experience was vastly different from the farm people he writes about here, these are people he knew and loved during the his youth, and it benefits us all that he has brought them to life in this lovely novel.
Thelma dies at nineteen giving birth to a son, Theron. When the son first meets his father, he learns his mother's death is his fault and can only muster the question, "How did she die?"

Looking away, the father mutters, "She died givin' birth ta you. An' I lost all her help and comforts."

"I have long considered Bill Schubart to be the wisest columnist in America. That same wisdom, deep life experience, and empathy come shining through on every page of his new novel, Lila and Theron. Full of joy, sadness, humor, and insight, Lila and Theron is a clear-eyed celebration of our almost boundless capacity, despite all our human frailties, to love both one another and the place we call home. Over the years, I have known many true and good country people like Lila and Theron, whom I have been proud and honored to call my friends. This is a beautiful book." – Howard Frank Mosher, author of Marie Blythe and Walking to Gatlinburg.
Bill Schubart has lived with his family in Vermont since 1947. He writes about Vermont in fiction, humor and opinion pieces, is the author of several books, is a regular commentator on Vermont Public Radio, and active in Vermont community and political life. Learn more about him and his work at his website.
It was a true pleasure for me to share a conversation about Vermont and its people, small-scale farming, and the art of fiction with my old friend, Bill Schubart.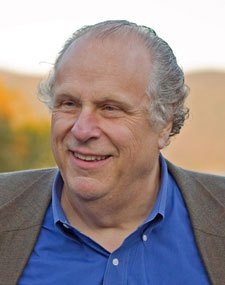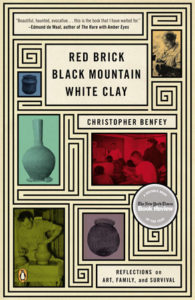 Red Brick, Black Mountain, White Clay: Reflections on Art, Family, and Survival – Christopher Benfey – Penguin – paperback – 9780143122852 – 304 pages – $16.00 – ebook versions available at lower prices – February 26, 2013
I found this lovely and compelling book by complete happenstance while visiting North Carolina earlier this year. The redoubtable Regulator Bookshop in Durham had a copy out on its "local interest" shelf, and the cover grabbed my attention immediately.
Not knowing anything about author Benfey, I was surprised and pleased to learn about his background through this complex and rewarding memoir. It's a book that combines so many different areas of his interest – and mine – built around a complex interweaving of his family's story and his desire to learn about and understand the people in his life story.
Benfey was raised in Richmond, Indiana, where his father was a chemistry professor at Earlham College. His father's side of the family were German Jews who escaped Hitler, including aunt and uncle Josef and Anni Albers, who were both central figures at Black Mountain College, in North Carolina (and central also to modern arts and crafts in 20th century America). North Carolina is a nexus, as Benfey's mother grew up in the longstanding folk pottery region of the state as well.
So Benfey's story starts as a family history, but moves assuredly through art, geography, cultural history and his own personal journey of discovery as a writer and thinker; as the title itself suggests, "names the three paths, each mapping the experience of relatives or ancestors of mine trying — by art, by travel, or by sheer survival — to find a foothold in the American South."
There are many well-told stories here, and North Carolina is at the core of it all. Even if you have never explored the cultural and geographical riches of that state, this book will capture your imagination and bring you there. Benfey builds his story much as a brick layer does, carefully assembling the pattern from materials at hand to create a fully formed story all the while.
This is a book I am happy to recommend to almost any reader.
Chris Benfey is a professor at My. Holyoke College, where he is Andrew W. Mellon Professor of English. He was educated at the Putney School, Earlham College, Guilford College, and Harvard (Ph.D. in Comparative Literature). Benfey is also a journalist, having served as the art critic for Slate, and also is a contributor to The New York Review of Books, The New York Times Book Review, and The New Republic, among many others. Chris is a renowned Emily Dickinson scholar, and author of four highly regarded books about the American Gilded Age. His edition of essays on the Iliad by Simone Weil and Rachel Bespaloff appeared as War and the Iliad in 2005.
Benfey's poems have appeared in The New Yorker, the Paris Review, and Ploughshares.
This book is among my favorites and I hope you enjoy the conversation I had with the interesting and well-spoken Christopher Benfey as much as I did.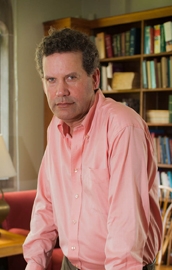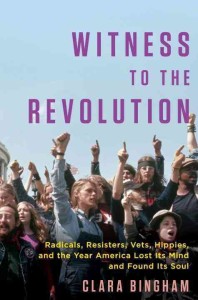 Witness to the Revolution: Radicals, Resisters, Vets, Hippies, and the Year America Lost Its Mind and Found Its Soul
9780812993189 – Random House – Hardcover – $30 – (ebook versions available at lower prices)
There have been many books written about the politics and culture of the sixties, but I don't think there has ever been a book quite like this one.
Clara Bingham is a journalist who grew up just a bit too young to join in the festivities of what is now known as "The Sixties." That term is actually a misnomer, as most of us know, since the decade of turbulence and strife really started in the mid-sixties and ended, more or less, with the close of the Vietnam War in 1975. However it is measured, and measuring time periods in history is never easy or altogether clear, that time was full of energy, social discord, cultural change, political engagement, joy and tragedy.
Ms. Bingham had relatives and family members who were old enough to participate actively in the youth culture explosion of that time, and we are lucky that their experiences inspired her interest in this historically significant era. She took upon herself a seriously daunting task, to try to understand what happened in the culture through the words of some of its key participants. It's an altogether brilliant, inspiring effort.
She has chosen to focus on a single year to create a lens through which to see America in the throes of cultural upheaval. The book covers the period from August 1969 to August 1970, during which there were nine thousand protests and eighty-four acts of arson or bombings across the country. It was an incredible year, one that included so many key events of the time, both at home and abroad, including the rise of the Weather Underground, the invasion of Cambodia, Woodstock, May Day in New Haven, and the massacre at Kent State – and so much more.
As an active member of the counter culture myself in those halcyon years, this book brought back many memories, and reminded me of some of the things I'd forgotten about, as well as some of the people who were so important to us in those years. There's so much in this book, there are some events and people I had not even thought about for almost 45 years. The first-hand accounts included in this book are important and powerful. These reminiscences can help us understand an era that is so much with us still – both culturally and politically. This book can help us understand why America is still in the throes of cultural and political upheaval, and is so culturally divided. While there were many failures in the sixties, and many terrible things done in the name of good intentions and beliefs, we are awash in the cultural forces unleashed then. The baby boomers who created the youth culture of the sixties are aging out of the population now, but the effects of that time continue to reverberate today.
There is so much of importance to be found in this book. I was really pleased to have a chance to speak to Clara about Witness to the Revolution. It's an incredible effort and I hope it will help spur further conversations about the Sixties and what we can learn from that incredible era.
If you want to listen to Clara reading from the book, there's a short segment over in Author's Voices.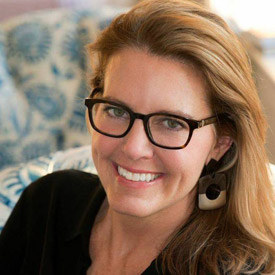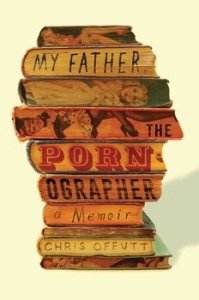 9781501112461 – Atria Books – 272 pages – Hardcover – $26.00 – ebook versions available at lower prices
Chris Offutt's father, Andrew Offutt, left behind an unusual legacy – a massive quantity of pornography he wrote over a long swatch of his life. Besides being at one time a respected insurance agent, and subsequently a successful but still minor science fiction writer, Andrew Offutt spent years writing pornography, and made himself the "king of twentieth-century smut."
During the 1970s, after Grove Press and other publishers had helped break down the barriers to legal publishing of pornographic and erotic literature, the floodgates of erotic writing opened up to meet a formerly unreachable demand. Several specialized, but relatively small commercial publishers created a mini-industry to satisfy an emerging market for written pornography and erotica of all kinds. During the height of the popularity of these books, some writers were able to make reasonable livings by turning out massive quantities of what was essentially pornographic pulp fiction.
Andrew Offutt was one of these writers, but unlike so many other high volume writers,  he was singular in his commitment to good writing and real plot lines, among other features of traditional fiction. As one might imagine, Andrew Offutt was an unusual man, and a strange and awkward parent keeping secrets about his work and the toll it took on his psyche.
Chris Offutt therefore grew up in a highly unusual world. His mother was the typist for all his father's books. The family lived in the Kentucky hills, where most kids grew up hunting and fishing, and learning the pleasures of traditional country woodcraft.
Andrew Offutt was more than a little eccentric, and was a fiery and unpredictable father. When he closed the door to his home office, he demanded silence and to be left alone to concentrate on his writing, terrifying and controlling his family. And Offutt took the entire family with him when he went off to science fiction conventions, where he was a sought after figure, playing the role of the exotic sci fi novelist. In the seventies, Chris' parents were evidently active swingers at these conventions.
During this time, Andrew Offutt wrote an incredible number of books – in total, more than four hundred novels, including pirate porn, ghost porn, zombie porn, and secret agent porn.
In 2013, after his father died, Chris Offutt returned to help his mother move out of his childhood home. In order to make sense of his father and his own childhood, Chris took on the herculean task of reading and organizing his father's manuscripts and the vast trove of memorabilia, journals, and letters that accompanied them. It was only through the lens of his father's writing that he was finally able to bring some closure to his understanding of this difficult and sometimes brilliant man. And at the same time he was able to gain a better understanding of himself as a person, father and of course, his own life as a writer.
This book is a remarkable literary and personal effort of psychic and literary exploration, truly one of the best memoirs I have read. Perhaps because my own father was similarly a writer who made his living through his work with words, this book meant a lot to me.
It was a great pleasure to have the opportunity to speak with Chris Offutt about his courageous and beautifully written memoir, and his own creative work as a writer.
Chris Offutt was born in 1958 in Lexington, Kentucky and grew up in the small town of Haldeman in the same state. He went to Morehead State University, and then to the University of Iowa, where he earned an MFA from the famed Iowa Writers Workshop. His first short story collection was Kentucky Straight, published in 1992. Along with fiction and memoirs, Chris has also written comics and journalism for several magazines and newspapers. In recent years, he has written for television as well (Weeds and True Blood).
Chris has received awards from the Lannan Foundation, the Guggenheim Foundation, the American Academy of Arts and Letters, and the National Endowment for the Arts. He received a Whiting Award in Fiction and Nonfiction.
"Chris Offutt owns one of the finest, surest prose styles around, ready and able to convey the hardest truth without flinching. Now Offutt enters the darkest and most mysterious of places—the cave of a monstrous enigma named Andrew J. Offutt—armed with nothing but his own restless curiosity. Spoiler alert: He makes it out alive, walking into the daylight to bring us a deeper, funnier, more tender and more heartbroken truth—and his masterpiece." —Michael Chabon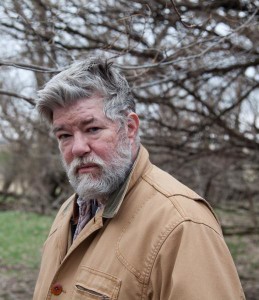 I'm as impressed as Michael Chabon is with this fine book.
And Offutt knows how to give a great interview too.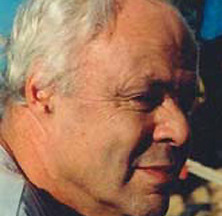 Publishing Talks began as a series of conversations with book industry professionals and others involved in media and technology about the future of publishing, books, and culture. As we continue to experience disruption and change in all media businesses, I've been talking with some of the people involved in our industry about how they believe publishing might evolve as our culture is affected by technology and the ebb and flow of civilization and economics.
I've now expanded the series to include conversations that go beyond the future of publishing. I've talked with editors and publishers who have been innovators and leaders in independent publishing in the past and into the present, and will continue to explore the ebb and flow of writing, books, and publishing in all sorts of forms and formats, as change continues to be the one constant we can count on.
It's my hope that these conversations can help us understand the outlines of what is happening in publishing and writing, and how we might ourselves interact with and influence the future of publishing as it unfolds. This new interview reflects my interest in the history of independent literary publishing, an area in which I have been active for a long time. And this particular conversation reflects some longstanding personal relationships as well.
Richard Marek's career in publishing began as an acquiring editor at Macmillan; he went on to World Publishing in 1967, and became Editor-in-Chief at The Dial Press in 1972. He acquired the manuscript of a first novel called The Scarlatti Inheritance by the then unknown author named Robert Ludlum, worked on it with him for over two years, and of course it later became a national bestseller. Marek edited Ludlum's next eight books, including The Bourne Inheritance. He acquired and edited books by more than 100 writers, including James Baldwin, Mira Rothenberg, John Yount and David Morrell. In 1978, he was given his own imprint ("Richard Marek Publishers") at G.P. Putnam's, and moved it to St. Martin's Press ("St. Martin's/Marek") where, among many other books, he acquired Thomas Harris' The Silence of the Lambs and Robert Greysmith's Zodiac. In 1989, Marek became President and Publisher of E.P. Dutton, where he edited a number of bestselling books.
After Dutton became a subsidiary of Viking/Penguin, Marek moved to Crown as Editor-at-Large and thereafter became an independent editor, evaluating manuscripts, editing and ghostwriting, which he calls "a glorious and rewarding career."
In the past 10 years, he has edited some 120 books, working for publishers, agents, and unrepresented writers. And he has also become an in-demand ghostwriter. He reports that he enjoys writing mornings and editing during afternoons.
Richard is now the ghostwriter of fourteen books, fiction and nonfiction, among them Trisha Meili's I Am the Central Park Jogger (a national bestseller), James Patterson's Hide and Seek (a national bestseller), Brian Weiss' Same Soul, Many Bodies, Ilanna Rubenfeld's The Listening Hand, David Grand's Emotional Healing at Warp Speed, and David Hackworth's Steel My Soldiers' Hearts.
And I am happy to say that I have had the opportunity to publish a lovely novel authored by Richard and his wife, the writer Dalma Heyn. It's a love story for grown ups called A Godsend.
Dick is an active member of the Independent Editors Group – more about him and that organization here.
For this Publishing Talks series, I thought it would be fun and valuable to talk to Dick about the past, present and future of publishing from his unique perspective. His long and successful experience in commercial and literary publishing as editor, publisher, and now writer, provides him with an amazing depth of knowledge and an unending well of anecdotes and stoies. What he has to say during our conversation in his home will not disappoint. He is a great conversationalist with important things to say about book publishing.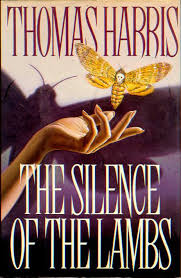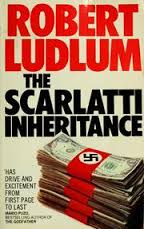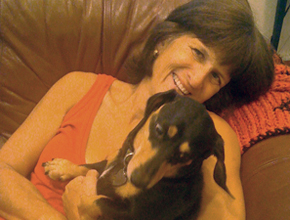 This interview with the talented essayist Marion Winik is unusual, as it is about three different (short) books Marion has published with the relatively new digital publisher SheBooks ("Every Woman Has a Story").  Since Winik, for a long time composed audio essays for NPR's "All Things Considered" (archived here), she is pretty smart about doing interviews, so I thought we would be able to cover these three books, as well as talking a bit about SheBooks and Marion's career as writer. I think she did a great job on all counts. I'd recommend a visit to her website too, lots of links, current information, and general literary goings on.
The three short books from SheBooks we talk about in this interview, all of which reflect Marion's wonderful wit and stylish writing:
August in Paris is a collection of travel stories told with great humor and affection, "from lost teenagers and missed connections to overpriced drinks and gambling mishaps." I don't know how she does it, but she keeps her bearings throughout.
The End of the World as We Know It collects nine essays about parenting and family, beginning with the story of her second wedding and subsequent move to rural Pennsylvania. She covers a broad range of subjects, from blended families, to having kids in her 40's and eventually to dealing with the legal problems that sometimes arise with teenage boys. Very much along the lines of her NPR pieces.
Guesswork is a collection of essays about memory and identity. One of my favorites, "The Things They Googled" looks at search engines and their effects on our lives. These eight essays will inspire you to reconsider your own history and sense of self from new angles: how treasured places and objects fit in, how your life as a reader shapes who you are.
You can purchase these and other books directly from SheBooks (they already have a really extensive and impressive list of publications) here or from Barnes & Noble, Amazon and probably other ebook retailers, all at reasonable prices. Buy direct and you support the publisher and its authors.
Marion Winik's (very abbreviated) biography in her own words:
"I was born in Manhattan in 1958 and raised on the Jersey shore. I graduated from Brown in 1978 and got my MFA from Brooklyn College in 1983.
Throughout my childhood and into my twenties, I wrote poetry. Some of it was published in two small-press books. In the late eighties—by which time I was living in Austin, Texas with my first husband, Tony—I began writing personal essays.
These days I live with my daughter Jane and our dachshund, Beau, in the beautiful Evergreen neighborhood of Baltimore. What a fabulous, underrated town this is. I teach writing in the MFA program in Creative Writing & Publishing Arts at the University of Baltimore. I write a column at BaltimoreFishbowl.com, and have a new memoir from Globe Pequot Press. It's called Highs in the Low Fifties: How I Stumbled Through The Joys of Single Living."
And here is something about the digital publishing start up, Shebooks: a curated collection of short e-books written by women, for women. All of our stories are easy to download and read on any digital device—and so good you'll finish them in an hour or two. We like to think of ourselves as an e-book boutique, the kind where you'll always find a story to fit your busy life.
Whether short fiction, memoir, or journalism, all Shebooks are handpicked by discerning magazine and book editors and written by women you either know of or will want to know. And because we offer our e-books by subscription as well as individually, you need never be without a great story to read.
As anyone who listens to WritersCast knows, I'm always interested in new publishing models. SheBooks certainly represents one of those new models. I think we will revisit them in a little while to see how this venture turns out. I hope it works – we need more digital publishing that tries to break out of the existing structures and models to try out different approaches to engaging with readers.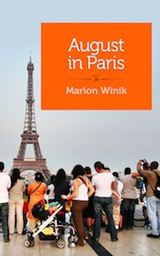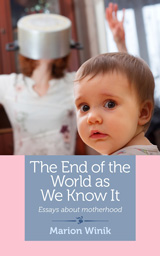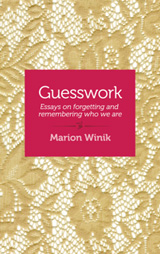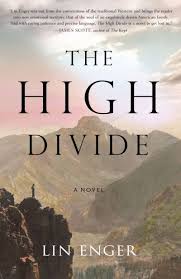 The High Divide: A Novel – 978-1616203757 – Algonquin Books – Hardcover – $24.95 – ebook versions available at lower prices. Paperback edition due to be published in 2015.
This is a wonderful novel, set in a period and place I have long been drawn to, the northern plains of the late 19th century. In The High Divide, Enger tells the story of a family – father, mother and two young sons – who are living a typical hard life in Minnesota. One day Ulysses Pope, the father walks out and when he fails to return, his family must try to cope, and of course, try to understand why he left and where he has gone. Driven by a desperate need to know more, the two sons set out to find him, leaving their mother, Gretta, at home to worry about her family, and then herself to set out on her own journey, now to search for her missing family.
Their searches lead them to the rough frontier country of Montana, that still reverberates with the terrible era of conquest of American Indians and destruction of the buffalo, massive changes in land and culture. Gretta must grapple with the possibility of losing her husband to another woman, and the boys must decide where their loyalties lie, and what they must do to save their family. Ultimately, the father's secret must be uncovered, his story told, and the family come to terms with their history, in order to be able to go on. In my discussion with Lin, we covered alot of interesting territory. I very much enjoyed our conversation and the opportunity to talk to him about this excellent book and his thinking about writing.
The High Divide is a confidently told and powerful story, set in a period when modern terms of psychological awareness and emotional understanding did not exist. All the characters are ultimately trying to come to terms with the damage done by war and violence. Enger is fully in command of his story and characters, and pulls the reader through to a well earned climax. I really enjoyed this book, and am happy to have discovered a writer whose work I will now be following with interest.
Lin Enger
I grew up in Minnesota, have spent most of my life in the state, and now live in Moorhead, where I teach English at Minnesota State University. Over the years I have received several awards for my fiction: a James Michener Fellowship, a Minnesota State Arts Board Fellowship, a Jerome travel grant, and a Lake Region Arts Fellowship. I have an MFA from the Iowa Writers' Workshop, where I was a Teaching-Writing Fellow. My first novel, Undiscovered Country, was published by Little, Brown and Company in 2008. My short stories have appeared in Glimmer Train, Ascent, Great River Review, American Fiction, and other journals. During the 1990s my brother, the novelist Leif Enger, and I had a great time collaborating (as L. L. Enger) on a series of mystery novels for Pocket Books.
"The High Divide is a deeply moving, gripping novel about one man's quest for redemption and his family's determination to learn the truth. Written with lean, crisp prose, Enger seamlessly blends historical events with the personal, and deftly pulls the reader into America's Great Plains during the 19th Century. The narrators' voices are captivating, and I was spellbound by the author's ability to express the human condition and especially the complicated bonds between fathers and sons. Layered with meaning, this remarkable novel deserves to be read more than once. The High Divide proves Enger's chops as a masterful storyteller." —Ann Weisgarber, author of The Promise
"The High Divide, a novel about a family in peril, is haunting and tense but leavened by considerable warmth and humanity. Lin Enger writes with durable grace about a man's quest for redemption and the human capacity for forgiveness."
—Benjamin Percy, author of Red Moon
"Lin Enger sets out from the conventions of the traditional Western and brings the reader into new emotional territory, that of the soul of an exquisitely drawn, American family. Told with caring patience and precise language, The High Divide is a novel to get lost in."
—James Scott, author of The Kept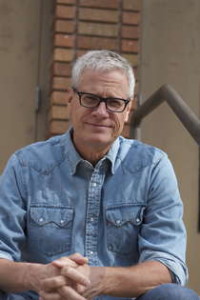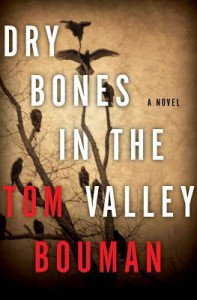 Dry Bones in the Valley – 978-0393243024 – Hardcover – W.W. Norton -$24.95 (ebook version available at lower prices)
This is a very fine mystery set in an unusual locale – rural Pennsylvania (fracking country). I don't usually read mysteries, but one of the pleasures of doing interviews with writers has been that I have been sent books by publishers that I would normally never have even looked at on my own. It's fun to pick up a book, to start reading a few pages and then to be thoroughly hooked. That happened for me with Tom Bouman's fine first novel. I really liked the portrayal of his main character, the local policeman, Henry Farrell. He's terrifically drawn and is a compelling, complicated, extremely human character.  And I liked the way Bouman worked his way slowly into the depths of the story. And I really loved the way he wrote about the people who live in this isolated rural county in Pennsylvania.
Bouman's interest in the outlaws and eccentrics who inhabit this world, his appreciation and even love for those who have kept to themselves, and to older forms of relationships among family and neighbors is palpable and powerful.
The book revolves around a body found in the woods and the search, naturally enough, for the killer. This novel is well worth spending some time as the story unravels. Great characters and fine writing make for a terrific read.
Author website here. Bowman used to work in publishing – he was an editor – and now lives in northeastern Pennsylvania with his family.  As of this writing, he is attending law school, so it may be a little while yet before he publishes his next book. And here is a terrific piece that Bouman wrote for Modern Farmer about rural crime fiction (that is a genre I did not know even existed!) I am hoping we'll see a new book from Tom Bouman before too much time passes.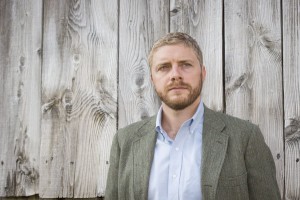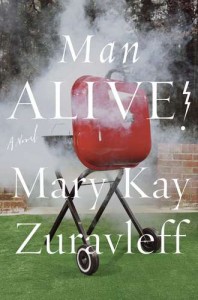 Man Alive! (a novel) – 978-0374202316 – Hardcover – Farrar, Straus & Giroux –  $25.00 – eBook versions available (and paperback to be published October, 2014)
I loved reading this book. It has a great sense of humor, it's complex without being too serious about itself, and a story that grabs you from the beginning and won't let go. Mary Kay Zuravleff is a terrific writer, original and entertaining. And there's a lot going on to keep you thinking throughout. Man Alive! tells a great story. Rather then me bending myself into a pretzel to tell you about it without giving away too much, here's the author's own short summary (from her terrific website – just like her writing, a busy and interesting place to visit):
The one-paragraph version, no spoilers:
All it takes is a quarter to change Owen Lerner's life. When lightning strikes the coin he's feeding into the parking meter, the pediatric psychiatrist survives, except that now he only wants to barbecue. The bolt of lightning that lifts Dr. Lerner into the air sends the entire Lerner clan into free fall, and Man Alive! follows along at that speed, capturing family-on-family pain with devastating humor and a rare generosity. This novel explores how much we are each allowed to change within a family—and without.
I'm late getting this interview posted. I talked to Mary Kay shortly after Man Alive! was published in late 2013. I wish I had known about her work before, but at least now I know I have two more books of hers to read.  And I am looking forward to her next book.  It's not often you can have this much fun with a novel. Talking with her about this novel, as well as how she works as writer, was a distinct pleasure, and very entertaining. She is as fun to talk to as it is to read her work. Alice McDermott called her writing "exuberant." I can't think of a better word myself.
Mary Kay's previous novels were The Bowl Is Already Broken and The Frequency of Souls. She received the American Academy's Rosenthal Award and the James Jones First Novel Award, and was nominated for the Women's Prize for Fiction. She lives in Washington, D.C., with her husband and two children. Mary Kay serves on the board of the PEN/Faulkner Foundation and is a cofounder of the D.C. Women Writers Group.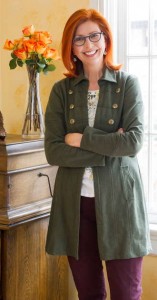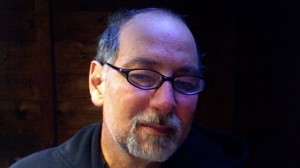 In this series of interviews, called Publishing Talks, I talk to book industry professionals and other smart people about the future of publishing, books, and culture.  This is a period of disruption and change for all media businesses.  How will publishing evolve as our culture is affected by technology, climate change, population density, and the ebb and flow of civilization and  economics?
I hope these Publishing Talks conversations will help us better understand the outlines of what is happening in publishing, books and reading culture, and how we can ourselves both understand and influence the future of books and reading.
I've had the pleasure of knowing John Sundman for only a brief period of time, but value my emerging friendship with him greatly.  He's been a writer in a variety of forms, and a visionary thinker about many things I am interested in.  He's been a self publisher for quite some time, and I thought his experience doing his own publishing would be a good starting point for a conversation about where publishing appears to be going.  Here's his bio (from his Smashwords page):
John Sundman is a freelance technical writer, essayist, novelist, self-publisher, volunteer firefighter, food pantry co-director, former Peace Corps Volunteer, husband, father, and advocate for people with disabilities who resides on the island of Martha's Vineyard, very near to Massachusetts, USA. He has spent more than 20 of the last 30 years somehow connected to the Silicon Valley/Boston high-tech/computer industry. He also has experience as a farmer, student of agricultural economics, and worker in rural African agricultural development. His books are more subtle than they appear.
John blogs with a number of other free thinking visionaries at Wetmachine ("we write about, mostly, the nexus of technology, science and social policy in the USA. We also write about software praxis, technoparanoia, the craft of writing, self-publishing, politics, and random bullshit. Sundman and Gray, in particular, are leaders in the "random bullshit" category.")
John's books are quite good and well worth reading (here's a review of his first book, Acts of the Apostles, that more or less set him on a successful path of self-publishing, an early web story, which serves as precursor for so many other stories of discovery).  I could have interviewed him about one of his books, but I thought talking to him about publishing would give us a chance to talk more broadly.  Do take a look at his books (widely available in online retail stores).  And he's finally doing a book with a publisher other than himself, an overhauled and rewritten Acts of the Apostles with the esteemed Underland Press.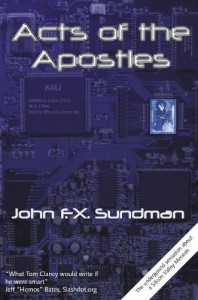 John and I had a great talk.  I'll be interested to hear from listeners what you think of some of his ideas.
.