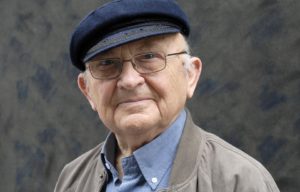 The New York Times reported that the wonderful Israeli novelist Aharon Appelfeld passed away on January 4. I had the great pleasure to interview Appelfeld about the novel Blooms of Darkness for Writerscast in 2010. You can listen to that conversation here.
Appelfeld was the author of many books in Hebrew and at least 16 of his novels were translated into English from 1981 to 2011, the Times noted. Appelfeld's works include Badenheim 1939 (an extraordinary and beautiful work), The Age of Wonders, To the Land of the Cattails, The Immortal Bartfuss, For Every Sin, and The Skin and the Gown. Schocken will publish The Man Who Never Stopped Sleeping January 31, and To the Edge of Sorrow in January 2019.
Appelfeld was described by Philip Roth as a "displaced writer of displaced fiction who has made of displacement and disorientation a subject uniquely his own." Critic Eva Hoffman wrote, "In his call to break the concealed silence, he has courageously begun to illuminate regions of the soul usually darkened by secrecy and sorrow."
He was a warm and generous man whose life and work touched readers around the world. Tablet magazine published the last interview with him recently.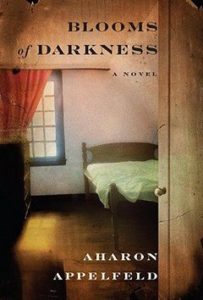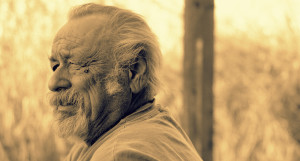 Jim Harrison has passed on. Not too long ago he said "at my age you don't think about the future because you don't have one" but that is true only in the narrowest sense. His future is assured, because his words are still with us. I don't think Jim really saw time as finite anyway. He was too busy experiencing life and thinking about how it felt and how to express the beauty of the world and all of us in it.
His novels are beautifully written and always humane. He loved people, but understood their foibles, failures and ultimate transcendence. He loved the natural world as only a person who lived in it can do.
I'm not sure there are too many writers like him anymore. Nor will there be.
Though best known for his fiction and essays (and large appetites), Jim was first and foremost a poet: "in poetry our motives are utterly similar to those who made cave paintings or petroglyphs, so that studying your own work of the past is to ruminate over artifacts, each one a signal, a remnant of a knot of perceptions that brings back to life who and what you were at that time, the past texture of what has to be termed as your 'soul life'."
His latest book of poems is Dead Man's Float, published by Copper Canyon Press, in which this poem is found.
February
Warm enough here in Patagonia AZ to read
the new Mandelstam outside in my underpants
which is to say he was never warm enough
except in summer and he was without paper to write
and his belly was mostly empty most of the time
like that Mexican girl I picked up on a mountain road
the other day who couldn't stop weeping. She had slept
out two nights in a sweater in below-freezing weather.
She had been headed to Los Angeles but the coyote
took her money and abandoned her in the wilderness.
Her shoes were in pieces and her feet bleeding.
I took her to town and bought her food. She got a ride
to Nogales. She told us in Spanish that she just wanted
to go home and sleep in her own bed. That's what Mandelstam
wanted with mother in the kitchen fixing dinner. Everyone
wants this. Mandelstam said, "To be alone is to be alive."
"Lost and looked in the sky's asylum eye." "What of
her nights?" Maybe she was watched by some of the fifty
or so birds I have in the yard now. When they want to
they just fly away. I gave them my yard and lots of food.
They smile strange bird smiles. She couldn't fly away.
Neither can I though I've tried a lot lately to migrate
to the Camargue on my own wings. When they are married,
Mandelstam and the Mexican girl, in heaven they'll tell
long stories of the horrors of life on earth ending each session
by chanting his beautiful poems that we did not deserve.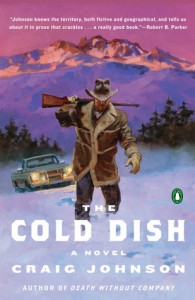 978-0143123170 – Penguin Books – Paperback – $15.00 – ebook editions available
What a great discovery!  This is really about an entire series of novels, not just this first book, The Cold Dish (which is exceptional, by the way).  As soon as I started reading this novel, I was hooked, and knew I would be reading and enjoying many more of Craig Johnson's novels.  Out of the seven he has published thus far, I've read four this summer, and I would have read more of them if I had not been distracted by a very busy period with lots of intense work.  So I am actually looking forward to this fall and winter when I can sit by the proverbial fire and read three more really good books.
As Craig said when we talked, this series of books is driven by his characters, and it's true enough, everyone in these books is vividly drawn and incredibly alive.  That's what got A&E Television to buy the books to turn into their latest successful television series, a story Craig definitely enjoys telling.  Walt Longmire, the Sheriff of Absaroka County, Wyoming, is one of the great modern heroes, full of flaws and the kind of intrepid it's impossible not to love.   And unusually for me, at least, I don't mind at all the way these books have been adapted for television.  A&E wisely kept them character based, and while it is plainly impossible for any video medium to be as imaginatively rich as a great novel, they've done a terrific job with Longmire.
Author Johnson is plainly having a great time writing these novels, and well he may.  He's created a cast of characters it's impossible not to be attracted to.  The Cold Dish introduces us to Walt Longmire, a twenty-five year veteran sheriff in the least populated county in Wyoming, his best friend, Henry Standing Bear, and his favorite deputy, Philadelphia-born Victoria Moretti.   Longmire is not an altogether happy man, having lost his beloved wife, and now lives alone in what might loosely be called an unfinished house.  His daughter is away in law school and he is mostly alone.  His peaceful unhappiness is interrupted by the death of Cody Pritchard, a young man who had previously been involved in an ugly incident of rape two years earlier with three other high school boys, all of whom had been given suspended sentences for raping a local Cheyenne girl.  He's shot at long distance by an unusual and historic 45-70 Sharps buffalo rifle.  Thus starts an adventure that can only be called gripping and powerful.  As one reviewer said: "Longmire faces one of the more volatile and challenging cases in his twenty-four years as sheriff and means to see that revenge, a dish that is best served cold, is never served at all."
Johnson is a fine literary writer taking on a popular form and making it his own.  The Longmire series is the kind of book series readers love, and it's just as attractive to those who are seeking adventure between book covers.  Talking to Craig about his books was a true pleasure for me.  Craig lives in Ucross, Wyoming, population 25, where he truly lives the kind of life he writes about.
Author website here.  A&E Longmire site here.
The book series:
The Cold Dish
Death Without Company
Kindness Goes Unpunished
Another Man's Moccasins
The Dark Horse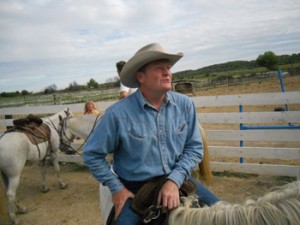 Junkyard Dogs
Hell is Empty
As the Crow Flies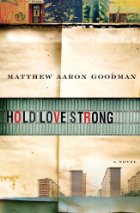 978-1416562030 – Hardcover  – Simon & Schuster Touchstone – $24.99
This is flat out one of the best books I have read in a long time.  It begins with an incredible story that grabs you instantly and will not let go.  I felt like I was holding my breath almost throughout the book.  Matthew Aaron Goodman avoids cliches at every turn, loves his characters, demands respect for them from beginning to end, but never hides from the pain and suffering they experience.  As readers, we feel like we are living in, through and with his characters, which is a triumph of both the author's imagination and his deeply felt love for the people he writes about.
It's difficult to believe that this is Goodman's first novel.  His mastery of language, his ability to inhabit the hearts and souls of his characters, and the simple clarity of his voice are all remarkable for any author, much less a first novelist.  I was blown away, and have been recommending this book widely to friends and colleagues.
Cornel West gave it a very fine blurb that is worth reprinting here: "Matthew Aaron Goodman's Hold Love Strong is a powerful and poignant story of the gallant Abraham who struggles on the night side of American society yet exudes a light of genuine hope. Goodman is an activist and artist who never loses sight of the humanity of those either imprisoned or free!"
I also recommend readers to visit Matthew's own site where you can read some more of his work.  In 2007, working hand and hand with formerly incarcerated men and women, Matthew created The Leadership Alliance, a community empowerment project  that unites recently freed people with volunteer partners.  And there is a wonderful review of Hold Love Strong by Nina Sankovitch on Readiac that I think describes perfectly the power and impact this book can have on readers.
In my interview with Matthew, we talked about his own life story to help understand how he came to write Hold Love Strong, the work he has done in New York communities and elsewhere, and alot about the book itself, its characters and story, and of course what he is working on now.  He is as compelling talking about his work and ideas as he is writing about them.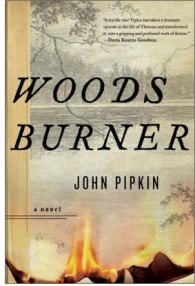 978-0385528658 – Hardcover – Nan A. Talese – $24.95
I first heard about this novel on NPR and was immediately attracted to the notion of a novel that was generated by this single almost unknown incident, when Henry David Thoreau accidentally set fire to the Concord woods in 1844.  I'd learned of this first from poet friend Jonathan Williams many years ago, but it never really hit me how paradoxical this event was.  John Pipkin has woven a truly original story out of the history surrounding this one event.
He starts with the historical Thoreau, imagining him not as the genius of outdoor philosophy he has become, but as a bumbling, confused and somewhat thoughtless individual who does yet fully know who he is or even why he is.  Pipkin adds other characters to the story, all of them confused and searching for something that perhaps only the accidental conflagration set off by Thoreau and his young friend can bring them.  There is Eliot Calvert, aspiring romantic playwright and accidental bookseller searching for meaning in a mundane life, the irresistibly named Norwegian orphan immigrant Oddmund Hus (whose past also involves an explosive accident) who is silently in love with the wife of the farmer he works for, and Caleb Dowdy, the strange, confused Episcopal minister who seeks salvation through self abasement.  And of course, Thoreau as Pipkin paints him, a young largely unfulfilled son of a pencil manufacturer, way over his head in the woods, searching for meaning in nature bit in no way ready for his destiny.
All will meet, all will be transfixed, transformed, formed, in the conflagration at the heart of this story.  I talked to first-time novelist John Pipkin early one morning in September about this truly excellent book.  In this interview he talks about what lead him to this story, and how he came to imagine it, as well as his research, the characters and of course, Thoreau himself.  Pipkin is a terrific writer, and just as good at talking about his work.  I am looking forward to reading more of his work, and recommend this novel to almost any reader – it is that good.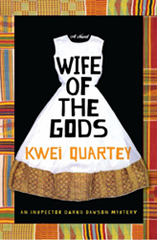 978-1400067596 (Hardcover)
Random House $24.00
Dr. Kwei Quartey is medical doctor, born in Ghana and raised by an African American mother and a Ghanian father.  He has lived and practiced medicine in California (where he is the lead physician for an urgent care clinic) for a number of years; he wanted to be a writer since he was a young boy and writes in the morning before going to work.  Writerscast host David Wilk interviewed Kwei during a recent visit to New York where he was appearing at Book Expo America.  Dr. Quartey talks about his writing, the background for his new novel, a complicated and beautifully written mystery set in contemporary Ghana.  Wilk and Quartey explore many aspects of the writing life as it has emerged for this first time novelist.   Wife of the Gods is an impressive debut by a new talent, and as the first in a series based on his compelling main character, Inspector Darko Dawson.  This interview should be an equally compelling introduction to the author and his work for many readers.