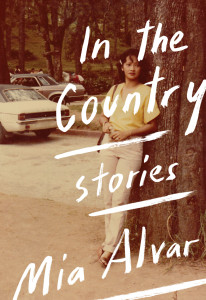 978-0-385-35281-9 – Alfred A. Knopf – Hardcover – $26.95 – 356 pages. Ebook versions available at lower prices.
Mia Alvar is a young writer who was born in Manila. She grew up first in Bahrein and then her parents came to America, so from her pre-teen years onward, she was raised and now lives in New York City. She went to Harvard and got an MFA at Columbia.
These bare facts don't tell you much, but the stories collected in her first book, In the Country, most of which are well written and compelling, dig deeply into the Philippine diaspora experience. There are many different characters, different settings from Manila to Bahrein to America. Narrative voice changes depending on who Alvar wants you best to understand. There are a couple of interconnected stories, but otherwise, each piece stands alone, and as all good short stories, they are worlds unto themselves.
I liked each of the nine stories, and was struck by Alvar's love for her characters and sympathetic to their predicaments and foibles. Each of the stories is fine, but I do have a favorite and will wonder if listeners who take the time to read this book will agree that the strongest story here is The Virgin of Monte Ramon.
It seems that every writer who publishes a collection of short stories, no matter how brilliant and powerful the stories may be, will be expected to be working on a novel. I can't understand why being a great short story writer is not more respected in literary culture. So I feel the need to encourage writers to be comfortable continuing to work in short form if that is what they want to do. Nonetheless, Mia is indeed working on a novel and I expect it will be as good as her stories are. I just hope she will not leave behind the short form in which she excels.
Mia is smart and self possessed, and has alot of good things to say about writing and other things; our talk together was rewarding for me and I hope as well for you.
I think this author is going to be an important writer, so recommend you find this book and buy it.
I have to mention that this is a beautifully produced book, props to Knopf for continuing to make books you want to hold in your hands and read. And I also must mention that the book's cover, which completely captures the ethos of the book, it is terrific work that both captures and equals the writing inside the book.
Author website here.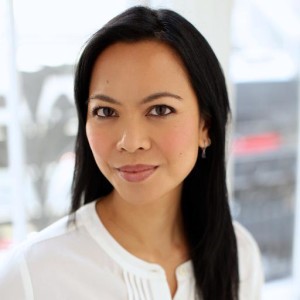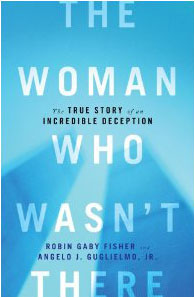 978-1451652086 – Touchstone – Hardcover – $26 (ebook edition available at lower prices)
You really need to know the subtitle of this book to get the full impact – The Woman Who Wasn't There: The True Story of an Incredible Deception. It is an incredible story, about a woman who became one of the leaders of the 9/11 survivors movement, who then turned out to be a complete fraud.  How she managed to convince so many people of a story that was so much a part of our public experience (and so much a part of the terrible private experiences of other survivors and family members) is what makes this book compelling.
Journalist Robin Gaby Fisher wrote this book with Angelo J. Guglielmo, Jr., a documentary film-maker who was very close to the main character of the book and who was part of the story itself.
Tania Head told a dramatic and heart stopping story of survival from an upper floor of the World Trade Center, and quickly rose to a position as leader at an early stage in the development of the World Trade Center Survivors' Network.  She became a prominent public figure helping to establish the group, gave a public face to the survivors' group, and was deeply emotionally involved in the lives of hundreds of people.  Until her story unraveled and the truth became known.
It is a tricky thing for a writer to maintain the reader's interest when the end of her story is already known – Fisher handles this problem successfully by painting an engrossing and detailed picture of Tania Head and all the people around her, and by keeping us waiting for the important details of how her story actually came apart.  And while it is impossible for anyone to truly know and understand Tania, who will not speak publicly about anything at all, Fisher paints a deft portrait of a complex psychological being, who joins a long list of famous public frauds who have taken on personae that did not factually belong to them but whose beings were poured into their fantasies in service of deeply felt emotional needs.
It's also hard not to wonder about the human need for heroes and leaders, which these sorts of confidence men and women prey on.  This could happen to any of us, and perhaps especially when we are ourselves emotionally vulnerable and desperate for someone to show us the better side of the human spirit.  In many ways, this story illuminates more about the nature of human suffering and stress than it could ever help us to understand the perpetrator of the fraud itself.  It's a very rewarding book to read and my discussion with Robin Gaby Fisher about the book will illuminate some of the important issues raised in her book.
Robin Gaby Fisher is a two-time finalist for the Pulitzer Prize in Feature Writing and a member of a Pulitzer Prize-winning team at the Newark Star-Ledger. She teaches Journalism at Rutgers University in Newark, New Jersey.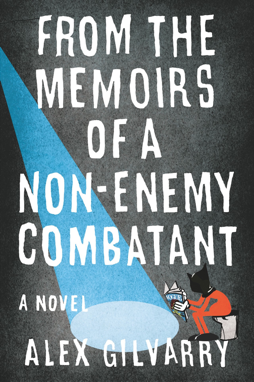 978-0670023196 – Viking – Hardcover – $26.95 (ebook and audio book versions available)
Brilliantly composed as a satire on a broad swatch of contemporary American life, Alex Gilvarry's From the Memoirs of a Non-Enemy Combatant will sneak up on you and whack you straight across the face.  Even if you see it coming.  I loved the writing, which is smart and slick, beautifully evocative, from a writer clearly in love with language and its many powers.  For a first novelist, Gilvarry displays considerable writing chops, on top of his comedic skills and ability to skewer so many elements of the popular culture we have so taken for granted.
This book is structured as the unreliable narration of its main character, Boyet (Boy) Hernandez, who is a Filipino fashion designer come to New York to make his way in the world.  The first two thirds of the book is his almost hapless story of the road to success (many wild and crazy people and events along the way), where we come to know and care about, but not necessarily love Boy, who is sometimes so self-involved and full of shit, even as he is talented and appealingly immature (I want to say "jejune" but he's not quite that bad).
But things turn dark, when Boy is arrested and sent to Guantanamo and both privately and publicly humiliated as a suspected terrorist.  This is where the author can turn his powerful satiric eye onto the political and cultural state of America at perhaps its worst.  There is nothing more frightening than to see a true innocent (naif is the right word here) caught in the web of the modern anti-terror police state.  While Boy is eventually freed, and as readers we are relieved, his life can never be the same – his glorious desire-fueled run into the heart of American pop culture has been destroyed, and he must become a new and immensely different person, and this is not necessarily for the better, in his case.
Ultimately, for this author, it feels as if there are two Americas, co-existing, but on different planes of existence.  Both are heightened realities, in which most of us seem to live without really understanding what they mean.  In many ways, this novel, with its humor, pathos, narrative power, and its ability to pinpoint cultural weaknesses and failures, can do more to help us understand the necessities of political and culture action than any of even the best nonfiction treatises that address the manifold issues of the early 21st century.
But don't worry about the politics, just read this book for the wonderful novel it is, and draw your own conclusions about what you want to do after you read it.  You might just want to listen to this interview then to hear more from Mr. Gilvarry about his book and how work as a writer (and editor – Alex is now the editor of the book review collaborative Tottenville Review, which I recommend you visit).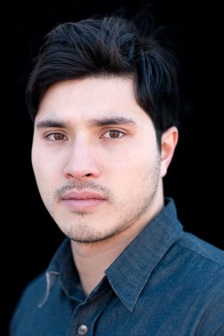 I had a wonderful time talking to this author and hope you will also enjoy the conversation.
Also, visit Alex Gilvarry's website for more information and news about this book and his work.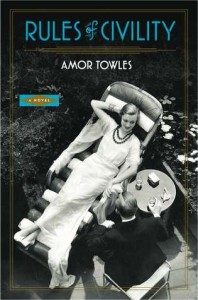 978-0670022694 – Viking – Hardcover – $26.95 (ebook and audiobook versions also available)
Amor Towles' Rules of Civility has become my favorite books.  This WritersCast interview series has allowed me to read some incredibly good books this year; Amor Towles' story of New York City in 1938 has risen to the top of my list of novels I fell in love with.
Rules of Civility opens with the book's heroine, older, successful, married, with her husband viewing the famous mid-sixties Museum of Modern Art showing of Walker Evans' 1938 New York City subway photographs. She and her husband see and talk about two particular photographs – a man she knew in 1938 and who mattered hugely to her life and helped shape the arc of her entire life.  Then the real story begins, as flashback to that high intensity period of her life, when by accident, she began the process of becoming the person we meet at the opening of the book.
It's a great way to start a book.  Reminding us of just how much a role chance and happenstance – and what we make of it – means to our lives.  Author Towles loves the way opportunity winds around us, especially it seems at the fraught time in our lives when we are setting out in the world to define ourselves, when we make the choices that define our lives, sometimes purely accidental, sometimes with just an inkling that these choices will have monumental effects.
There is a wonderful story here.  Our heroine, Katey (who grew up as Katya, an immigrant's daughter), is living in Manhattan.  It's 1938, still Depression era America, but just on the cusp of its ending.  New York is both gritty and glitzy at the same time.  Katey is working as a legal assistant, going out at night with her limited funds and her few friends.
One night, she and her best friend meet a man who will thrust Katey into a new life, where she meets the smart set of society, and gains the confidence to become a modern, successful woman, in many ways mirroring the American story arc of the same period.
Towles is a terrific writer, and I found myself reading some passages aloud to revel in the beauty of his sentences.  He brings New York in 1938 to life, reminding us how close we actually are to what is now almost a forgotten period of our history.  The book made me want to see again some of the great movies of this era, all of which shared the ironic understanding of modern culture this book displays.  I'm quite certain Towles has seen them all and internalized their values.
You need to read this story for yourself – it's complicated and has an utterly rewarding denouement.  Suffice to say, Katey learns a great deal about the people she meets, loves some, despises others, and absorbs what she learns on the way to becoming herself.  This one year is the pivot point for her entire life, and the sense we get from the story is that New York has engendered the same for millions who came there for a very long time, though probably for many less self-aware than Katey and her author, Amor Towles.    Here's one of the great lines from the book that in some ways encapsulates the story it tells: "from this vantage point Manhattan was simply so improbable, so wonderful, so obviously full of promise — that you wanted to approach it for the rest of your life without ever quite arriving."  Perfect.
This is Amor Towles' first published novel.  In our discussion, we talked about how he was able to write it, despite having a full time job and a family.  And we talked about the story of the novel, and its characters, and about New York in the 1930s, a great and somewhat neglected period for fiction.  It's a great book and I hope an equally rewarding conversation for listeners.
Amor Towles website is worth a visit.  And you also might enjoy George Washington's Rules of Civility (& Decent Behaviour In Company and Conversation) which plays a critical role in this novel.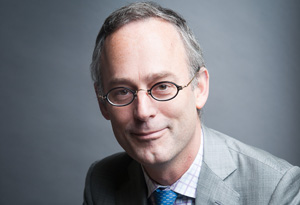 And a nonfiction piece he wrote called What I learned from Cole Porter on Oprah.com.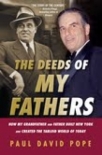 978-1442204867 – Hardcover – $24.95 – Philip Turner/Rowman & Littlefield (e-book editions available at $9.99)
Well this is truly an amazing 20th century American story, and really well told by the author, who spent many years working on this book.  There are characters here as big as those in any historical novel. The full title of the book gets to what the story is about: The Deeds of My Fathers: How My Grandfather and Father Built New York and Created the Tabloid World of Today.
Paul David Pope's grandfather, Generoso Pope Sr., came to this country alone and poor, at a very young age seeking a better life, as so many other immigrants did.  That part of the story is hardly unique.  But he was obviously a very special sort of person, and it did not take him very long, through hard work, intelligence and a certain amount of ruthlessness, to create a building trades empire in the greatest city in America, New York City.
His companies supplied the concrete that literally built the city in the boom years of New York.  But he also managed to buy and control this country's primary Italian language newspaper, Il Progresso, and his wealth, power and connections (including political kingmakers, the mob, and even FDR as well as the Pope) made him one of this country's leading and most influential Italian Americans. Because he was able to use his newspaper to influence elections, he essentially became a kingmaker in the old school of American politics, and was truly an iconic emblem of his times.
But author Pope does not shy away from telling us the ugly along with the good.  His grandfather was far too close to Mussolini in the 1930s, and was blatantly used by the Fascists to try to influence American public opinion in their favor during the lead up to World War II.  And he was far from being a good husband and father.  He always favored his youngest son, Gene (author Pope's father), and selected him to run his businesses, over his older and more experienced brothers.
Early on, Gene Americanized his name to Pope. He was pushed out of the family business after his father's death by his mother and his two older brothers.  At that point, Gene, with a loan secured from his "Uncle Frank" Costello, bought a newspaper in decline, the New York Enquirer.  With a combination of dedication and a brilliant natural understanding of what average readers would want to read, he created the pinnacle of all tabloids, the National Enquirer.  Of course, the support of his Uncle Frank did not come without strings, and Frank required that the paper stop attacking the mob in its stories, and in fact it was to publish only positive stories about projects the mob was backing, and even that the Enquirer would attack and discredit the enemies and opponents of organized crime – which it did without hesitation.
But the heart of Gene Pope's story is his single minded dedication to the newspaper he loved.  He moved the company to Florida and made it almost the only thing he cared about.  As he grew older, he was clearly eccentric in his behavior (some might say nighly neurotic and disturbed).  But throughout, Gene Pope gives readers what they want, and as the National Enquirer covers the paranormal, medical cures, celebrities, always attentive to what the average American would read, and circulation soars, peaking with the 7 million copies sold of the Enquirer's 1977 exposé on the death of Elvis Presley.
Paul David Pope gives us a fast paced, almost novelistic version of his family's history.  His story is based on hundreds of interviews, and a huge amount of research, but of course much of what happened in the earlier part of the story is reconstructed from the documentary record.  It is a gripping narrative, and a compelling story for anyone who cares about the modern history of the United States as lived by some of its more colorful and successful citizens, and the author gets across the complexity of his real life family in their non-stop rush to make their marks.
Talking to the author gave me a chance to delve into the background of the story, what motivated Paul to do all this work and stay with it for so long, and for him to talk about how his family history has affected his own life.  There's more about the book at the author's website too.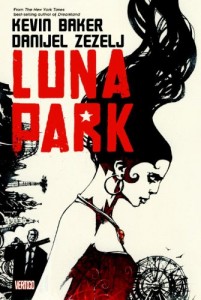 978-1401224264 – paperback – Vertigo – $14.99
Luna Park is an outstanding first graphic novel by historian and novelist Kevin Baker.  Baker is certainly well-known for his best selling New York City based trilogy of historical novels (Paradise Alley, Dreamland and Strivers Row).  And recently he was the consultant for the History Channel's extremely fine mini-series, America: The Story of Us, as well as being the author of its companion book.
Luna Park is centered on a former Russian soldier, Alik, who fought in Chechniya now living in Coney Island, working as the enforcer for a small time Russian mobster.  He is addicted to heroin, and haunted by his memories of the horrors of the war and his own part in it.  He desperately loves the prostitute Marina, whose daughter is held captive by the mob boss as a way to keep her under his control.
Alik comes up with a desperate plan he has convinced himself will save Marina, her daughter and himself.  It's at this point that the story takes a turn, as Alik discovers he is destined to repeat his past lives repeatedly, including a few pasts the present Alik does not know he had.   There are flashes from present- day run down Coney Island to the Russia of 10 years ago during the Second Chechen War to an earlier time period in Coney Island, when the area was at its peak as an amusement park that really was amazing to behold.
Baker keeps us traveling with him throughout, even though the story is complex, the pain palpable and the suffering of the characters in their struggles seems to never let up.  The work of the artist Danilej Zezelj is perfectly suited for this story.  His art is dark, powerful and energetic, and adds tremendously to the strength of the story.  DC Comics deserves praise putting Baker and Zezelj together, it's a terrific collaboration.
Kevin Baker and I talked at length about this, his first graphic novel, both in the context of his work as a fiction writer and historian, and of course his deep interest in the City of New York, especially its seamier areas like Coney Island, as well as how writing a graphic novel in collaboration with an artist is different from other types of writing.  we were able to range widely about a number of other subjects, making this conversation one I hope listeners will particularly enjoy.