Louie Cronin: Everyone Loves You Back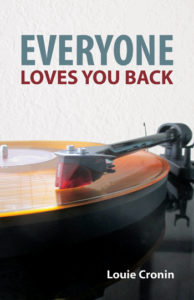 Everyone Loves You Back – 9781941576229 – Gorky Press – paperback – $15.95
I very much enjoyed reading this well written and humorous novel. It's set in Cambridge ("our fair city" MA), and depicts the sort of culture clash that has occurred all over America as livable cities are reinhabited by the latest version of what we used to call yuppies. These newcomers to city neighborhoods have completely different values – and economic realities – than the folks who grew up there. It's a rich environment for fiction too. So this is a novel that will likely resonate for many readers on a sociopolitical basis, in addition to its deft handling of the relationships between the sexes. And because Cronin comes from public radio – she was a producer and writer for the much loved and missed Car Talk – the setting of this novel is one that many of us whose industries have undergone wholesale modernization, can appreciate as well.
Is there a category of novel for "late Baby Boomer" coming of age stories set in the present? I am not well enough read to say. The publisher calls this a "coming of middle-age novel," which seems apt. I do think that especially for readers of "a certain age" this book could become a favorite. And you don't have to struggle with a changing neighborhood or have issues with your love life to appreciate the joyfulness and humor of this novel.
Louie and I had a fun time talking about her book, her work and the way she was able to inhabit her male main character, a feat of imagination and courage for any novelist.
Louie Cronin is a writer, radio producer, and audio engineer. She worked as a producer/writer for Car Talk on NPR for ten years. Her fiction and essays have been published in a variety of magazines and journals. She is not the technical director for PRI's The World and lives in Boston with her husband, the sculptor James Wright.