Tony Vanderwarker: Sleeping Dogs – a Novel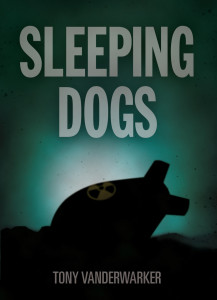 Sleeping Dogs: A Novel – 978-1940857039 – Paperback – AuthorPress Publishing – $16.95 (ebook versions available at lower prices)
Tony Vanderwarker had a successful career in advertising before he decided to write fiction. I think advertising is an interesting training ground for a novelist, since in so many ways, advertising is about telling stories that are powerful and compelling and of course get across their emotional content very efficiently. Everyone seems to want to be a writer these days, and I think there are a lot of really good books being written and published by late blooming authors, who had successful careers in one field or another, but who always really wanted to write. And doubtless there are more than a few that are not so great.
Tony Vanderwarker has a great story to tell – not just in his novel, Sleeping Dogs, but in how this book came to be written. And he's written another book about the writing of Sleeping Dogs called Writing with the Master (Lyons Press). Tony was lucky enough to have met John Grisham, who was a neighbor, when their sons played youth football together. They struck up a friendship, though Tony never talked about his own writing with his world famous author friend, until one day he did, and Grisham offered him the incredible gift of his mentorship and working assistance with the writing of Tony's novel. Vanderwarker gives full credit to Grisham for teaching him how to be a real novelist, no small feat for anyone.
In Sleeping Dogs, Vanderwarker tells a terrific story based on the fact that there are at least eleven known Cold War era nuclear warheads scattered around the U.S. from various accidents and crashes from the period when America kept a fleet of B-52s constantly aloft to defend against a Soviet attack. In a non-stop action packed story, Howie Collyer, who has been obsessed with danger posed by the lost nuclear weapons, comes across an old B-52 pilot who can verify the location of one of the bombs.
Unbeknownst to Collyer, he is being tracked by a sophisticated terrorist cell whose aim is the locate the bomb and use it for their own gruesome purposes. And he is also being pursued by a secret unit of the Pentagon whose job is to quash any information about the lost nuclear weapons. Collyer gets help along the way from a nursing home nurse and a buddy in the CIA, but his family is at risk and so is he at every turn, after he kidnaps the old pilot to try to uncover the location of the bomb he thinks is closest to and therefore most dangerous to the safety of the U.S. east coast.
It's one of those books you don't want to put down, not just because the story is gripping and the twists and turns exciting, but the characters in this book are believable and sympathetic, and it's easy to root for them to win against all the different bad guys they are faced with.
With a book like this, I prefer to not give away too much of the story when talking to the author, so readers can enjoy the discovery of the story and characters for themselves, and in this case, because Vanderwarker's backstory is so interesting, it was easy to spend most of our time talking about the writing of the book and how it was for him to work with the well known Grisham. This should be a good conversation for anyone interested in the writing process and what it takes to tell a great story. Tony Vanderwarker is a fine storyteller and writer, Sleeping Dogs a novel I can heartily recommend.